It was a relatively mild Sunday in the Big Brother 19 house, compared to the past couple of days. There's still some tensions boiling below the surface and it sounds like there might be a solid plan for the upcoming veto ceremony only to quickly flip before changing yet again.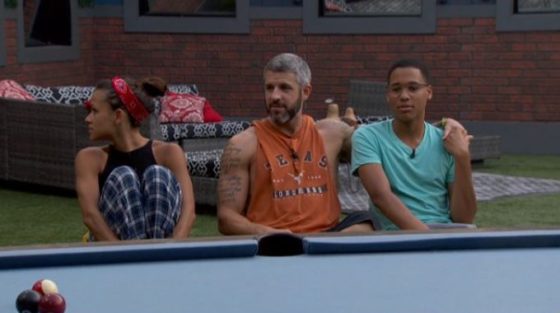 While most of the house kept things light on Sunday there was understandable stress and isolation by the week's target while the next vote drew closer. It'll be a long few days for her if she stays on this path.
If you've got the Live Feeds (Free Trial) then you can watch all of these moments with the Flashback feature to go back and watch those important conversations or funny scenes you may have missed.
Big Brother 19 Live Feed Highlights – Sunday, July 16, 2017:
10:00 AM BBT – Wake up time for the HGs.

11:00 AM BBT – Jason and Kevin walking laps and chatting.

11:05 AM BBT – Kevin joking around with Jessica about if she'd date a 20 year younger version of himself. She agrees, if he'd glue his mouth shut.

11:25 AM BBT – Alex and Jason comparing notes. They think Ramses and Jessica should be the next targets. Alex wants Jessica out. Jason wants Ramses gone. He also toys with the idea of maybe he should put up Raven and Matthew together then goes back to saying Ramses and Jessica.

12:00 PM BBT – Dominique questions Mark over if he shared any details from their talks with Elena. He strongly denies. Dominique is pressuring Mark over what she doesn't like about Elena working with Paul. Mark is worried that he'll be going up next to Dominique on the Block.

12:50 PM BBT – Mark talking with Christmas. She insists that she voted out Cody, not Ramses.

12:55 PM BBT – Dominique tells Josh that if Mark gets renom'd against her then he should vote her out instead of Mark.

1:15 PM BBT – Dominique warns Jessica that Elena and Paul came up with this plan then convinced Alex to put her (D) on the Block.

1:30 PM BBT – Elena talks with Ramses about Dominique suggesting Elena was jealous of Dominique's relationship with Mark. She laughs off that idea.

1:50 PM BBT – Mark warns Jason that he'll be evicted if he goes up. Jason promises not to use the Veto.

2:40 PM BBT – Paul goes to Alex and warns her Mark will be campaigning to save Dominique if he doesn't go up. Paul advises her to not even tell Jason who she'd renom to keep him from being influenced.

3:05 PM BBT – Alex says she wants to get Mark up on the Block now.

3:30 PM BBT – Mark promises Elena he still trusts her and has no doubts about her.

4:10 PM BBT – Dominique is camtalking with Jessica in the room as Jessica might be trying to look like she's sleeping. Dominique discusses how over the top Paul went with his arguing the other night. She doesn't understand why they're all taking his side.

4:30 PM BBT – Paul jokes about how Michelle (BB18) would compare to Josh's behavior and how much worse she would have been here than him.

5:30 PM BBT – Alex talks with Jason that Paul is making her nervous so she wants Jason to use the Veto after all.

5:45 PM BBT – Alex lets Jessica know Mark is going up in her place. Jessica agrees to vote out Dominique.

5:55 PM BBT – Jessica tells Alex and Jason about the mega alliance from the first week. She says that Cody wanted her to get closer to them but the rest of the alliance shut that down.

5:57 PM BBT – Dominique (who isn't even campaigning to stay yet) is telling Josh what she would do next week. She says she'd put up Paul and Elena and if one of them comes down she'd nominate Raven. She tells Josh that Paul has a lot of them fooled.

6:07 PM BBT – Dominique tells Josh she thinks people got jealous of her talk show.

6:11 PM BBT – Jason tells Kevin he's going to use the POV and that Alex will put Mark up next to Dominique.

6:39 PM BBT – Now Jason is worried about Mark's reaction to him using the veto that will result in Mark going up.

6:44 PM BBT – Jessica asks Mark if he's voting to keep Dominique. He tells her that she doesn't even know if she's still going to be on the block this week. She says yeah she does. Jessica tells him he can be honest with her. He says he's voting to evict Dominique. He says he can't be associated with someone who is throwing around Elena's name (D).

6:53 PM BBT – Alex tells Elena she'll be putting Mark on the block and that doing that will out Kevin if he's the one voting the other way because only Mark would vote to save Dom. Elena says she obviously doesn't want Mark on the block but Alex says they have the numbers to save him.

7:05 PM BBT – Josh tells Paul that he told Dominique he was sending her home (he didn't).

8:00 PM BBT – House is quiet. HGs playing pool and hanging out.

8:45 PM BBT – Dom is having story time by herself to the cameras.

9:42 PM BBT – Alex tells Paul that she still doesn't like Jessica and doesn't want her to get to jury.

9:45 PM BBT – Alex tells Paul she can't put Raven up this week because a lot of people would want to send her home. Paul is surprised by that.

10:50 PM BBT – Paul tells Elena he's excited about dressing up like a snake for the Veto meeting, referencing back to Dominique calling him a snake in the big fight.

11:05 PM BBT – Raven says people keep telling her she's getting the next temptation.

11:10 PM BBT – Paul talking with Kevin, Mark, and Elena about Dominique wanting to do one more of her talk shows. Paul doesn't think they should go do it. Kevin says Dominique suggested she had the right to get interviewed along with Jessica.

11:35 PM BBT – Kevin decides he'll tell Dominique that he can't do the interview for her because it'll upset too many people.

12:50 AM BBT – Josh discusses how Dominique came to him after the nominations and was implying that Paul is a snake without directly identifying him.

1:05 AM BBT – Kevin promises Christmas she'll be safe next week if any of his allies wins HoH. He suggests he knows who Jason is planning to put up and thinks it'd surprise Christmas. He's expecting Jessica and Ramses to go up next week.

1:10 AM BBT – Christmas agrees with Kevin and says she'd also be targeting Jessica and Ramses if she gets HoH next.

1:15 AM BBT – Kevin goes back to talk with Jason. He questions Jason on whether or not it's a good idea to use the Veto. Kevin says no matter what he does, Dominique will go.

1:20 AM BBT – Christmas warns Jason about using the Veto just to lock up votes and instead says if he's going to do this then he should be making it clear that the renom is a pawn. She thinks it'd be better to let the pawn know in advance.

1:40 AM BBT – Jason is getting paranoid after more talks with Kevin. He's convinced the other side doesn't want the Veto used so they can vote out Jessica.

1:45 AM BBT – Mark tells Jason he's scared that if he goes up as the renom then he will be voted out. Elena promises him that won't happen. Jason flips his plan yet again and now decides he will not use the Veto. Neither he nor Mark understand why Mark is the renom target. Mark says he trusts Jason, just not the rest of the voters. Mark and Elena tell Jason to not even tell Alex.

2:20 AM BBT – Josh, Alex, and Ramses are hanging out in the HoH room. Josh talks about how he was a target first week and that's why he went for the golden apple, but Alex corrects him that no one was considering him until he went for the apple and started yelling at Megan.

2:25 AM BBT – Jason tells Alex he's not going to use the Veto. Alex gets annoyed. Jason is surprised and asked if she wants him to use it, she says yes. Jason runs through all the votes they have against Dominique. Both agree they'll have enough.

2:35 AM BBT – Josh asks Alex if the Veto will be used. She says she doesn't know. They discuss next round targets. Josh wants to go after Matthew and Raven, but says he might use Jessica as a pawn instead of going direct at Matthew.

3:30 AM BBT – Elena and Mark are still up and hanging out in the bathroom talking. Elena is discussing Dominique's situation. Mark asks if Elena if she knew that Dominique was going up. Elena says not really.

4:15 AM BBT – Mark and Elena call it a night. They're the last HGs to head to bed.
Jason should rename himself Whiplash from Whistlenut. He's flipping back and forth as fast as can be over this Veto decision and I'll be surprised if he ends up using it. Can you imagine if he had to be HoH and make more than one decision? Either way, just as several HGs keep suggesting, Dominique looks to be the solid target and will likely take all the votes this week unless we get an 11th hour surprise. Veto meeting coming up Monday midday so we'll know soon enough.
You can watch all of these Big Brother events using the archives Flashback, the DVR-like feature of this year's Live Feeds which means it's always live, even when you missed it! Sign-up now to get the free trial to watch it all live & uncensored.

Gallery: Live Feeds Highlights