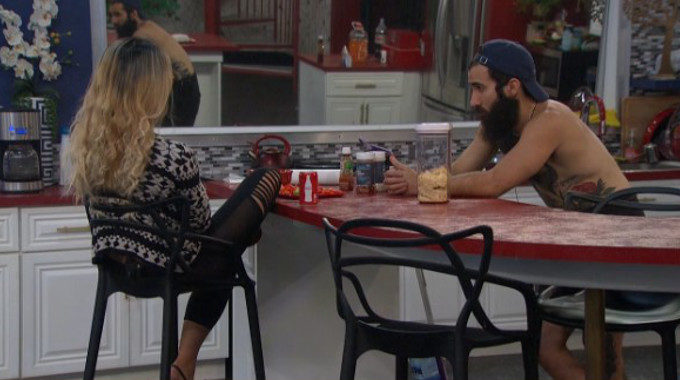 Update: Veto Ceremony spoilers are in! Find out what happened with the Veto today.
The Veto Meeting is coming up today for the Big Brother Houseguests and they're settled in on the path ahead. And that includes all of the HGs for a change this week. Yes, the plan is decided and all are in agreement on what to expect, even if they all don't agree on what's about to happen.
Josh won HoH this week of Big Brother 19 and put Alex and Kevin on the Block together. Then the Veto came and went without either of those two securing their safety. Instead that power went to Paul and he definitely doesn't want to see Alex sticking around which makes his choice easy.
On Sunday Paul went to Alex to break the news. He'd love to save her, he explained, but if he did that then he'd ruin his game because Josh and Christmas are mean and would punish him for doing so. Alex pointed out they'd both be safe this week though and available to play in the next HoH comp. It'd be the two of them against basically a one legged girl. No dice, said Paul. Sheesh, these HGs are gullible.
Paul let Christmas and Josh know that Alex was aware of the plan and knew she wouldn't be saved. Christmas saved face later with a talk where she told Alex she was just too good to keep around especially compared to the alternative of Kevin. Josh wanted to have that same talk, but if he got near Alex he was chastised by Paul and Christmas for not being a team player. Go figure.
When the Veto ceremony rolls around later today Paul will make his decision official. The medallion will go back in the box and the noms will remain as Alex & Kevin. One of those two will be evicted on Tuesday in a special, early eviction, but we won't see that until Wednesday night's broadcast. Alex has been hoping for an early release and she'll soon get her wish.
We'll be watching for the Veto Ceremony later this afternoon and will have the spoiler results then. What do you think of Paul's Veto meeting plans this week? How should he handle the obvious betrayal of his deal with Alex?
Get the results when they're announced. Grab our Big Brother App and we'll send you an alert when the spoilers are in. Join us on Facebook, Twitter, and by Email Updates to get more results all season.