Last week Jessica Graf was almost our Underdog of the Week. Until she believed Paul and the rest of the house and didn't use the veto on Ramses, thus missing her target completely.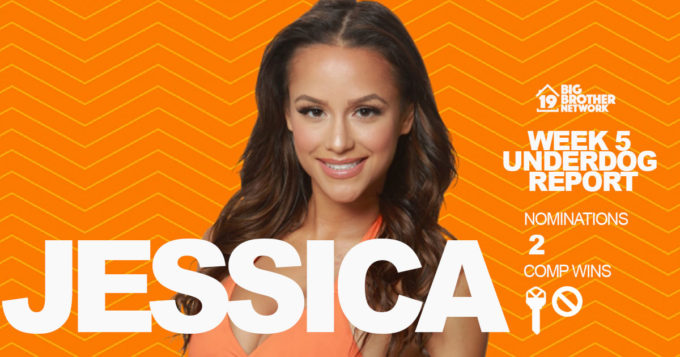 So needless to say, there was no Underdog Report last week. But this week it's back and Jessica has earned what is rightfully hers: our Underdog of the Week.
Jessica started out the season as your typical third or fourth boot. She was the showmance partner of the Alpha of the house. He was going to rule, they were going to be targeted, he was going to win Veto and she was going to be the casualty. But then Cody decided to target Paul and everything changed.
Paul had already assembled his army by then, so when Cody struck, without knowing Paul had safety, the entire game dynamic changed. Cody and Jessica became public enemies one and two. And in the following weeks, with Cody's eviction and Jessica's lonesome stay in the house, she became the underdog. She was so much the underdog that America voted to give her the Halting Hex power in the Den of Temptation. Which she still holds onto today. She then managed to reposition herself while Cody was gone and even managed to survive an eviction.
Of course Cody returned to the game and Jessica's game was once again changed. This time around, however, Jessica was the one in power. She was still working with her team of two, but she tried her best to unite the house for the week and play it safe so she and Cody could earn some trust and possibly regain some allies.
Jessica's plan was to target Josh and go on from there. Unfortunately for her, the house was no longer interested in giving Cody another chance. So they flipped and voted Ramses out. You know the story.
So that week was a big blunder on her part, especially considering Ramses was a free agent and could have been taken under their wings. But that's all said and done. Paul wins HOH and Jessica makes what I'm going to call another blunder and reveals her power to the entire house. So Paul has spent the past week trying to flush that power and he started by putting Jessica and Cody on the block.
And as we head into the middle of the week and onto Thursday, Jessica is poised to use her Halting Hex to save herself and Cody from eviction. And she and Cody are ready to stop playing it safe and go after their biggest foe, Paul.
Jessica has made a few questionable decisions the past two weeks, but for someone who has been down and out for most of the season so far, she's been quite the fighter. She's been an almost-perfect example of the reality show underdog.
How much longer can she hold on?