After a crazy day in the Big Brother 19 house, the houseguests got a bit of a warning to pull back just a bit on the drama as the evening pressed on. There was still a lot of drama and game talk, however, but the HGs did decide to cool it on the attacks for a bit.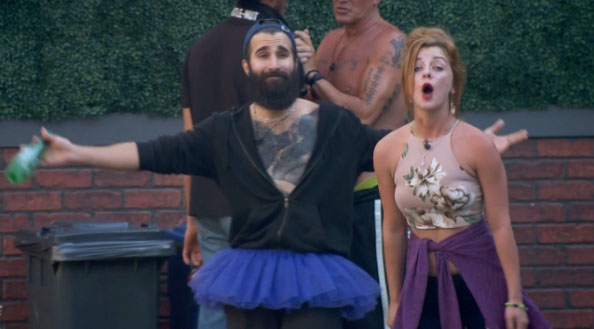 Catch up on how this mess got started with our Monday daytime Feed Highlights Report first for more details on what lead up to the chaos.
If you've got the Live Feeds (Free Trial) then you can watch all of these moments with the Flashback feature to go back and watch those important conversations or funny scenes you may have missed.
Big Brother 19 Live Feed Highlights – Monday, July 31, 2017:
3:15 PM BBT – Cody talking with Jessica about being stuck in situations of conflict with people you have to live alongside. He says they'll get through it.

3:30 PM BBT – Raven is crying and worried about confrontation because it upsets her due to past abuse.

3:40 PM BBT – Josh says he's willing to bully Cody if it'll get him out of the game.

3:55 PM BBT – Big Brother shouts a message to the HGs that there's to be no horsing around.

4:20 PM BBT – Jessica tells Paul she's tired of Josh's bullying behavior. She says he should tell them to stop, but Paul says he doesn't have any control over the HGs.

4:25 PM BBT – Jessica says she's going to use the Halting Hex on Thursday.

4:40 PM BBT – Paul tells Josh to amp up his yelling and the pots & pans routine. Josh goes off to yell at Cody.

4:55 PM BBT – Josh is still going at it and arguing with Jessica when Cody says they should leave the room.

5:03 PM BBT – Josh has his pots and pans back. He's heckling Cody and Jessica, but Jessica is laughing about it. Now Jessica is yelling back and forth with Alex from the kitchen. Soon Raven is yelling too. Eventually Cody comes out of the Lounge, but he's not getting involved in the shouting match. Most of the other HGs are standing around watching.

5:10 PM BBT – Cody and Jessica have moved to the hammock. Alex and Mark are now arguing inside, mostly Alex yelling at Mark. Soon the other HGs follow them outside but keep their distance while shouting and heckling them from afar.

5:15 PM BBT – Raven is screeching at Jessica and Cody. Lots of yelling from the one side over at the hammock.

5:20 PM BBT – Paul is called to the DR, but it only lasts a minute. He comes back and tells the other HGs that they aren't allowed to incite violence or suggest self-evictions.

5:30 PM BBT – While things continue outside Mark and Elena briefly speak inside before Elena goes back to make sure she isn't getting blamed for anything out there.

5:45 PM BBT – Jessica asks Cody if he wants to walk (from the game). Cody says he'd walk with her if she wants to go.

5:50 PM BBT – Paul and Kevin are back inside smearing vaseline all around the house.

6:10 PM BBT – Cody and Jessica are back in the house. Jessica says she's intentionally making eye contact with everyone. Cody is finding Paul's vaseline smears on door handles.

6:23 PM BBT – Paul swaps out the regular coffee with decaf again. (He's doing this since Cody makes coffee in the morning.)

6:25 PM BBT – Jessica tells Cody she wants to get through this and stay to play since viewers voted her to have the Hex power.

6:26 PM BBT – Christmas says they must keep torturing Jessica and Cody.

6:27 PM BBT – Jessica realizes that with the Hex used there will be no eviction for 10 more days and then 17 more days before the next so they could be separated for awhile.

6:30 PM BBT – Josh lets Kevin know that he (J) was told in DR to lighten up on Jessica and Cody.

6:50 PM BBT – Christmas says she isn't going to stop going after them and will stay up all night. She is soon called to DR.

6:55 PM BBT – Paul is reporting back that they need to cool it but don't have to stop completely, just ease off and spread it out instead of everyone doing it all at once. Paul camtalks that they were giving Cody some of his own medicine.

6:57 PM BBT – Paul says Megan already quit and messed up the game and they don't want to make more people quit. Josh agrees. Paul says they can keep doing this tastefully because they need to get Jessica to not use the Hex so they can send Cody home.

6:59 PM BBT – Paul says if Jessica or Cody snap they want it to be on their own accord. He says his group doesn't want to be held responsible for that.

7:00 PM BBT – Paul tells Elena that his advice to her would be to separate herself from Jessica and Cody altogether.

7:01 PM BBT – Mark telling Josh that this is all mentally draining him. He says he isn't defending Cody and Jessica but he doesn't like what everyone is doing to them. Mark says he wouldn't even like it if they were doing this to Josh. Josh says he's going to chill out.

7:04 PM BBT – Jessica says the fact that they're acting like this for $8,000 (jury stipend) is all she needs to know. She suggests they get jobs instead.

7:07 PM BBT – Jessica tells Cody that unless they win HOH and get their room back they're going to have to put up with all of this all the time.

7:08 PM BBT – Elena and Mark both say they'll put Cody and Jessica on the block next week to prove themselves and clear their names.

7:28 PM BBT – Bullhorn heard in the backyard. Most people online think it said "America loves Jessica and Paul is a bully." BB calls for a lockdown.

7:56 PM BBT – Jessica is worried about someone getting in their faces. She's getting really annoyed with being in the house.

8:14 PM BBT – Mark and Josh having a bit of a heart to heart about their past issues with each other.

8:20 PM BBT – Mark says he feels bad for charging at Josh. He says kids watch the show and look up to them and think that behavior is OK.

8:33 PM BBT – Josh tells Christmas it's time they chill out with the attacks. Christmas says mental warfare can be played another way – by being super nice to them.

8:38 PM BBT – Christmas asks why they need to watch what they say and Josh says he thinks Jessica and Cody were talking about self evicting so that's why the Diary Room told them to back off a bit.

8:42 PM BBT – Mark is telling everyone he thinks they made their point and is implying they lay off Jessica and Cody. He says they aren't attacking people. Raven says that they attacked her. Paul says it's just strategy because if Jessica or Cody win HOH they're all in danger.

8:52 PM BBT – Raven thinks Jessica started a fight with her today so she'd have an excuse to use the Halting Hex.

8:54 PM BBT – Elena says she feels like they've been having this same talk for 40 days. She says she's exited to see Jessica and Cody evicted so they can stop talking about it.

9:22 PM BBT – Paul is worried he's being portrayed as a bully. He says he's just trying to protect his people.

9:36 PM BBT – Jessica got out of the diary room and is in a much better mood. She's talking about how the woman in the DR was very nice. She and Cody suddenly no longer want to self-evict. Jessica says she just needs to push herself and to not let herself want to give up no matter what.

10:11 PM BBT Raven asks what is up with Mark. Paul says who cares. They agree they're all over him. Paul says it's not cool he's saying they're pushing things too far when he dumped hot sauce in Josh's face.

10:38 PM BBT – Paul has let it sink in that Jessica is using the Hex and this will be another dud week.

10:44 PM BBT – Mark tells Paul he hopes to win HOH so he can nominate Jessica and Cody and clear his name.

11:00 PM BBT – Jessica says if they don't win HOH she's going to play for safety and gun for veto because she refuses to play dead in the game. She tells him she wants to go before him if they're split up before jury. Cody says they can just win all the HOH and safety comps and take out as many people as they can.

11:15 PM BBT – Elena visits Cody and Jessica to talk about the events earlier. Elena says she wasn't going to participate in all that behavior. She says that defending them is going to be hard on her game though.

11:30 PM BBT – Jessica asks Elena that if she (J) and Cody are up together again that the house evict her instead of Cody. Elena asks if they want her to nominate them if she gets HoH. They say no.

11:35 PM BBT – Mark tells Paul he doesn't like how Christmas went from saying she was okay with Cody and Jessica to piling on in the fight today.

12:45 AM BBT – Paul admits he got people riled up, but says he didn't force anyone to do all that. He says his strategy was to get Cody to crack so Jessica would be willing to not use the Hex to save him.

12:50 AM BBT – Mark tells Josh that he understands how Paul and Josh had their issues with Cody but then a half dozen other HGs jumped in and started fighting with them too and he didn't like that. Mark asks Josh not to kick Cody while he's already down. Josh says he'll stop.

1:10 AM BBT – Raven is upset and says Jessica started things by yelling at her today for no reason.

1:15 AM BBT – Paul admits maybe they took things too far. Josh says he won't let it go to the next level.

1:20 AM BBT – Paul is worried about how it will be shown in the episode with everyone yelling at Jessica and Cody. He says it needs the context of the past forty days of Cody's behavior toward them.

1:45 AM BBT – Christmas suggest they change tactics and kill them with kindness. Josh worries how it'll look if they continue on in their behavior from earlier today. Paul agrees and says they should go with Christmas's suggestion.

2:00 AM BBT – HGs are working on going to bed as the lights start to go out but the chatting continues.

2:15 AM BBT – No one is going to be just yet after all. They're goofing around and talking. Josh and Paul are running around throwing nuts at each other.

2:25 AM BBT – Paul teases Josh that on finale night he can beat him up and Big Brother can't help him.

2:45 AM BBT – Lights are all out and HGs are off to bed.
Well that started off as an awful evening with these Houseguests and barely got better by the end of the night. I imagine the mob mentality has worn off for now as they realized how bad that's going to look on the show. They'll be better off preparing for Thursday night and I expect there's going to be a lot of drama surrounding the next Head of Household.
You can watch all of these Big Brother events using the archives Flashback, the DVR-like feature of this year's Live Feeds which means it's always live, even when you missed it! Sign-up now to get the free trial to watch it all live & uncensored.


Gallery: Live Feeds Highlights