The Big Brother 19 twist has been revealed as "Den of Temptation," a weekly opportunity for a fan-voted Houseguest to be faced with a choice that delivers consequences throughout the Big Brother house all summer.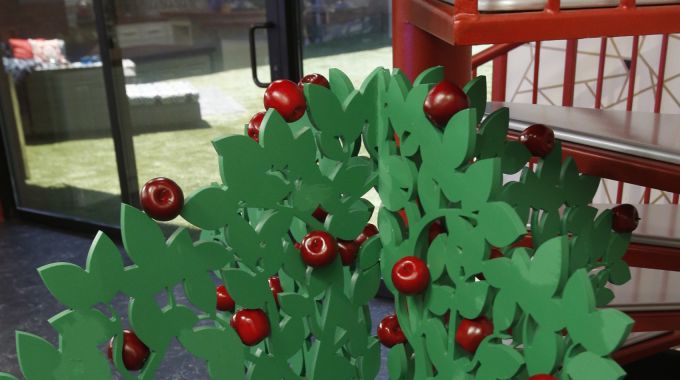 As CBS puts it, the Houseguests will have a "season of tempting offers that could give them money, power, and safety in the game." It can't be that easy though, right? Of course not! "But, they will need to be careful, because for every temptation taken, there will be a consequence to face." I like it!
We won't have to wait long to see this Temptation twist for Big Brother. Starting Sunday, July 2nd the first instance of the twist will arrive as the "Den of Temptation" is revealed and it sounds like this could be a regular Sunday episode event.
From various discussions it seems like the old Paris room slash old Coaches room has been converted over to the Den and you can see the previously hidden door is now in plain sight. As for which Houseguest heads inside? That'll be up to the viewers.
Fans will be voting to decide who is sent to the "Den of Temptation" where he or she will be "enticed by a potentially game-changing offer. But it's always a game of risk vs. reward, as every temptation will unleash a consequence on the house."
Now we've seen temptations of sorts in the Big Brother house as many fans will remember Pandora's Box. HGs had the choice to go inside to either find rewards or duds, sorry Jessie. But this time around it might not be such an obviously forced acceptance. Before if you were presented with Pandora it was a foregone conclusion that you'd have to go for it. Not this time around, explain producers.
Speaking with THR, Executive Producers Rich Meehan and Allison Grodner detailed how they'll have to be ready for the either/or situations for Big Brother 19's temptations:
Meehan: It's a summer of temptation! Not only does the house represent that, but the rooms carry through with some of those themes and we're bringing that all the way through with the twists of the game this summer as well. With temptation there are lots of different paths the season could go on depending on which temptations the houseguests take. We've never done anything quite like that throughout the course of the season. So we have plans and backup plans for all different things.

Grodner: Which door? Door number one or door number two? Because door number one will take you down a whole different path and we have to produce it that way too. We have to be prepared. On opening night we have two different scripts and two different possibilities depending on what's going to happen.
It really sounds like they're willing to let HGs decide which could put a lot of work to waste depending on how things go in these picks.
Grodner: It's actually possible that a competition could be in the backyard ready to go and our art department has worked really hard to put it out there and the houseguests don't play it because of a decision they made.
The producers go on to discuss that we'll be seeing this twist as part of the Sunday shows, something they try to address each recent season. I'd guess ratings take a natural dip on those nights so this is something to try and keep our interest. I have to watch all the episodes no matter how boring, so I appreciate the effort!
What do you think of the Den of Temptation twist for Big Brother 19 and which Houseguest from the new cast do you most hope to see enter the Den first? Seems like this could be a danger for the early fan favorite when viewers don't yet know what to expect. Good times ahead.
Want more Big Brother? Download our free Big Brother App, join us on Facebook & Twitter, and get our Email Updates! The new season starts Wednesday, June 28th at 8/7c only on CBS and live streaming on CBS All Access.