Here is our first look at the Big Brother 19 House as Julie Chen takes us through this season's theme, "summer of temptation," where twists await the Houseguests each week.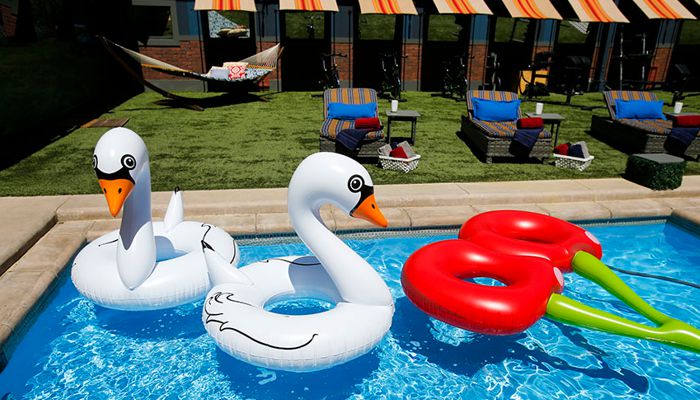 There's the "power room" bedroom with $6,500 of cash framed on the wall there. We've got the "showmance room" with beds set up to encourage cuddling and bonding. Ugh. The lounge couch looks awesome (and really hard to get out of).
Ohh I like the bathroom set up. What, no sand this year? Big couch set up there in the corner, as always, but it looks nice and comfy this time around. Heading up stairs we find a "greed" themed Head of Household room. Julie says it looks like a high rollers suite in Vegas. I can see it.
Backyard looks awesome. The new pool from last year still looks great and the national parks backdrop is gone this time around. It's more of a garden setting and with the temptation theme (Read more about the Big Brother 19 twist here.) I think they may be going for an apple orchard look. Very nice.
Check out the gallery of photos from CBS below and watch Julie's video house tour as she walks you through the Big Brother 19 cast's new home for the summer. Enjoy!
Big Brother 19 House Tour Gallery:
Let us take you through the new BB19 House and see what there is to see. Houseguests are close to moving in and, if they're lucky, will be hanging out in these rooms for the next three months. Would you want to stay with these designs? I think they're pretty great, but let's see how long it takes for the BB19 cast to trash the place!
BB19 Kitchen:
click thumbnails to launch full-size gallery
You can see the new kitchen here with the Memory Wall but sadly no key slots so looks like they're sticking with the little key turn thingy. Blerg. Also I wouldn't get too worried about the place settings. It's just staging for photos at this point.
BB19 Head of Household Room:
click thumbnails to launch full-size gallery
It's set up like a bank vault in parts and has the theme of "greed," says Julie Chen. I like it!
BB19 Bathroom:
click thumbnails to launch full-size gallery
All the mirrors is funny since they're covered over in the photos while the mirrors in the walls aren't, obviously. It's a posh design here too with big, soft couches that should be ideal for encouraging hang out and whisper sessions this season.
BB19 Bedroom & Hallway:
click thumbnails to launch full-size gallery
We're getting to see the money room, which has framed fake cash up on the walls. No photo of the other room at the moment, but that could end up being converted to the Have-Not room, assuming that's back this year. In the video below Julie Chen walks us through the missing room and calls it the showmance room. Let's hope that's the one that gets changed over. We've also got a look at the hallway with clothes storage that leads to the living room.
Update: More details have revealed the lovey-dovey room will stay put and it's the third, unseen bedroom that will become the HN room. That'll be in the London room from last season so they're shifting around the location.
BB19 Living Room:
click thumbnails to launch full-size gallery
I always like seeing two chairs instead of three when it comes to eviction time so I'm hoping those stick around and aren't swapped out for a small couch. Along the walls we've got "MONEY", "POWER", and "ALLIANCE" logos in bright purple colors. Right next to this we've got the foyer, the last thing the evictees will get to see.
BB19 Lounge:
click thumbnails to launch full-size gallery
The Big Brother Lounge is back and still no photo booth around this time. They do however have a giant couch that looks darn near impossible to get out of unless you liquid-fy yourself and slide out. I wouldn't recommend it. Maybe that'll get changed like they did the other year after a few days of use.
BB19 Upstairs:
click thumbnails to launch full-size gallery
Head upstairs to find the return of the loft lounge, which looks great again this year and offers more chances of overheard conversations. That's always fun for us. You can also see down that balcony hallway where the phone booth was last season. Gone is the short door and hello full size door…
BB19 Backyard:
click thumbnails to launch full-size gallery
Note: I've seen several questions around about the glowing blue "doors" in the last outdoor pic. That's not the Den of Temptation room, that's just the reflection of the Memory Wall as this photo was taken from inside and through the slider.
Catch some rays and exercise in the backyard on Big Brother. They've changed out the national parks backdrop for another nature setting of a garden or orchard, perhaps. Looks good out there!
Big Brother 19 House Tour Video:
Photos courtesy of CBS