Julie Chen revealed the new twist to the Big Brother 19 season with the "Temptation Competition," a new weekly event for the Houseguests and viewers.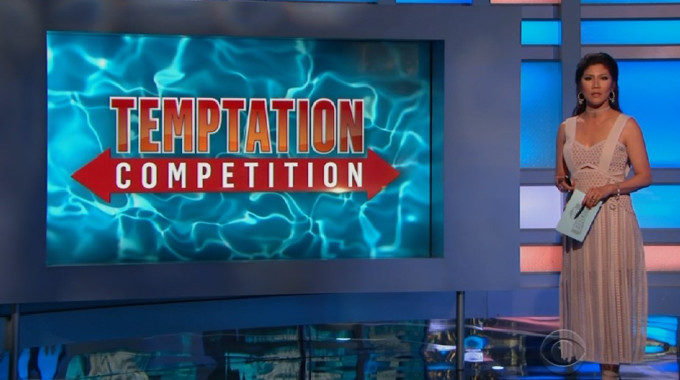 Replacing the Sunday spot for what was the Den of Temptation segment we've now got these new competitions that will last for three weeks starting here in Week 5 of BB19. Julie announced how this will work, but we'll have to wait a bit longer to see it in action:
For the next three weeks, before nominations, the Houseguests will be tempted to participate in this challenge. And for the first time in Big Brother history, the Houseguests will get to choose whether or not they want to compete. The winner of this competition will be safe for the week. But, like all temptations, participating comes with a consequence. The Houseguest who finishes last will automatically go on the Block as a third nominee.
The current Head of Household is not eligible to compete in the Temptation Competition.
Julie says we'll see the first Temptation comp on this upcoming Sunday episode. Since it's actually happening before the nominations that means the HGs will face this challenge on Friday afternoons, much like they did with the Roadkill comps. Then nominations will have to shuffle and possibly re-evaluated for later that night.
What do you think of this twist? How might it affect Paul's decisions this week? Will he already be thrown off by Jessica's announcement of having won the final Den of Temptation? We'll be watching for these new spoilers and have them ready to share with you.
Get our Big Brother App for free, join us on Facebook & Twitter, and get our Email Updates for more!