This week's Big Brother 19 endurance competition for Head of Household arrived following the live eviction. Fans could watch this backyard battle play out live online as the sides faced off for control of the next nominations. Find out who won the power this week to be the new HoH.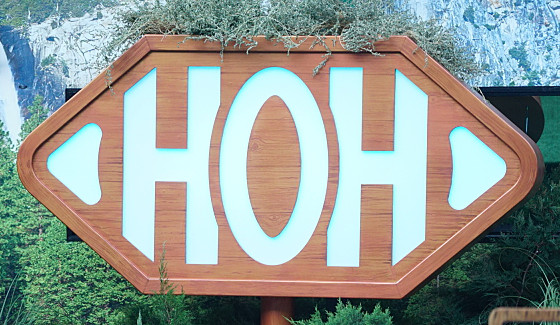 You could follow along with our live updates below or watch the HoH Endurance Comp streamed live on the Big Brother Live Feeds through All Access. Use the Free Trial now and see what all the fuss is about, but you've been warned, Feeds are fun and addictive!
So who won the Big Brother HoH comp? Read on for the spoilers & details.

Big Brother 19 Week 3 HoH Comp – 'Space Cadets':
6:53 PM BBT – The comp is underway! The Wall is going for a big lean already.
6:57 PM BBT – Everyone is still in the comp.
7:02 PM BBT – Feeds are back! Join us to watch on your Feeds!
7:06 PM BBT – Everyone still there. Alex complained about her feet hurting already.
7:11 PM BBT – Air blasts up at the HGs. Paul is laughing at them. No one fell from the surprise.
7:12 PM BBT – Josh fell & is the first out.
7:15 PM BBT – Josh and Paul on the sidelines trying to figure out the 3 votes against Ramses.
7:17 PM BBT – All but Josh are still in the comp. Alex says it's way harder than it looked.
7:20 PM BBT – Mark fell during the Puppy-Cam breakaway.
7:25 PM BBT – Paul & Mark are now talking to figure out the Ramses votes.
7:30 PM BBT – All but the 2 HGs (and Paul) are still in the comp & hanging on.
7:35 PM BBT – More green slime at the HGs. Paul is hiding to avoid the spray.
7:38 PM BBT – Raven is down.
7:43 PM BBT – Raven says her stitches are bleeding.
7:45 PM BBT – Looks like Ramses is struggling.
7:50 PM BBT – More slime cannons. No more drops in a bit. They're playing hard.
7:53 PM BBT – Ramses is down. Kevin says he can't hold much longer.
7:55 PM BBT – Kevin falls next.
8:00 PM BBT – Jason and Elena now squatting in the classic James move.
8:05 PM BBT – No one else has fallen since Kevin.
8:06 PM BBT – Spoke too soon. Matt just fell.
8:10 PM BBT – Lots of steep wall tilts, but they're hanging on. Jason is the last guy.
8:15 PM BBT – We've still got Jason, Dominique, Jessica, Elena, & Alex.
8:18 PM BBT – Jessica fell then Dominique immediately after her. 3 remain.
8:20 PM BBT – Jason & Alex are open to making a deal, but Elena says she can stay up all night.
8:25 PM BBT – Final 3 holding on strong here.
8:28 PM BBT – Deal making time. Safety for all 3. Alex gets to poop in HoH's toilet.
8:29 PM BBT – Jason drops for the deal of safety.
8:30 PM BBT – More deal making of safety promises.
8:31 PM BBT – Elena drops! Alex wins!
Alex is the new Head of Household. Congrats to Alex!


In case the site becomes overwhelmed I'm going to embed our Twitter feed here for more updates:
Tweets by @bigbrothernet
Nominations should be coming up on Friday already so get ready for those spoilers soon, then Power of Veto comp will be held on Saturday. It'll be a very busy weekend! Download our Big Brother App then join us on Facebook & Twitter for the updates.