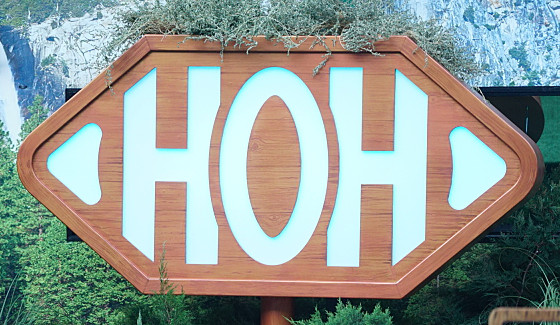 Big Brother 19 spoilers for the Final HoH endurance competition arrived for the Final 3 HGs and it's time to find out who won the first round tonight. That HG will have a seat in R3, or rather a spot to stand on during the finale's giant scales of Big Brother justice.
The losers in this round will face off in the second round of the comps later this weekend and with a one-legged HG in the mix we can probably guess how this will all go. Then again, despite earlier suggestions that they wouldn't accommodate her injury, it's hard to believe they wouldn't to avoid a flop of a round here.
So who won the first round of the Final Big Brother HoH comps? Read on for the spoilers & details.
Big Brother 19 Spoilers: Final HoH – Round 1:
Paul won Round 1
Josh & Christmas will compete in Round 2
Paul will face off against R2 winner in Round 3
Gallery: Final HoH Round 1 Competition
Gallery: Round 1 HoH Fallout – Unicorn Glitter
Feeds came back at 12:25 AM BBT so they were down for about 5.5 hours after the final live eviction show ended. Long comp, right? Nope. HGs mentioned it only lasted about an hour, so they must have done the memory lane taping before the competition and that was cause of the extended delay.
Well I'm not shocked that Paul won. But I was surprised that Christmas got to play and she didn't come in last. Turns out she had to be advised on how she was allowed to land when she dropped. Josh was the first to drop and didn't last long while Christmas got second. That means those two will face off in Round 2. We'll get that competition on Saturday based on past seasons and HGs comments tonight.
Once again this season we were denied the chance to watch the endurance competition on the Feeds and that was a crushing blow to the show's hardcore fans who have for more than a decade watched this critical competition. Last year was the first time I recall such a shutout and they repeated the punishment for the fans again this season. One of their worst decisions of the season (but they've had worse).
There are no more nominations or Veto comps. We're down to the last rounds of battle for the season's Final HoH. We'll be awaiting Round 2's results later this weekend and you'll get those results from us as soon as it happens. Download our Big Brother App then join us on Facebook & Twitter for the updates.