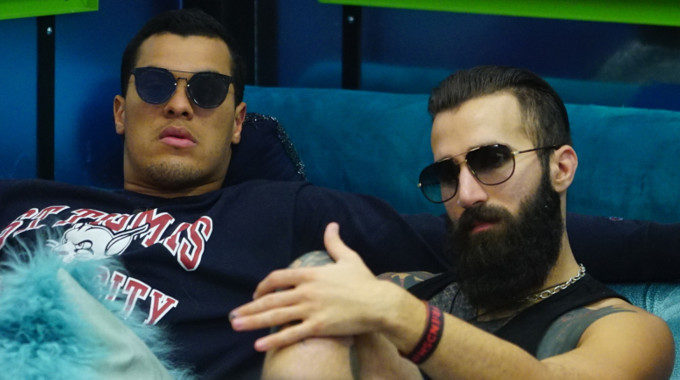 Last night when the Feeds returned we got a quick "Friendship chat" from Paul Abrahamian as he revealed and confirmed his plans for who he wanted next to him in the Big Brother 19 Final 2. Considering most of us expect him to end up there then it's worth taking a look at his proposed ideal scenario.
Flashback on your Live Feeds to 9:49 PM BBT 9/13 Cams 3/4. Get your Free Trial now to watch.
Paul explains that so far this season nearly everything he's wanted to have happened has worked out. It's true that one way or the other, eventually he met his goals and now here he is, poised and ready to make it to the F2 yet again. So who does he want to join him? Why it's his handcrafted monster, Josh Martinez.
"I don't know how the Jury feels, but my plan is to take Josh all the way to the end and hopefully it's a clean sweep."
Right now we've got a F4 of Christmas, Kevin, Josh, and Paul. Later tonight we can expect Kevin to be evicted by Christmas's sole vote and then we're off to the Final HoH competitions of the season. Paul has a great shot in the Round 1 endurance comp and then he's going to be no slouch in the Round 3 Q&A based on Jury comments.
For much of the season we've watched as Paul pushed Josh to blow up and attack the other Houseguests, now Paul is ready to cash in on that effort by taking a much disliked HG along with him to the end. He won't be repeating last season's mistake of taking a more likable, though who I considered a less deserving F2 partner.
As much as the Jury may be angry with Paul for betraying the trust he falsely instilled in them, I think this is probably a good strategy for F2. Christmas hasn't "won" anything but the two comps handed to her, but she's probably not as disliked as Josh would be.
Of course keeping Josh around is a risky move for Paul. Kevin would be easier to defeat in R1 than Josh and he's achieved even less than Christmas. Josh has stated that he wants to take Christmas to the end, so when Paul supports Christmas tonight in keeping Josh around over Kevin then he better be sure to beat him in R3 if they're up against each other because otherwise this season will have been in vain for what we've put up with.
If Paul reaches the F2 then he deserves the win, but if he blows it at the F3 stage then that's on him. We'll find out next Wednesday night at the Big Brother 19 season finale! What do you think of Paul's F2 strategy? Is it the right move or should he be trying to get there with either Christmas or Kevin instead?