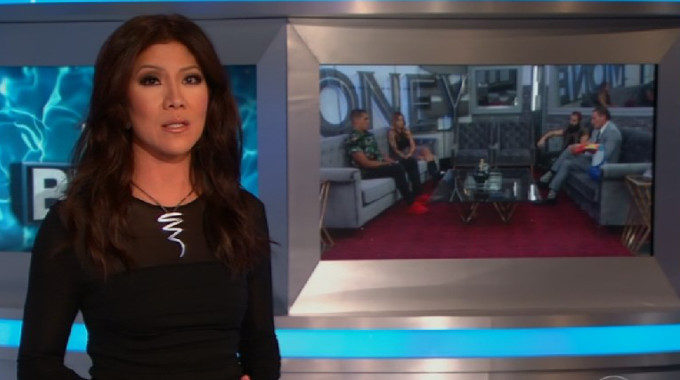 Big Brother 19 was ready to roll last night with its second straight eviction night with the Final Four set to lose another member following Alex Ow's eviction in Wednesday's episode. Now with Paul Abrahamian as the HoH with a secured spot in the F3 the other three HGs would be competing for the same privilege.
By the end of the episode we discovered our F3 for BB19 as the HGs prepare for Thursday's Round 1 of the Final HoH. But first, let's get to the night's results for the nominations, Veto comp, ceremony, and eviction vote.
Big Brother 19 Results – Week 11.5 Nominations:
Paul nominates: Josh & Kevin
Nominations are set, but the real power to control the sole vote this week comes with the Veto medallion.
Before the Veto Comp it's time to take a trip to the Jury house. Cody is still Cody and doesn't like anything and refuses to participate in basic discussions. Matthew gets a cold welcome. Jurors are shocked by Jason's naivety. Jason is still blaming Alex for his eviction, but Julie says Raven will cure him of that thought.
Gallery: Big Brother 19 Jury House
Raven shows up and starts telling all the Jurors that she was the season's puppet master. They're laughing to her face. She goes on that she and Matthew had the one true alliance with Paul. They laugh even more at her. Yeah, such a good alliance that they're both in Jury? Gotcha.
Big Brother 19 Results – Week 11.5 Veto Comp:
The competition is a time machine theme and HGs have to set the right day of events using wheels to turn the Big Brother Day counter. Last in each round loses a point. After losing 3 points the HG is eliminated.
Round 1: Christmas was last
Round 2: Kevin was last
Round 3: Kevin was last
Round 4: Kevin was last & eliminated
Round 5: Christmas was last
Round 6: Christmas was last & eliminated
Round 7: Josh is last
Round 8: Josh is last
Round 9: Josh is last & eliminated
Paul wins the final Power of Veto of the season.
The earlier events were all held during the Feeds blackout over the past few days but now we're up to the live portion of tonight's eviction show. Time to see who is heading off to Jury next.
Big Brother 19 Results – Week 11.5 Veto Ceremony:
Paul did not use the Veto.
Final noms stay as Josh & Kevin
Big Brother 19 Results – Week 11.5 Eviction:
Christmas votes to evict: Kevin
Out on stage Kevin tells Julie that Paul was his closest ally, but he's not upset that Paul didn't use the Veto to save him. In Paul's goodbye message he tells Kevin that if he's seeing this then Christmas went rogue (not true). In Josh's g'bye message he blows up Paul's lie by telling Kevin they had a F3 alliance and Kevin was all their targets. Oops!
Big Brother 19 Final 3:
Christmas Abbott
Josh Martinez
Paul Abrahamian
Big Brother 19 Final HoH – Round 1:
Big Brother is almost over for the season but we've still got two more episodes with Friday at 8/7c and then the season finale on Wednesday (Sept 20th) at 8/7c for the two-hour event. Keep in mind there will be no Sunday episode this weekend due to the Emmy Awards so we'll probably be getting the memory lane episode on Friday instead. Wonderful.
What do you think of tonight's BB19 results? Was the right Houseguest evicted from the F4? Who do you think is going to end up winning it all?
Download our Big Brother App, join us on Facebook & Twitter, and get our Email Updates for more!