Houseguests didn't have much time to rest amid the arguments and competitions this weekend on Big Brother 19. Things got pretty hot on Friday night and have just barely calmed down. There's definitely going to be way more to cover than CBS can get in the episodes so catch up now on what's been happening.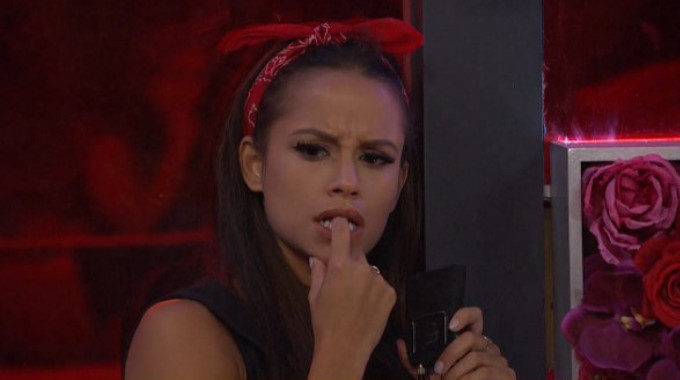 Last we saw on TV the Houseguests had just competed for HoH with Paul Abrahamian coming out on top for his second round as HoH. Here's everything that's happened in the game since then.
Big Brother 19 Spoilers – Weekend 5 – Roundup:
Temptation Competition:
The twist was revealed to the HGs and it took a bit to figure out how they'd handle the situation. Paul was quick to work on convincing all his allies to participate, cause really, what's it to him if they lose. Whoever came out last would go up on the Block, but since Paul was HoH he wasn't eligible to play and have a shot at blocking Cody from winning safety.
Speaking of Cody being in need to safety this week, well Jessica talked him out of competing. He soon regretted that decision when things were over. Had he competed and won then in theory he could have had a shot at winning Veto and then both he and Jessica would be safe and they could use their Hex power next week instead. Nope. Didn't happen.
Instead Mark went on to win the first Temptation Competition and Jason came in last. Paul was upset since Mark was his Plan B, but it turns out he didn't need one. Read More >>
Nominations:
Jessica had the HGs worried that maybe she couldn't be nominated thanks to her Temptation. She hoped to bluff them by opting not to compete in the Temptation Comp, but it didn't work. Paul went for it and sure enough they were eligible to be nominated.
The nominations set off a series of confrontations first with Cody and Paul shouting at each other right after the Ceremony then Josh and Mark got in on the action and it nearly turned physical, or at least looked like it would. Yikes.
Jessica and Cody were sent to the Block and with them both on there was no chance at escape without using Jessica's Halting Hex this week. Read More >>
Gallery: Fight Night On BB19
Have Nots:
Last week it was the first few to fall in the HoH competition, but this week they went with HoH's choice and that meant volunteers. It was the ladies round as Alex, Christmas, and Elena took on the Slop but they weren't alone. Mark was still on his double duty for HN after picking the wrong box in the HN Gamble.
Speaking of gambling on being a HN, Elena went for it last night and… picked the wrong box. She'll be a HN for two weeks now. So far only Paul has correctly guessed which lockbox had the "escape" token. And to be sure, Elena did check the other box to confirm both didn't hold the bonus punishment.
Power of Veto:
The PoV offered the return of the Big Brother Storm Watch. This competition prep kept the HGs up all night studying bursts of weather announcements and that was all before HGs even knew if they'd be participating! Not everyone was too worried though.
Jessica and Cody didn't bother to study, but HGs think he must have been listening in at least a little. When it came time for the comp Kevin and Raven were selected to join in. Cody was just a point between those two while Paul pulled out the win.
Read More >>
That should catch you up on everything since Thursday's episode ended. The PoV Ceremony is coming up on Monday and we'll get the latest results when it's over.
What do you think of this weekend's Big Brother spoilers? Are you happy with the results or did you want someone else to pull off the wins? If you have our Big Brother App then you received alert notifications as these results arrived. If you don't have it, then be sure to download our app now!