We've got new Big Brother spoilers for the first week's "Den of Temptation" as the Pendant of Protection has been awarded to one of the Houseguests. This afternoon the recipient thanked viewers in a quick camtalk message.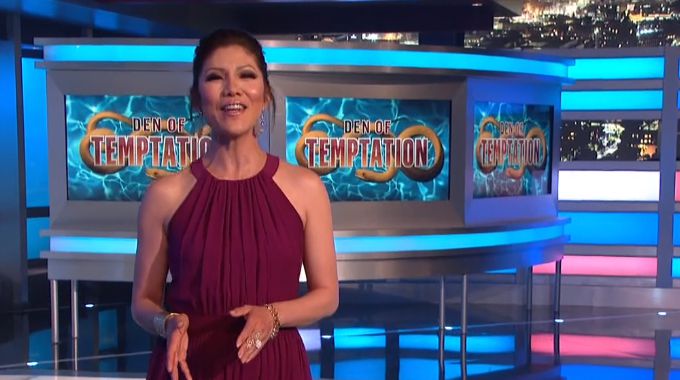 There's really no cause for surprise or questioning here as I bet we all knew exactly who would end up winning a popularity contest among 15 newbies and 1 well known, established Houseguest. Yep, just as we expected.
Spoilers: Den of Temptation – Week 1
Paul Abrahamian won the Pendant of Power & its three evictions worth of safety.
Flashback on your Live Feeds (get the Free Trial now for All Access) to 10:34AM BBT on Camera 3 to find Paul sitting along in the Lounge. He's explaining his strategy for this season "Moth to the Flame" where he wants to draw in players, appear indispensable, and help feed their own pre-existing paranoia.
In that talk Paul thanked viewers but mentioned it could be a real challenge. He says he'll have to "hide that for 3 weeks or else my cover is blown." To clarify, we know it's for 3 evictions, which is only an issue if there are any special situations with more than one eviction within a week.
But this is interesting to know that Paul doesn't have to disclose it unless it's forced. I'm guessing if he can keep himself off the Block then it's never an issue, but what about if he goes up? Can he? Maybe he just can't be sent out the door? Dunno yet. Paul explains, "I'm using it as a backup plan." He goes on to say that he feels his social game is "so strong that I can evade the Block for 3 weeks without, but it's definitely nice to have it."
So there we go. Paul won the power, is safe for 3 evictions, and can't win any of the other Den of Temptation twists yet to come. As for the consequences, it sounds like Ramses may have received the negative portion of this one, but we don't know just what that is yet. Ramses revealed to Jillian last night that he had been "bitten by the serpent" which seems to be a fancy way of them delivering the news privately to HGs.
We'll get more of these details revealed during Sunday's episode (8/7c) when the segment showing Paul receive his pendant power is revealed along with whatever happened to Ramses.
What do you think of these spoilers? Any surprises here? Not for me. This seems like a clear ploy to give their investment (Vets are paid extra money to return) safe and in the game for at least a set amount of time. But like Paul said, maybe he didn't even need it, but I'm sure production is happy with this insurance plan.
Want more? Download our Big Brother App, join us on Facebook & Twitter, and get Email Updates.