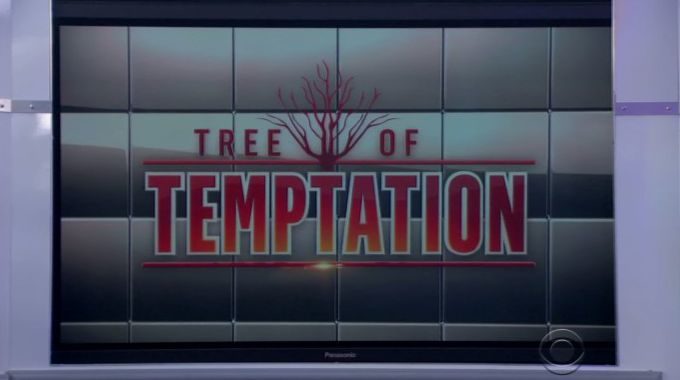 The Tree of Temptation twist is back for Week 9 of Big Brother 19 and it's about as big a hit as a contagious rash might be in that house. Yep, things aren't looking too good for this apple tree.
Continuing the Summer of Temptation, following the Den and Competition installments, is the "Tree of Temptation" which bears the fruit of five apples and inside each of them is either a power or a curse. Houseguests would have to be the first to race to the Diary Room each Friday when the tree lit up just hours before Nominations. Or not.
This morning, Flashback on your Live Feeds to 10:04 AM BBT as the spooky voiceover announces the tree has come to life. If you have the Feeds on mute you wouldn't know anything had happened because there was practically zero reaction. HGs just kept on chatting and sitting around like nothing was going on.
Slowly Matthew walked back to the kitchen but didn't even bother to walk over. Paul came out of the Lounge, looked around, and announced that he was going to get it but then admitted he was joking. He strolled over to the well lit tree with Raven and chatted about the twist's "gumpy-ness". Few others stopped by but there were no takers.
Gallery: Tree of Not-So-Temptation
It's been just over two hours since the tree opened up an opportunity for someone to grab one of the four remaining powers and still yet there are no takers. This twist could be about to fall apart. As Paul pointed out, if there was some cash in the mix they'd probably get a better reaction. We'll have to see if that gets added next week.
Trouble here is that Paul has everyone so convinced that they're safe no one realizes that's going on. Matthew and Raven are about to go up, but they think Kevin is the target while everyone else knows otherwise. Paul is working to make sure Raven and Matthew don't wise up and make a grab for some power here. So far his plan is working.
As a reminder, here are the four remaining options after Mark got the "Save-A-Friend" apple last week:
Second Veto
Eliminate 2 Eviction Votes
Bounty On Your Head
Can't Play In Next HoH
Since Feeds were down last week we don't know how long exactly this twist will be active this afternoon, but it's likely going to be closed for business by the time nominations arrive later tonight. Speaking of, I'd bet Matthew and Raven, this week's current eviction targets, will wish they took the gamble on an apple by the time the Veto Ceremony rolls around.
Do you think anyone will take a risk at getting stuck with a punishment? Jason could go for it since he's already not playing next week, but getting a bounty of $5K on your head would be bad news. I wouldn't be surprised to see this one pass by without any action. That's going to be a little awkward in Sunday's show!
Meanwhile, nominations are coming up later today. Ready who we expect to go up and be ready for those spoilers later tonight along with the Veto comp tomorrow with results from the Live Feeds.
Update: That's it. Production has closed the door on the Tree this week. No one took a bite.