It's nomination day in the Big Brother 19 house and for some reason it's not happened yet. Production seemed to be stalling, hoping the HGs would take an apple from the temptation tree, but they all agreed not to. Jason's initial nomination plans seem to be pretty obvious at this point, so read on for those details and more.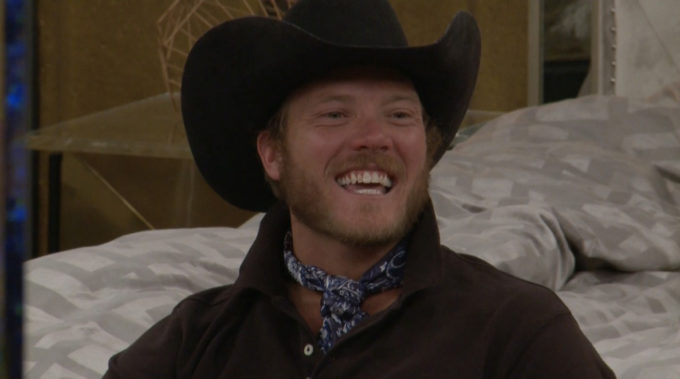 If you've got the Live Feeds (Free Trial) then you can watch all of these moments with the Flashback feature to go back and watch those important conversations or funny scenes you may have missed.
Big Brother 19 Live Feed Highlights – Friday, August 25, 2017:
9:30 AM BBT – HGs getting up for the day.

10:04 AM BBT – Big Brother announces the Tree of Temptation is alive. No one seems to care. No one races to the DR to claim an apple.

10:10 AM BBT – Paul camtalks that he threw the HoH competition. He says he doesn't want to look too strong in comps right now to Alex and Jason.

10:15 AM BBT – Raven wonders who is going up. Paul pretends to not know but says it's probably between him, Matthew, Josh, and her.

10:25 AM BBT – Jason tells Kevin he was tired of the one sided votes so he was going to vote out Matthew anyway. Kevin says he wishes he had told him so they could have had a tie. Jason tells Kevin if Matthew or Raven had won HoH they probably would have put him (Ja) and Alex up.

10:50 AM BBT – Raven is worried Jason and Alex could come after them. Paul eggs her on that it'd be all of them against Jason and Alex if they do that.

10:55 AM BBT – Paul warns Raven that pawns will probably be used so they can keep Kevin unaware. Matthew doesn't want Raven going up. Paul gets Matthew to agree that they should save Raven no matter what happens with the noms and the Veto.

11:25 AM BBT – Christmas tells Josh she's sorry that Matthew will have to go before Raven. Josh decides he should do better about playing nice with Kevin.

12:15 PM BBT – Matthew has to wear new clothes picked out by Raven. He isn't too happy, but it's sleeveless so he can't be but so mad.

12:50 PM BBT – HGs waiting on Nominations Today sign to appear on the screen, but Paul points out the Temptation Tree is still lit up. Paul says they're probably still banking on one of them taking an apple but it's not going to happen.

12:53 PM BBT – Matthew notices that Kevin is glued to Jason. He says he's not going to leave him alone all week.

1:00 PM BBT – Josh and Christmas talk about how Matthew and Raven are trying to push Kevin as an outright nomination and a definite target.

1:05 PM BBT – Matthew tells Raven they just need to let Paul do his work and they have to trust him. Raven says she doesn't want to seem paranoid.

1:08 PM BBT – Christmas and Josh think Jason needs to at least tell Raven and Matthew they're going up. Talk turns to Alex. Josh says she's a huge threat and is really good at lying. Christmas agrees. Josh says Alex is all game.

1:13 PM BBT – Raven keeps freaking out about going up. Christmas tells her to go talk to Jason. She says there's no point. If she's going up she's not going to change his mind. Matthew says he doesn't even think they will be able to get Jason alone at this point. Matthew is worried because Kevin isn't a threat to Jason. Christmas tries to tell him Kevin is since mental competitions will be coming up soon.

1:20 PM BBT – Matthew pointing out how annoyed he was with Jason and Alex during the HOH competition. He still doesn't understand why they were making their deal for so long.

1:33 PM BBT – Alex tells Jason and Paul that she was the other vote and it was an accident.

1:40 PM BBT – Raven asks Alex if she and Matthew need to go talk to Jason. Alex says, no they have no worries because they want Kevin out. Alex says Jason isn't telling her who he's putting up.

1:44 PM BBT – Josh tells Raven that Jason wouldn't tell him his nomination plans but he said he wants Kevin out. Josh tells her he trusts Jason when he says that.

2:50 PM BBT – Paul cam talks, trying to introduce new catchphrases.

2:58 PM BBT – Raven is upset with Matthew because he said he doesn't have a girlfriend.

3:36 PM BBT – Paul asks Jason if they're taking a shot at Matthew first. Jason says it doesn't matter because whoever goes, the other will be a zombie. Paul says if Matthew wins veto, he might pull Raven down. They decide that strategically it makes more sense to send Matthew home. Paul says if Raven goes then Matthew could kick into high gear in competitions. Jason says if Matthew goes, Raven will be easier to tear down.

3:43 PM BBT –  Jason tells Paul that production told him to watch seasons 18, 16 and 12. He told Paul he would fall asleep during most viewings and that he didn't even know Paul got second place last season.

3:53 PM BBT – Paul asks why the tree is still lit up. He says to just turn it off because no one is taking an apple.

4:01 PM BBT – They finally announce that the temptation tree is out of play. Paul says it's about time. Alex says "F*** the tree."
The nomination ceremony should be happening shortly, and you should expect Jason to nominate Raven and Matthew under the guise that they're pawns. It should be an interesting week to see how this all plays out and if Raven and Matthew end up blindsided at the end of it all.
You can watch all of these Big Brother events using the archives Flashback, the DVR-like feature of this year's Live Feeds which means it's always live, even when you missed it! Sign-up now to get the free trial to watch it all live & uncensored.

Gallery: Live Feeds Highlights