Jason became the latest Big Brother 19 Head of Household during an endurance battle that played out on the Live Feeds. That means it's just about time for a new line to be drawn in the house.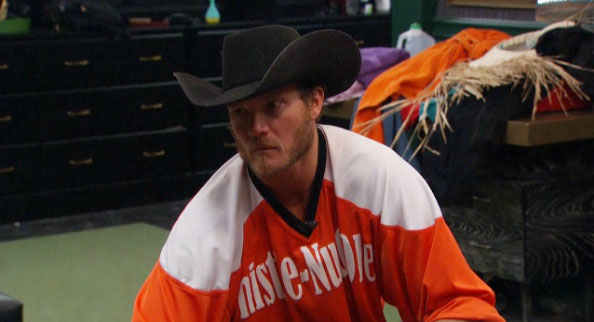 With Mark now gone, that means there are more "outsiders" left, so it's time for Paul and company to decide who among them will be the new targets. As we've seen the past couple of weeks, Paul has been planting his targets two or three weeks out. All the while Mark was the target in Week 8, Paul was busy stacking the house against Jason, Matthew and Kevin. Since Jason is the new HOH, that means the target would fall on Matthew or Kevin.
And since Alex and Jason threw in two rogue votes against Matthew during Thursday night's live eviction, it became a bit unclear on who they were gunning for this week. Were there stray votes against Matthew a foreshadow, or were they looking to frame Kevin to make him an easier target this week?
Flashback to 11:09 PM BBT Thursday night – Paul says if Jason puts Matthew and Raven up he can do damage control. Alex and Paul agree that they can tell Maven that Kevin is the target and they're going to backdoor him because if they put Kevin up outright, he'll flip out. They say since Kevin is being so spastic over those stray votes they can say they just don't want him going crazier on the block.
Josh comes in and Paul asks him if Matthew and Raven goes up and Josh says he thinks so. Josh says he does not think Jason would go after Kevin (because they're too close). Paul says he'll talk to Matt and Raven to make them think Kevin is the target. Alex tells Josh that Matt is their real target but explains the plan to tell them they're backdooring Kevin.
Paul goes in to tell Raven and Matthew that Jason might put him (Paul) and one of them up. Then he says or maybe Paul and Josh … or … Matt and Raven. Paul explains that if Kevin feels safe, he won't fight, but if they put him up, he might try to win veto. Matt asks Paul to reiterate that Kevin is a backdoor target. Paul says yes. Matt says then it doesn't really matter who goes up. (This is going to be too easy).
Jason finally confirms his plans at 1:55 AM BBT when he says he doesn't care who goes between Matthew and Raven, but thinks it might be smarter to keep Raven over Matthew. Paul says Matthew might even save Raven with the veto if he were to win it.  So there you have it. Expect Jason to nominate Matthew and Raven while Paul promises them that Kevin is the backdoor plan for the week.
We'll have the spoilers as soon as things are revealed on the Feeds. Download our Big Brother App, join us on Facebook & Twitter, and get our Email Updates for lots more Big Brother coverage.
Did you know you can get a Free Trial to check out the Live Feed in-house cameras for Big Brother? Watch any moment from the season both live and in the past with the Flashback feature. If you haven't tried the Feeds yet then this is your chance!