A new twist has arrived for Big Brother 19 and we're just learning a first few of its details in the latest spoilers from the Feeds. Just like before this looks to be a short term event, but there's enough power here to change the game, at least for a week or two.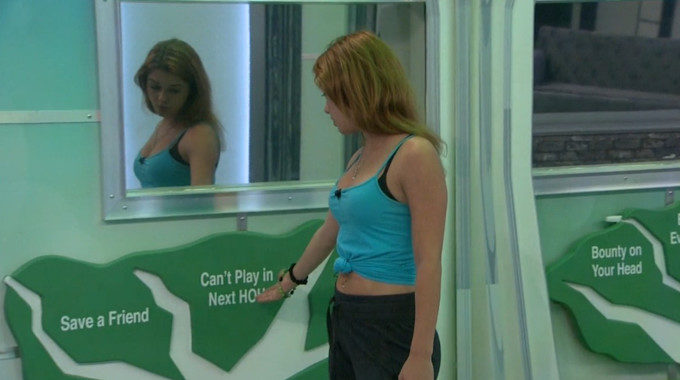 The Big Brother foyer has a big fancy apple tree decoration and that came to life in the game over the past day with the down Feeds. Here's what we've learned so far about the new twist.
Flashback to 9:53 PM BBT 8/18 Cams 1/2 on your Live feeds to watch (Get the Free Trial now!):
Our first look at the newly installed addition to the apple tree came last night when Raven stopped there to comment. We got an up close look that revealed these five "temptations," but as Christmas later explained, they're not all so tempting.
Temptation Twists: Apple Powers
Second Veto
Eliminate 2 Eviction Votes
Bounty On Your Head
Can't Play In Next HoH
Save A Friend
There are five "powers" and as you can see, some are good for the receiver, some are good for a beneficiary, and some are just plain bad.
Gallery: Apple Tree Temptations
They're all pretty self explanatory, but HGs did mention the Bounty temptation was $5,000 on the player who opens it. That means if HG X gets that apple, then whoever gets X out would win $5K. I don't know if that goes to the HoH in charge that week, but that'd be my guess. I'd also imagine if Elena was still here she'd be trying to figure out how to get that power then evict herself for another $5K.
We discovered later last night that one of the powers had already been unleashed on the house with "Save A Friend." You get three guesses for who received the benefits of that power, and the first two don't count.
Yep, Paul is safe this week. I know, shocking, right? This was thanks to Mark. Apparently after the HoH competition he was the one to go to the tree and presumably it was a blind choice. Ironic pick for Mark considering he's the one most in danger, but couldn't use it on himself. Not that anyone in there would have been willing to use it on him either.
Paul, Christmas, and Josh discussed Mark's choice here. They think he figured Paul was safe anyway with Christmas as the new HoH and it'd look good to the power in the house for him to go with Paul. Basically it was a throwaway use of the power.
Discussions also suggested that there were two more picks from the apple tree left to go. That'd make sense for a once a week situation, giving us three weeks of this twist just like the previous two Temptation twists. So we'll have to see which other two items are put in to play over the next few weeks. These could have a big impact, or like this week, could fall flat.
What do you think of this new apple Temptation twist? We should see more of it in Sunday's episode and get the official details then. But in the meantime, let's speculate away on how it'll work.
Update: We discovered in Sunday's show a few more details about the Tree Of Temptation twist. This twist will last 3 rounds, just like the other Temptation twists. There are 5 apples on the tree, one for each of the powers listed above. Sometime each round when nominations are getting close the Temptation Tree will light up red. When it does, the first HG to the Diary Room to claim a pick from the tree will get to take the gamble.
So that's how it works. Four apples remain as of now after Mark picked "Save A Friend." That means they've got a 50/50 shot at something good or bad in the next round. Would you take the risk?