Sunday night's episode of Big Brother 19 gave us a new Head of Household and introduced us into the Tree of Temptation, a new twist that will either reward or punish any HG who chooses to take part in it.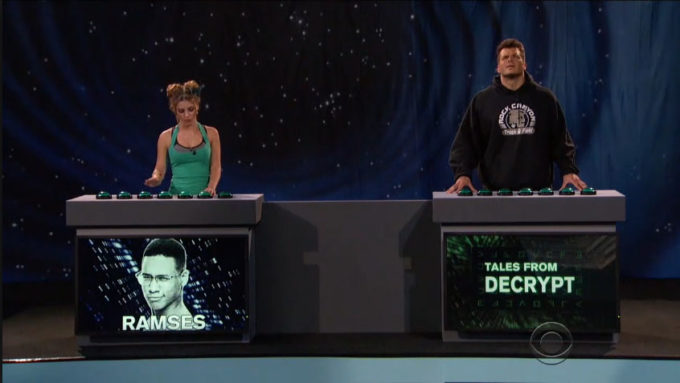 The episode kicks off at the start of the Head of Household competition. This is a head-to-head tournament challenge game, so during every round someone will be eliminated. Up first are Raven and Mark. And Mark is the first one out. And the house is very happy.
Up next are Paul and Alex. Paul gets the question correct and knocks Alex out. Kevin faces off with Christmas next and she wins the round, and Kevin is out. Josh and Matthew are up next and Josh knocks out Matthew.
Now it's time for the second leg. It's Paul vs. Raven and Paul wins that one. Christmas and Josh are up again and Christmas gets the question right and Josh is gone. That means the final round is Christmas vs. Paul. And Paul decides to throw the competition to Christmas so that he can compete in the next HOH.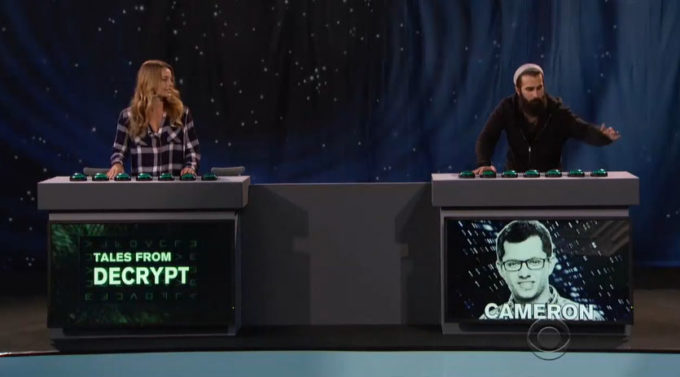 But Christmas has no idea what the answer is because she's busy thinking about making BIG moves. Not just any moves, but BIG moves. BIG (spoiler: she's not going to make a big move). So Paul gets tired of waiting and has to pick the wrong answer just so Christmas can actually win the competition.
So lets see what those BIG moves are. Oh, it's to target Mark. Which is what the whole house wants. I guess that's a big move, depending on who you ask. Alex, however, has been sketched out by Kevin all season and since Kevin has met Derrick before, she is even more sketched out. So she starts drooping Kevin's name to Christmas.
Jason is put in the middle of Alex's hatred for Kevin so he lets Kevin know that Alex is really sketched out by him. Kevin flips out and wants to confront her but all that happens is Alex gets really upset with Jason for telling him.
Josh decides to deflect the Kevin suspicions with Christmas so he tells Christmas he believes what Cody said about Jason and Alex on his way out the door. So now there are three or four targets this week. But in the end, it will only matter who Paul wants to target. But Paul lets Christmas pretend that she's in charge. So Christmas tells Paul that Mark is the backdoor target, but if something goes down this week, they can get Jason out. And since Paul wants Alex all to himself, he's OK with that idea. It was going to be his idea eventually anyway, so he doesn't mind giving Christmas credit for it.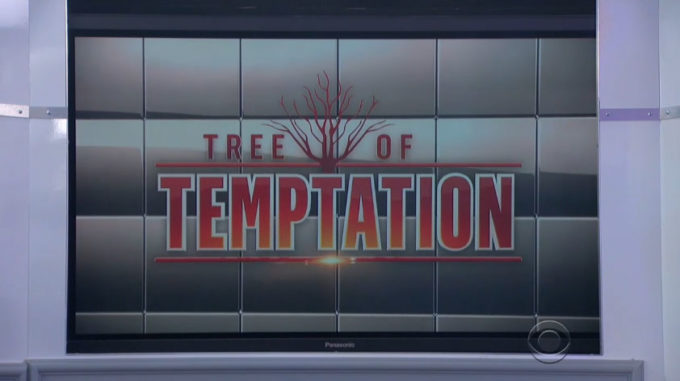 It's time to find out the latest twist! It's the Tree of Temptation. The tree in the living room starts lighting up and flashing. Christmas reads from a card that the HGs can pluck an apple from the tree when it's lit up. The HGs won't know if they're picking a power or a punishment and whatever they get is only in play for the week. The prizes/punishments include Save a Friend, Second Veto, Eliminate Two Eviction Votes, Can't Play in Next HOH, and Bounty on Your Head.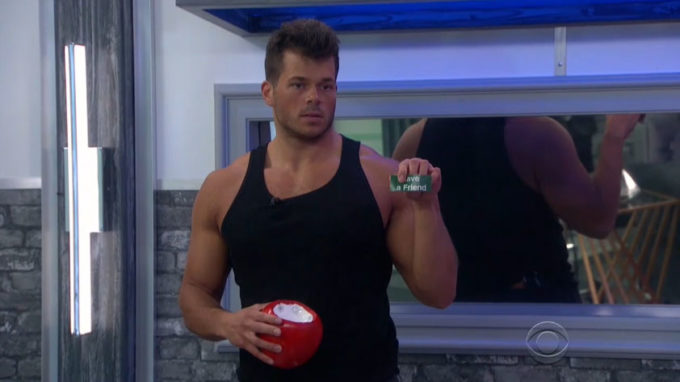 The first time the tree lights up red, Mark goes to the DR to tell them he'd like to claim an apple. Hoping for that second veto, Mark opens his apple and he gets the Save a Friend prize. And since he doesn't have any friends in the house, it's not going to do him much good.
At the nomination ceremony, Mark gives his save a friend safety to Paul. Who knows why, really. Christmas names Matthew and Jason for eviction and then addresses Mark instead of them, letting him know that he's the target. Can't wait to find out if Mark dodges the Backdoor this week? Check the Power of Veto spoilers now to find out who won the PoV comp!