Let me start by saying I haven't been this excited for a season in a long time. When the Big Brother 19 cast was announced I was thrilled to have 16 all NEW players and see that there was some age diversity and a large number of super fans. I was never more ready for a season to start!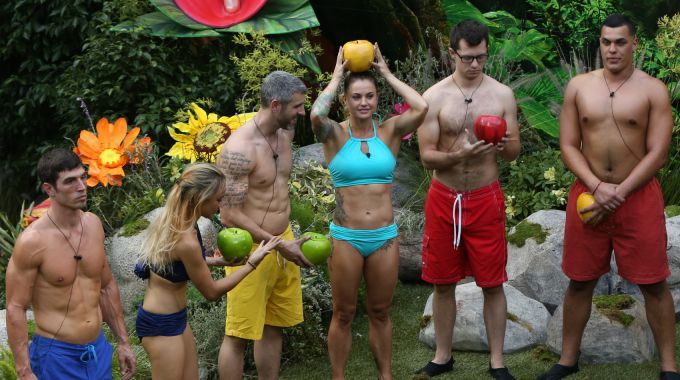 And then the rumors started. I didn't want to believe them so I ignored them. And the some more rumors dropped. And I started to believe them. I still held out hope that even if some of the rumors were true, we'd still be in for a great season.
And then Wednesday night happened and all hope was lost. For me, anyway.
I know that sounds a bit dramatic, but hear me out. I represent a large group of people who spend a lot of time on social media during the BB season. And we did not want Paul or ANYONE back this season. And a lot of us are Paul fans. We like our Big Brother to be all newbies or All Stars. We don't like the mix. And we especially don't like just one person returning for a couple of reasons. 1. They're going to have a huge target on their back. 2. Production is going to try anything to keep them safe because of that, thus throwing out any real chances of an organic game.
And as the Big Brother premiere night moved on, we saw just how much that No. 2 is true. OK, so we all saw that Paul returned. Well, instead of letting him just join the others, they decided he'd replace someone. That was the first Price is Right losing horn sound I heard in my head. And to keep Paul safe they gave him the power to keep a group of others safe. So not only does he get to return to play another season, he's given a ridiculous amount of power. Second losing horn sound.
I do like that those not getting "Friendship bracelets" got to compete to save themselves, but that really only worked for one player. The others were left up to chance. To make a long, upsetting story short, Paul returning cost a super fan his spot in the game and I find that very upsetting. I liked Cameron and saw a lot of potential in him. I was bummed to see him go, but more bummed that the excitement for this season has already started to slip away from me.
Don't get me wrong, I do love this game. But I just want a clean slate season. We haven't had a season without stunt casting or returning players since BB12. That's been far too long. I can't stand seeing players get an easy ride throughout a season just because they've played before and production throws in some America's votes to ensure their rides are easy. And I'm not alone in this thinking. A lot of us agree. I'll share some of those thoughts in a bit.
And before I get too negative (too late, I know), I'll talk about what I did like so far for Big Brother 19. I actually like the idea of the Den of Temptation twist. It's great on paper, that is if you were a fan of Pandora's Box. This is basically a season-long Pandora's Box. Well, until they decide to drop the twist after four weeks. But again, a twist like this would be better with all newbies or all vets. Not any sort of mix, even if that mix was 16-1. It's just not a fair vote when someone has a built-in fanbase (think Nicole last season).
That being said, I don't think Paul will garner as much support as some other returning players would have, but he's familiar and America likes familiar.
Now let me take a look a really quick look at the players. Let's start with the guys.  Kevin is weird. I don't know if it's a good weird yet, but right now he kind of makes me uncomfortable. Cody isn't the exact same archetype as Clay and Corey as a lot of fans are thinking. Cody has something that's going to make him far more entertaining than the usual archetype he represents. Wait and see.
Matt right now is just good to look at. Everyone seems to like him based solely on his appearance. Mark seems like a sweet guy. Jason isn't as annoying as I had thought. Josh is more annoying than I thought. Ramses is way more annoying than I thought. And then there was Cameron. Poor guy got Jodi'd. He had such great potential. And what will we do without the person who was going to clearly be the season's DR shouter. Wait, we've got Paul, never mind.
Jillian. Why couldn't she have gone home? I am not feeling Jillian whatsoever and I never will. Megan was a pre-season favorite of mine, but I'm not liking her so much in the house. She's too abrasive. Jessica is pretty. That's about all I can say about her right now. Raven is OK. She's apparently latching onto Matt so I'll support that. Christmas is going to come off as a big threat really soon. Alex is super annoying already. Who else? Dominique. She's sweet and stunning but kind of non-existent. I'm forgetting someone. Elena. God the girls are so forgettable this season. Elena is just kind of there for me right now.
It's still early, so I'm sure these first impressions will change. Now let's see what some of you guys thought about the Big Brother 19 premiere!
twitter-tweet" data-lang="en">

WTF even is this? #bb19

— Kevin (@Billsfan2000) June 29, 2017
twitter-tweet" data-lang="en">

BB must really hate Nicole to just dedicate the next season in trying to correct that she incorrectly won.

— mel (@RenegadesMel) June 29, 2017
#YOURBOYISBACK BEST.SUMMER.EVER. I CANNOT RIGHT NOW #BB19

— Casie Poore (@casieispoore) June 29, 2017
Me to production we have what seems like a good cast I like Paul but he's not needed. pic.twitter.com/cWscTagQcS

— Farva KC (@Farva1996) June 29, 2017
I actually really like Paul but I don't want him to have safety for three weeks. NOT SORRY. #BB19

— Andy Herren (@AndyHerren) June 29, 2017
I like Paul too. But I don't like returnees and definitely not in back to back seasons, uuuugh https://t.co/mpdvB1D1YR

— EvelDick (@EvelDick) June 29, 2017
Ramses is cut throat evicting a fellow super fan. #bb19

— Aubra Marie BB (@aubramariebb) June 29, 2017
I'm officially team Matt and team Mark #BB19

— bbastrzo (@bbastrzo) June 29, 2017
Really enjoyed #BB19 premiere. Really hope this is a good season 👏🏼👏🏼

— Dallas (@KingDallas17) June 29, 2017
Alright #BB19 I'm into it

— Cody Calafiore (@Cody_Calafiore) June 29, 2017
I'm assuming Cameron is NOT feelin the "friendship" right now..

— Derrick Levasseur (@DerrickL) June 29, 2017
Big Brother continues tonight with the second part of the premiere's two-night event on CBS at 9/8c.