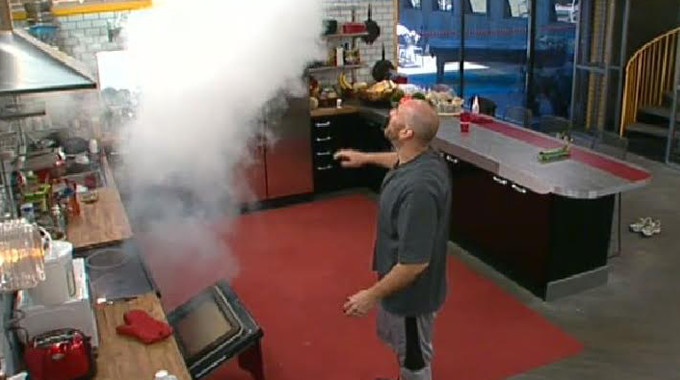 Another week – and another 1001 fights. This has been a very toxic week both inside & outside the Big Brother house. It's never good when Big Brother is in the mainstream media. For the most part, they leave our summer addiction alone, unless something "EXTREME" happens.
Sadly for Jason his idea of a bad joke went WAY over the line. He will have to pay for this when he gets out, so as fans, we should let him see the error of his ways and give him the chance to right his wrong. The "Witch Hunt" & things being said about him and to his family are just as bad if not worse than what he said, but that's Big Brother for you. This whole season has crossed the line several times, but I always say – BAD Big Brother is better than NO Big Brother.
We still have 6 more evictions before we crown the winner and put this season behind us and look forward to BBCAN6 & BB20. BUT FIRST – lets hand out some Bacon & tofu – and don't worry, no one reading will get a penalty vote for eating this column up!
Paul Abrahamian – 5 strips of Bacon – this week worked out pretty well for Paul, AGAIN… No one in this house sees how he is playing every angle possible, and should just be able to walk his way to the end. Throwing the HoH was easy, I question if he threw the Veto too. I think the only hiccup to his end game would be if he won anything before the final Veto.
Paul has got everyone willing to go to war for him, and take out anyone else in the house not named Paul. So kudos to him for being the pot stirrer and taking the target off himself for another few weeks. I still do not like how he's doing it – but cannot deny it's effectiveness.
Christmas Abbott – 3 strips of Bacon – this late in the game, being the outgoing HoH is sometimes a risky place to be – but Christmas came out of last week with no blood on her hands. She kept her social game on full throttle and maintained a strong bond with Josh & Paul. Jason not "following through" on putting Kevin up as a replacement gave Christmas ammo to get Raven back on her side and will help push her further in the game. She did have a little blow up with Kevin which may or may not have been planned. Like Paul, she is doing a great job keeping the target off herself and every week is one week closer to her being able to actually compete in physical comps, which she will need to do if she wants to win the game.
Jason Dent – 2.5 strips of Bacon – Jason won both HoH & Veto this week and had the opportunity to do what the house wanted – which was tun on his 2nd best friend in the house Kevin. Jason did not do that, and went with his gut to take the first shot at Matt & Raven. While this is a good move on paper, unfortunately it got his allies (both real ones & fake ones) to question him even more and the target on his back got much much bigger.
Even Alex his "Ride or Die" is starting to turn on him. Jason does not realize how he's being setup, and he actually needs Kevin more than ever to win an HoH to protect him this upcoming week, or he can win his unprecedented 3rd Veto in a row. (As far as I know – no one ever won Veto 3 weeks in a row – I am sure if I am wrong someone will point this out to me!)
Josh Martinez – 1 strip of Bacon – for once the house fights were not started or egged on by Josh this week. He is still being dragged along by both Paul & Christmas and they are hoping his previous viciousness will leave a bad taste in the jury's mouths to get them the win over him. Josh has been so desperate to be liked this summer, and thinks his actions are "good game" when they are just making him look like a buffoon. However, he does play his role very well & does not have a target on him thanks to the actions by others this week.
Kevin Schlehuber – 1 strip of Tofu – well, it finally happened, Kevin snapped! The house has so much negative energy, it was only a matter of time before it took a hold of Kevin's soul and twisted it around a pole. The questions of his loyalty have been unfounded, but Paul recognized how loved Kevin is/was – so the plan to torture him was put into overdrive. Kevin had spats with everyone the last few days – and has seemingly been the bigger man each time and apologized to most. His old school manners have no place in this house, and unless he can find a way to win the upcoming HoH or Veto – he's the easy target.
Alex Ow – 3 strips of Tofu – last week's Tofurkey of the week moved up the food chain slightly this week because the next 2 people were much worse. This week should have been a breeze for Alex, her BFF is HoH & won Veto. She was never in any danger of going up as a pawn or target. So what if Jason did not take a shot at Kevin like you wanted, you still need to split up Matt & Raven. This was not good enough for her though – she wanted to bury Kevin at any cost and has moved up the vicious chain as well. I honestly think Alex wants to torture people more than Josh has this season. Her cockiness has blinded her – and that is going to be her downfall.
Alex also thinks she is in a great position with everyone except Kevin, but the rest of the house knows she needs to go. Counting jury votes out loud this early (or ever) is not a smart move. You keep those conversations to yourself, or MAYBE 1 other person. The fact that everyone knows she is counting makes that target grow! How bitter will she be when she sees how badly she got played by Paul this season???
Raven Walton – 5 strips of Tofu – while I never expect people to go down without a fight in the BB house, Raven has been playing victim so long both inside & outside the house she does not know how to do anything but. This week definitely has not gone her way, and she is going to be split up from her showmance partner Matt come Thursday. All season she has been on the majority side of the votes, and blindsided / lied when it was convenient for her. Now that is happened TO her, she cannot believe anyone would do that. Cmon Raven – you know this is Big Brother right? I hate hypocrites in the game – and Raven is as hypocritical as they come.
Speaking of hypocrites…
That brings me to this week's Tofurkey of the Week – and that honor goes to Mr. "I dont wanna play by the rules" Matthew Clines. For someone who kept saying all he wanted to do was get to jury – and then he could be voted out sure does not seem like he's grateful once he gets his wish. The disrespect he has shown the sanctity of Big Brother is beyond comprehension. The penalty vote he will receive for eating while a Have-Not is just a slap on the wrist compared to the punishment he should get.
There have been other players over the years that have thought they were bigger than the game, and most of them got booted out for it. Zingbot was right, all Matt has done all season is Raven. Once he got played by Jason, he turned into the jackass I thought he would be at the beginning of the season. He got into it with Jason, then Kevin – and basically all that pent up frustration just exploded all over the house… kinda like he has done on Raven all summer (ZZZZZZING!). That being said – the worst part of the Hide & Seek Veto was seeing all the condoms (new & used) next to his bed.
My question of the week is – besides Paul, is there anyone from this season that you would like to see come back for another season?
There we go – another week of the rankings – let me know what you think by posting in the comments section below. I did predict correctly that the end of the game was going to get brutal. This season reminds me of Lord of the Flies – Mob-Mentality to go after people and crush them from the inside out.
Sadly no one realizes that Paul is setting them all up and using them to be his puppets until he wants them gone, then he turns the house on them. Actually one person sees that, Kevin, but he thinks it's all Alex's doing.
From outside the Big Brother House – I'm Adam Poch – have a great day!!
Follow Adam Poch on Twitter: twitter.com/heavymetalteddy.
September 9th – join me at PIG ISLAND in Brooklyn – this is the festival I proposed to my wife back in 2012. More info & tickets can be found here: http://pigisland.com.
If you want to see me turn a Heavy Metal legend into a Bacon fan – check out my interview with Marty Friedman