Well Sunday was a strange one on the Big Brother 19 Live Feeds. We saw the rise of an interesting situation as Paul pitched a ridiculous proposal to Jessica and against all odds of sanity and reason it almost looked like she was considering accepting it. But would she really?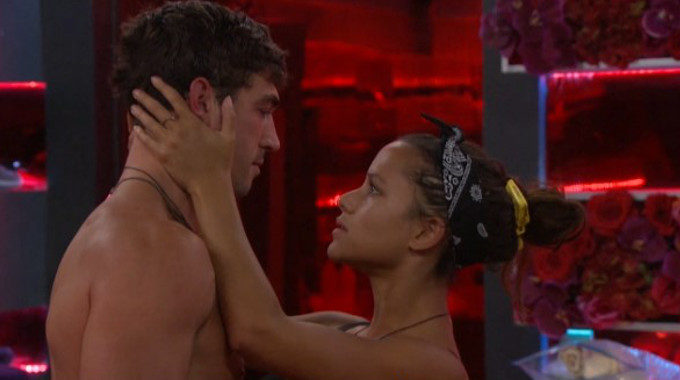 Things kicked off early in the day when Paul went to Kevin and Jason with a repeat of an earlier idea. Paul suggested he could use his Veto to save Jessica, renom Elena in her place, and then apply the pressure to not use the Hex. With Jessica off the Block, Paul suggested, she might be more open to letting the vote play out and even letting Cody go. I know, I know. No way, right?
Flashback to 11:15 AM BBT 7/30 as Paul is sitting down with Jessica in the HoH room. He's making the hard sell here that Cody is dragging her game down and she needs to let him go. Jessica defends Cody saying he's the only one protecting her, but Paul counters that Cody is the anchor to her game.
Paul wants Jessica to think about going with the house, letting them vote out Cody, and then earning herself a better spot in the game as a result. Ridiculous, right? Jessica says she'd have some conditions. Wait, what?
Jessica proposes to Paul that if she did this, not using the Hex so Cody could be evicted, she wants a few things in return. First, she needs safety for two weeks. Second, she wants Alex out. Paul says he can do the first but the second is out of his control depending on who wins HoH. Jessica concedes to Paul's argument there, but says he can twist arms and has the HGs' ears to make it happen. The talk breaks up here with Paul saying he'd work on it and Jessica saying she'd keep thinking of it.
From here Jessica ends up back to talking with Cody about if he wants to stay in the game. He's pissed at her for questioning his loyalty over earlier comments at the start of the season that he was using Alex and Jason to get out the showmance women so the guys didn't have to do it. This sets off Emo-Cody for a long while as the couple has an extended fight.
Paul pulls Jessica back in to have a talk with Mark, Elena, Raven, and Matthew. Flashback to 2:50 PM BBT to watch. Everyone in the group agrees to target Alex for her if she lets Cody walk this week. Now hang on, Paul has been working the house this afternoon telling everyone to lie, lie, lie. He has no intention of targeting Alex but will tell Jessica whatever she wants to hear. In fact, Paul has a plan for this situation.
If Jessica wants Alex targeted then Paul proposes to his allies that next week they put up Alex as the fake target and then get Mark to go up as the fake pawn. In reality their roles would be reversed. Then if things hold to eviction night they'd flip the votes and send Mark out. This would all be premised on Jessica having let Cody get evicted in this current week. It'd be another switch-a-roo by Paul against Jessica.
Gallery: Will Jessica Be Hex'd By Her Power?
Amid all these deals and offers from Paul Jessica has been talking with Cody and he's continued to say he just wants to leave and doesn't want her to use the Hex. Cody is upset over Jessica questioning his loyalty (even though he really did say all that about getting out the women later). Finally, later in the afternoon, the couple appears to have made up and Cody even mentions Jessica using the Hex and then they go all out to win the next HoH.
Despite all that, the deal isn't dead in the water. Jessica continues to have talks with Paul, Elena, and Mark about whether or not to use the Hex. The whole thing is preposterous. She'd be a fool to go with this deal. I can't imagine she would possibly seriously entertain the offer, but how many times in this season has Jessica been operating in a parallel reality to the game?
Making matters worse for Jessica, she's now revealed everything about the Halting Hex. She has told several HGs exactly how it works, when it expires, and its limitations. Late in the day Jessica admitted to Paul that she has to use the Hex before the vote occurs. She can't wait to hear the results and then put it in to play. Well guess what. Paul promised not to tell anyone but then takes that info to Alex. They debate if it'd be better to then vote out Jessica, given the chance if she didn't use the Hex.
So what's going to happen? In a perfect world I'd want to believe Jessica is messing with Paul. I simply can't imagine a reasonable scenario where she doesn't use the Hex. It's a do-over for her and Cody. They lost the HoH comp (well, he did while she was ineligible to play) then they blew the Temptation Comp decision and lost in the Veto comp. Play the hex, reset the week, and do it all over with the hopes of a better outcome for your game.
At one point Jessica talks with Mark who advises her to use the Hex. She tells Mark that Paul wants to take her boyfriend out of the game and she doesn't want to give him that satisfaction. Let's hope that thought takes root and she wakes up to the foolishness of the situation here.
Say Jessica doesn't use the Hex this week then the worst case is Paul leads a rally to evict her over Cody and she walks out with the Hex in her pocket. Move over, Marcellas. Next worst case would be her letting them vote out Cody then she wins HoH and it was all for nothing. She'd be safe and the Hex would expire at the end of the week unless she reset her own HoH week.
It hurts my brain. If this is anything other than Jessica setting Paul and company up to look like fools or just splash their hopes then it's such a bad move. Paul has no intention of honoring any deals with her once he's got what he wants. The house has busted every set of plans Jessica and Cody have put in to play, but now she thinks they'd do otherwise? Wake up, Jessica. Use the Hex. Save Cody. Play hard and win something this time around.
What do you think? Is Jessica playing the house or actually considering Paul's deal?