Sunday in the Big Brother 19 house consisted mostly of Paul and Jessica talking about what should go down this week concerning her Halting Hex power. One minute, Cody wants to just go home this week, and the next Jessica is definitely using it to save them. It's going to be a long week.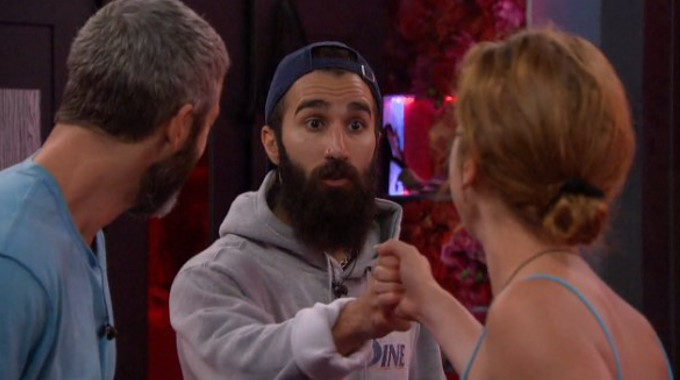 There were a lot of talks on both sides of the house as everyone wants to be ready no matter what Jessica decides. By the end of the day most of the Hex's details were revealed and everyone should be more prepared for how to handle what could be coming their way on Thursday.
If you've got the Live Feeds (Free Trial) then you can watch all of these moments with the Flashback feature to go back and watch those important conversations or funny scenes you may have missed.
Big Brother 19 Live Feed Highlights – Sunday, July 30, 2017:
10:50 AM BBT – HGs getting a late start to the morning.

10:55 AM BBT – Paul talks with Kevin and Jason that he may actually take Jessica down and put Elena up in his bid to convince Jessica not to use the Hex, save it for next week, and let Cody go this week. Jason is okay with it. Paul is nervous about just how the Temptation works and if Jessica could then save Cody and someone else would go home.

11:15 AM BBT – Paul gets Jessica upstairs to talk deals and her Temptation. Paul says she's only a target because Cody is in the house. Jessica explains exactly what her power is and how it works. Paul is pitching to Jessica that she doesn't use the Hex and then she isn't a target with Cody gone and she's got a spot in the Jury.

11:20 AM BBT – Jessica saying that only Cody has her back and no one could convince her not to use the Hex. She came to play the game and she'll do that. Jessica wants to make sure she gets to Jury with Cody. Paul says Cody isn't protecting her, he's making her a target.

11:30 AM BBT – Paul continues to press on Jessica to not use the Hex and earn herself a better spot in the house instead of being dragged down by him. Jessica finally says she'd consider it with a few conditions. Jessica wants 2 weeks safety and for Alex to be targeted for eviction next. Paul says he could do the the safety, but can't control Alex going because not everyone would agree to it. Jessica continues to say she wants Alex out and if that can't be promised then she'll use the Hex to keep Cody and have two people to go after Alex instead of just one.

11:33 AM BBT – Jessica tells Paul she doesn't want to "make the house happy" because the "house" has never made her happy. (Zing!)

11:35 AM BBT – Jessica reminds Paul that not all the past winners have worried about making the rest of the house happy. Paul challenges that. Jessica answers him with Evel Dick and Dr. Will. Jessica says she wants to talk with Cody about this.

11:40 AM BBT – Jessica was tipped off to talk with Matthew about something Cody said at the start of the season. Matthew doesn't want to get in to it and says it was a long time ago. (This was about Cody telling Matthew that they could keep some HGs around to take out their showmance partners for them later in the game.)

11:41 AM BBT – Paul is frustrated that Matthew didn't tell her. Paul thought that might be what seals the deal he pitched.

11:45 AM BBT – Kevin thinks they should just force Jessica's hand to use the Hex and then play hard for them next week. Matthew and Paul want Cody gone this week, not next week.

11:50 AM BBT – Paul tells Jason that Jessica wants to go after Alex. Jason is upset. Paul says that deal doesn't cover him (J), Josh, or Kevin. Paul points out they only have to lie and tell Jessica okay then they'll get Cody out.

11:55 AM BBT – Jessica questions Cody. She wants to know if her mom will be happy to see the things he's said and done. Cody is upset about her line of questioning. Jessica says tells Cody that Matthew wouldn't say what Cody had said five weeks ago and suggested Cody feels differently about her now. Jessica wants Cody to explain why he wanted to keep Alex and Jason in the game at the beginning then if Cody didn't really want to keep them to eliminate her for him. Cody is giving excuses, but gets upset that she is questioning his loyalty.

12:05 PM BBT – Cody is very upset that Jessica would question his loyalty (well, he did say that earlier this season so she's not wrong about asking).

12:10 PM BBT – Paul warns Alex that Jessica is trying to make a deal for her head in the game. He tells her to go before they're spotted.

12:15 PM BBT – Jessica goes back to Paul. He says he can make it happen if she still wants. She says to give her a bit to consider it.

12:20 PM BBT – Mark tells Jessica that maybe she should just use the Hex then they could gun for HoH and get the best of both worlds.

12:25 PM BBT – Jessica tries to talk with Cody, but he tells her to get away and go find someone else to distrust. Cody continues to be very upset. He says she lost him over this.

12:30 PM BBT – Cody storms out while Jessica tells him to "do whatever the f**k you want."

1:05 PM BBT – Paul lets Christmas, Raven, and Matthew know what's going on. He says Mark and Elena think the deal is real. He says they'll put up Mark as a pawn next to Alex and then vote out Mark instead. Blindside again.

1:20 PM BBT – Alex tells Jason she'd rather Jessica just use the Hex. Jason agrees. Jason wonders if Paul is secretly working with the other side. Alex doesn't think so.

1:45 PM BBT – Mark tells Paul his game (Mark's) would be better off without Cody there. He doesn't see why Jessica would use the Hex and keep Cody around longer.

1:50 PM BBT – Paul lies to Mark telling him that he's got people on board to evict Alex as part of Jessica's deal.

2:10 PM BBT – Jessica and Paul speak again. He offers to get everyone in the room so they can discuss. She agrees. After she leaves Paul excitedly dances. He believes he may have convinced Jessica to not use the Hex.

2:15 PM BBT – Jessica goes to Cody and tells him she hopes he'll come around. Cody says he just wants to go. He tells her not to use the Hex.

2:35 PM BBT – Jessica tells Raven that Cody can't understand someone being disloyal because he was in the military and they had to rely on and trust each other.

2:50 PM BBT – Group gathers in the HoH room with Paul, Jessica, Mark, Elena, Raven, and Matthew. Paul says he was already willing to put Alex up if the Hex had prevented Jessica and Cody. Jessica says she'll want Alex out if she lets them vote Cody out. Everyone in the group agrees to target Alex.

3:10 PM BBT – Paul asks the rest of the group to play it cool with Jessica so they can just get Cody out this week.

3:20 PM BBT – Jessica and Cody continue their soap opera. He says the damage is done and she should go on without him. Jessica questions if he doesn't want to be with her anymore. Cody says he wishes he could just walk away.

4:10 PM BBT – Cody poses to Jessica that she use the Hex then they gun for HoH. She calls him bipolar.

4:30 PM BBT – Cody and Jessica discuss being together after the show is over.

4:40 PM BBT – Jessica is waiting to hear back from DR over whether she can use her power in a different way. (Possibly trying to use it after votes are revealed, I'm not certain.)

4:50 PM BBT – Raven offers to Alex that if she (A) is HoH next week then put her (R) up next to Jessica. They discuss how the Hex would then be used (expecting it to still be there next week).

5:00 PM BBT – Jessica hopes Paul does use the Veto on her so he can see Alex go up in her place.

6:25 PM BBT – Cody warns Jessica that Kevin was asking him for details to see if she was planning to use the Hex. He says Kevin was sent out in to the backyard to eavesdrop on them.

7:05 PM BBT – Jessica and Paul again discussing the logistics of the deal and whether or not she'd use the Hex. She tells Paul she'd be more comfortable off the Block.

7:10 PM BBT – Paul promises Jessica he only wants Cody out, not her. Jessica reveals to Paul that she has to use the Hex before the votes are revealed. She can not wait until after it's been done to announce she wants to stop the eviction. Paul promises that with no one else knowing that then they'll definitely vote out Cody (or she'd just halt it then, but we know she's telling the truth).

7:15 PM BBT – Jessica warns Paul that if she's still on the Block on Thursday then she'll be too nervous not to use the Hex. Paul asks her to trust him. They don't need to talk again about it and she's got six people on her side in the house.

7:30 PM BBT – Paul tells Christmas that he thinks the talk worked and Jessica may not use the Hex after all.

7:45 PM BBT – Jessica talks with Mark for advice. She doesn't know what to do. Mark promises to have her back. She says if she gets HoH again she's going for blood and making lots of enemies. Jessica says that Paul wants her boyfriend out of the game but she doesn't want to give him that satisfaction.

7:50 PM BBT – Jessica points out that as long as Cody is in the game then he'll be a bigger target over her and Mark. Mark agrees. Mark tells Jessica he hopes she uses the Hex. He promises her safety from him if she uses the Hex and he gets HoH.

7:55 PM BBT – Jessica tells Mark she'll need to talk with Cody and make sure his head is in the game or she won't keep him with the Hex. Mark says he'll lie to Elena and tell her that he'd put up Cody and Jessica if he won HoH, but it isn't true.

8:39 PM BBT – Jessica tells Cody about the conversation she had with Paul where she told him he better not go off on Cody during the veto speech. Cody says he's not mad at her for saying that.

9:00 PM BBT – House is calm. Everyone just hanging out, chit-chatting.

11:00 PM BBT – Kevin, Alex and Jason are talking about next week. Kevin says if Cody gets HOH he's not coming for the three of them. Jason says he thought Cody was going home. Kevin says hypothetically, if Cody stays, he'll nominate someone other than them.

11:02 PM BBT – Alex tells Kevin and Jason they can't win the game without Paul (hmm). Kevin says they should put Raven up and send her home.

11:04 PM BBT – Mark is talking to Jessica and Cody about how depressed he is over Elena. He says he was ready to go to bat for her at any moment and now she won't even talk to him. Cody says he thinks she's following Paul's orders.

11:30 PM BBT – Mark tells Cody he regrets abandoning Dominique in her last week. He says he did that for Elena and now she wants to distance herself from him. Mark thinks Elena is doing that to change her alliance away from him.

11:40 PM BBT – Jessica and Raven have been throwing baby powder and flour all over the bathroom at Matthew in the shower. The bathroom is a disaster zone.

11:55 PM BBT – Jessica talks with Elena about her decision on the Hex. She tells Elena she's still trying to decide and Cody doesn't know she's still uncertain.

12:00 AM BBT – Jessica mentions Raven said she was uncomfortable with Cody in the house because she (R) had been abused in the past. Jessica questions then why she's always punching and hitting Matthew if she's worried about abuse.

12:05 AM BBT – Elena warns Jessica that if Cody is always the target, using the Hex this week will just continue to make Cody the target next week too.

12:07 AM BBT – Mark tells Paul that Cody isn't coming after him and wants to target a lot of HGs, but Paul's name isn't mentioned by Cody.

12:35 AM BBT – Jessica and Elena still discussing the Hex, Jury, etc. Elena advises Jessica against using the Hex, warning her it could likely hurt her game. Elena says the Jury cutoff being part of this decision for the HGs will make it harder for them to accept Jessica back in to the group after Cody is gone if she risks everyone else's chances for it. Jessica says it'd be a benefit to not use it if everyone goes after Alex.

12:45 AM BBT – Jessica warns Elena that there is one HG who is getting everything their way and she didn't come here to play someone else's game.

12:50 AM BBT – Elena warns Jessica that if she uses the Hex then HGs are going to come after her instead of Cody. Jessica says that doesn't scare her. She says the viewers voted her to get the Hex so she'd use it.

12:55 AM BBT – Jessica says that Paul is in their way of winning and if someone took him out the entire game would change.

1:10 AM BBT – Jessica decides she'd rather use the Hex and be a central character in the next few episodes than not use it and just be a background player on the show for a few weeks. She wants screen time.

1:25 AM BBT – Elena reports back to Paul that Jessica is still trying to decide what to do. She tells Paul to take it easy for a bit while she works on Jessica.

2:00 AM BBT – It's time for the nightly Mark and Elena soap opera. She hurt his feelings. Mark is so distraught. Rinse and repeat.

2:35 AM BBT – Paul lets Alex know what Jessica revealed to him (and he promised to keep a secret), Jessica has to use the Hex before voting. He tells Alex they should think about evicting either Jessica or Cody given the choice at that point if she doesn't stop the vote.

3:35 AM BBT – Mark and Elena are still talking feelings. Mark asks Elena if he throws the HoH comp to her would she let him sleep up there. She says no.

3:45 AM BBT – Lights are finally out and HGs have gone off to bed.
This exchange between Paul and Jessica over the Hex is interesting, but I can't possibly imagine she'll be willing not to save Cody. If anything she could be stringing Paul along for a little payback, but we'll see what she says in private over the next few days.
You can watch all of these Big Brother events using the archives Flashback, the DVR-like feature of this year's Live Feeds which means it's always live, even when you missed it! Sign-up now to get the free trial to watch it all live & uncensored.


Gallery: Live Feeds Highlights