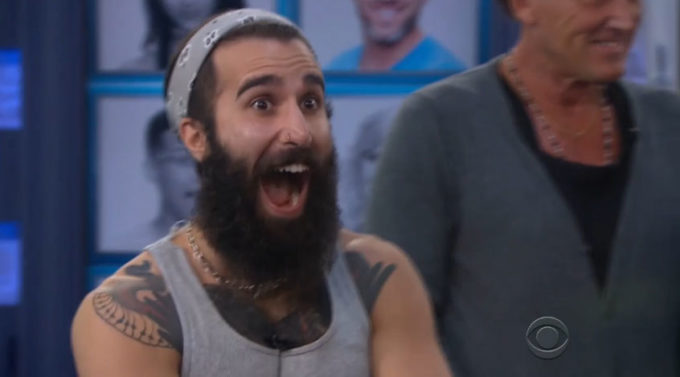 Houseguests are closing in on the end of Week 9 on Big Brother 19 and that means it's time to start looking ahead at who should be going out the door next. Given the way this season has gone so far that really means it's up to Paul and his grip on the game.
Paul remains in the hub position as all of the Houseguests are working through him to coordinate their game. While Alex & Jason and Christmas & Josh remain as pairs, both sets are still including Paul in their plans and neither are targeting him. Matter of fact, outside of Josh briefly questioning Paul's game, no one seems to be too concerned with Paul.
As we've seen on the Feeds, Paul is making sure Kevin is the most hated HG among the other HGs as Paul makes repeated smears against him. It's working on Alex for sure and it could be part of her undoing as Paul has her fixated on Kevin instead of bigger targets as we near the finish line. In fact, based on recent talks it still sounds like Paul would keep Kevin as part of a F4/F5 arrangement.
The next big targets for Paul and company will be Jason and Alex. Jason is the outgoing HoH so he can't compete and Paul's efforts with Alex have been in part to convince her to throw the HoH competition under the guise of Kevin being a target. If she does throw it then we can expect her and Jason to go up on the Block.
With Alex and Jason on the Block the target would first be on Jason. Christmas, Josh, and Paul all agreed last night that keeping Alex would be good since Kevin is against her and that leaves an opposing pair unlike Jason and Kevin would be. Then again, given Jason's recent streak of strong performances he may be harder to get out of the game than Paul hopes to see. All the same though, if Jason comes down then Kevin or Raven could be the pawn and Alex would head off to Jury next.
Paul has positioned himself well, but I'd say Christmas and Josh are doing very well there too. I don't see either of them being a target in this coming week unless there's another major shift.
My expectations for next week: Paul, Christmas, and Josh should all be safe. Raven and Kevin are the most likely pawns. That leaves Alex and Jason as the two HGs in the most danger for the next round.
Who do you think will be the next to go? Will Paul's plan work to trick Alex in to throwing the HoH? When will these HGs figure out they need to eliminate the boss man and clear their own path to the season finale for a win? Share your thoughts below.