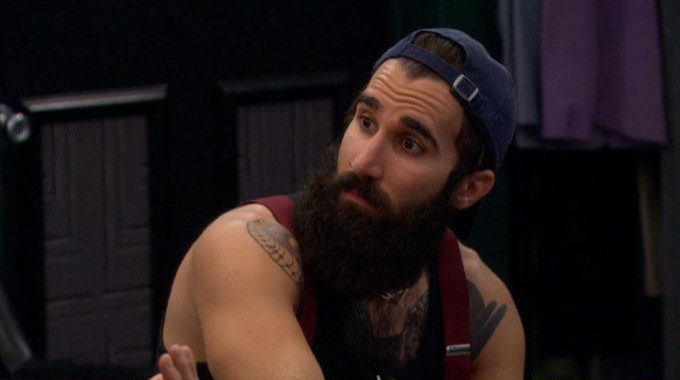 Paul Abrahamian continues to maintain his iron grip on Big Brother 19 and he's looking to be in an excellent position for his own game through this next round of events. Of course a lot of HGs are expecting a full week's turn at the game, including Paul, but instead there will be just a few minutes between the next two evictions. Paul is ready to be well set for the rushed decisions ahead.
We've already seen Paul positioning himself with Alex as her last ally when his network of minions evict Jason during the first of Thursday's two eliminations. Paul will keep his hands clean by voting to evict Kevin and forcing the tiebreaker on Christmas. She knows he's going to do this and has given him her approval. Yep, instead of making it so she can tell Alex "I kept up my part of the bargain, it was them who betrayed you!" she's letting Paul take that honor. Josh doesn't like this plan, but he's going along with Paul's game because why stop now. Bunch of knuckleheads.
Now, to cover all his bases Paul has also told Kevin to keep his head down this week and he'll come out clean on the other side. That leaves Raven to make sure he has control over. It's not like Raven has won anything all season, but her odds are getting better and better each week. In fact, this could be the week he pushes her in to a power position since his other puppet, Christmas, is on her way out of the last HoH he handed her.
Late last night Paul checked with Raven to discuss his plan, what she needs to know, and what she needs to do. Flashback to 2:53 AM BBT 9/6 Cams 1/2 on your Live Feeds. Get the Free Trial now.
Paul lets Raven know that she and Josh will be voting Jason out, but he won't. Instead he says after the vote he'll put Alex aside and tell her "they're gunning for us!" so he can pretend to be on her side. Then, and this is kinda funny, Paul says that the three HGs voting Jason out have nothing to fear from Alex because she already has a good relationship with them and they can all tell her "hey, it's nothing personal, we just had to get Jason out." Okay, ya goofs in that house, if that's okay for you to do and say to Alex, then why wouldn't it be for Paul to do it too?
The next part of Paul's plan is a faked fight between him and Josh on Thursday. He tells Raven the fight will take place after the vote so Paul can act like he was wholly against evicting Jason. It'd be great fun to watch Josh calmly reply to Paul that they all worked together to get out Jason, including Paul. Chances of that happening? Not so much, but it's fun to dream.
Paul says this fight will make Alex think he and Josh are against each other. Sounds like that's bad for Josh and a higher chance for him to go up against Kevin should Alex secure the next HoH comp. That's actually the exact scenario Paul next proposes to Raven. He says best case for the two of them is if Alex wins HoH then Kevin and Josh will go up, but worst case is Kevin plus either of them. Well obviously Alex isn't going to put up Paul, according to his plan, after he presents himself as her last ally in the house.
Raven asks if she should get involved in the fight between him and Josh, but he tells her to steer clear and "stay strong." She promises to do that and seals it with a kiss on his hand. Good grief.
Paul wraps it up saying their best case is for Josh to win, presumably to take out Alex, but if Josh is out then either Paul or Raven will need to win. Of course we know that if it comes down to Paul and Raven then he's going to bail. He tells Raven they need to put up Alex and Kevin next with Kevin as their backup plan to Alex's eviction and a "clean sweep."
I imagine as soon as Alex is out Paul will bail. He can control all of their actions now and he doesn't need to be visibly responsible for any evictions right now, so the risk isn't worth it for Paul. But even with Alex winning Paul is secured in his safety thanks to the votes and this faked fight.
No matter who wins HoH in the second round on Thursday night, Paul isn't going anywhere. It's pretty much Paul strolling to F3 at this point and an easy path to the Big Brother 19 finale night from there. We're just running out the clock two more weeks to see who joins him to make their case to the Jury.