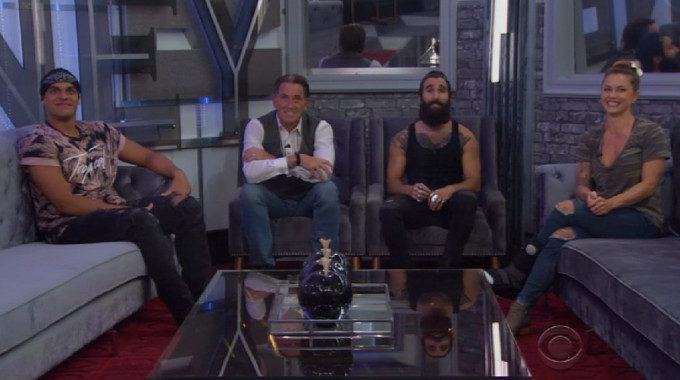 Well Final 4, we just met ya but now it's time for you to go. The Big Brother 19 Houseguests are back tonight with the second to last live show of the season where we'll see one of these few remaining Houseguests eliminated and sent off to Jury. Ready to find out who is going?
Last night we saw confirmation of Paul winning his coveted F4 HoH which means the man running the season won't be going anywhere tonight and that leaves three options for us to consider. Either Christmas, Josh, or Kevin will be eliminated just shy of making it to finale night.
Aside from the HoH competition there was one more chance at safety with the Veto competition and when the Feeds returned late last night we soon discovered who had that privilege. Well wouldn't you know it, Paul won the Veto. That means all three of the other HGs are still vulnerable and Paul will get to decide which one of the three stays off the Block and handles his dirty work again this week.
In a private conversation between Paul and Christmas, Flashback to 10:13 PM BBT 9/13, Paul confirms our expectations. He'll be leaving his current nominations of Kevin and Josh as they are, giving Christmas the chance to be the sole deciding vote tonight. They also confirmed their plans to send Kevin out the door.
We know Christmas has been working on Josh for quite awhile now and expects him to drag her to the end, which we also know to be true for his plans, so there's no surprise here that Christmas would want Kevin gone instead of Josh.
Given that we know Josh wants to take Christmas to the end and his recent suspicious behavior I would have expected Paul to at least consider wanting to keep Kevin, the easier win in these final rounds, but no Paul wants Josh to stay because he wants to take him to the end instead of either Christmas or Kevin. That was another tidbit Paul revealed last night.
With all that in mind it looks like a solid lock for Kevin Schlehuber to be evicted tonight from Big Brother 19 when Christmas casts the only vote of the F4 round.
TL;DR
Paul won Veto
Paul already nominated Kevin & Josh
Paul told Christmas she'd be the sole vote
Kevin expected to be evicted
F3: Christmas, Josh, & Paul
Join us here tonight at 9PM ET to watch, but while we wait share your thoughts on what you expect.