It was a long night of debate for the Big Brother 19 Houseguests as the new Head of Household weighed options, opinions, and past promises while working on the plan to get out a new target for this week. As the sun got ready to rise things were settled for the Week 3 nominations on Big Brother.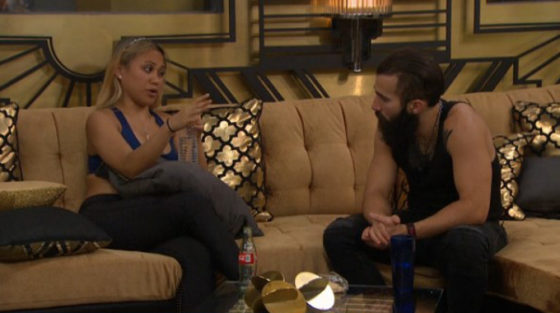 Alex winning Head of Household has promise for letting us avoid a steamroll through the game by one side. While it initially looked like we had trouble on that front the final plan looks more like what you'd expect from an outsider, even if it's not a total shake up of the game.
Now Alex isn't exactly an outsider anymore after her efforts to rehabilitate her image among the majority and get herself in on Paul and company's good side. Unfortunately that also seems to be holding her back from aiming for the center of the group which brings us to what looks to be her plan to chip away at their perimeter instead.
Right after Alex secured her HoH win she went to the Storage room (Flashback to 8:49 PM BBT 7/13) and teased Feedsters that she was about to make a "huuuuuggggeee move."
Jason jumped right on the opportunitey and excitedly hoped she'd put up Matt and Dominique, but Alex explained that she has to stick to her word and get Jessica on the Block. Once she checks that box then, Alex explains, she can make some changes with the second nom and even run a Backdoor by taking Jessica down.
Lots of talking in circles through the night but then if you jump to 4:11 AM BBT 7/14 Cams 1/2 (get the Free Trial now to watch) you'll find Alex and Paul alone in the HoH room. They're going back through the plan and how they've built up support for it through the night.
So who is Alex after? She wants Dominique up on the Block against Jessica, but there's a renom plan in place as well.
Alex says she doesn't want to pull a Cody so she's working on making sure she has support for getting her target opposite Jessica out this week. She says she thinks she's got Raven's support on that, but isn't sure about Elena. Paul informs her that Elena said she was willing to ditch the group and go with Paul to a new alliance.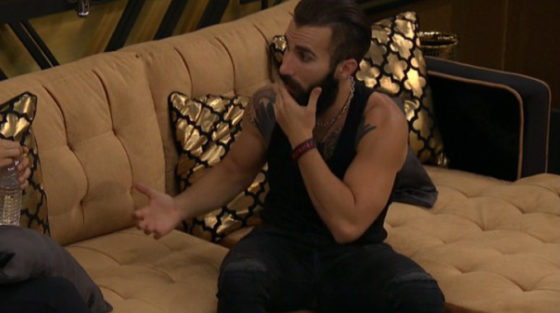 The pair roll calls what votes Alex could rely on for her plans. They speculate she has Jason, Kevin, and Ramses for sure. Then Paul and maybe Christmas, says Paul. But wait, Alex says they can't rely on Christmas cause she's Alex's renom plan here. Paul immediately agrees to that idea.
Next she's got Josh, says Paul, but Alex disagrees and points out that Josh flipped against Jillian in part because of the support Christmas gave him so he may not be willing to go with this plan since Dominique handles him similarly.
Paul dismisses Josh then and continues. He thinks they've got Raven and "then Matt will follow," says Alex. "And if I convince Elena, that's seven and that's that," adds Paul.
From here they work on "reasons!" (Hello, BB17.) for Dominique going up. Paul has a few suggestions and Alex has some as well. We'll have to wait and see what comes together for her nomination speech on Sunday's show. In the meantime though, I think it's safe to go ahead and watch for Alex to nominate Dominique and Jessica at tonight's ceremony. What do you think of that plan?
We'll have the spoilers as soon as things are revealed on the Feeds. Download our Big Brother App, join us on Facebook & Twitter, and get our Email Updates for lots more Big Brother coverage.
Did you know you can get a Free Trial to check out the Live Feed in-house cameras for Big Brother? Watch any moment from the season both live and in the past with the Flashback feature. If you haven't tried the Feeds yet then this is your week to do it! It's twenty cents a day and the cheapest entertainment you'll find all summer.