Julie Chen's announcement last night that this season of Big Brother would feature a "Battle Back" episode next Friday night this probably came as no surprise to you. I told you a week ago that it was happening! Now it's officially confirmed for its purpose, but there's a twist that goes with it.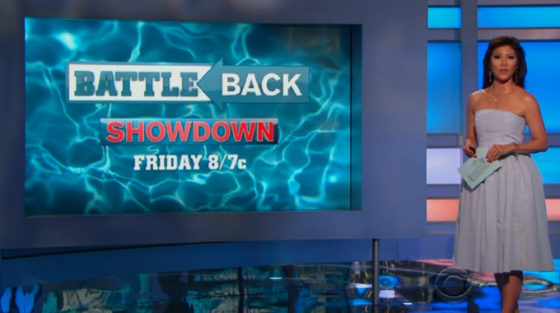 We've now got three of the four evicted Houseguests who will face off next Friday, July 21st at 8/7c on CBS and streaming live on All Access in most markets. Cody was sent out the door to join Cameron and Jillian and you know Cody has to like his odds with that roster. The only unknown for him is who will be sent out the door this week to add another obstacle to the first three evictees' path back to the Big Brother 19 house.
Last year we saw the evicted HGs paired up for competitions starting with the first evictee going against the second. The winner there moved on to face the 3rd and so on in a knock out tournament style. The earlier you were evicted the more challenges you faced to return. That's probably how it's going to happen again this time, but for Big Brother 19 there's another twist to it.
During last night's reveal Julie teased, "In a Big Brother first, the Houseguests will get the chance to stop their return to the game." Hmm. What's this little twist about?
Okay, so we know the Temptation voting for the Halting Hex, the last in the series of this season's twist, will keep votes open until next Wednesday. That means we won't see the winner revealed this Sunday, but instead next Sunday in the episode after the Battle Back show.
So what they could end up doing is having the Halting Hex's "curse" side effect allow a HG back in to the game, that HG being the winner of the Battle Back. This way we will see the Battle challenges play out no matter what but then do a cliffhanger for whether or not that he or she actually returns until Sunday's show. We don't know for sure, but will find out eventually.
Who do you hope wins the Battle Back? Right now Alex is targeting Dominique, but with Jessica in the mix that's always a possibility too. Think Cody would be willing to beat Jessica or could he decide to let her take the win if it comes to that? We'll find out next Friday night at 8/7c and you can be sure that we'll live recap the whole thing that night. Can't wait to see what happens!