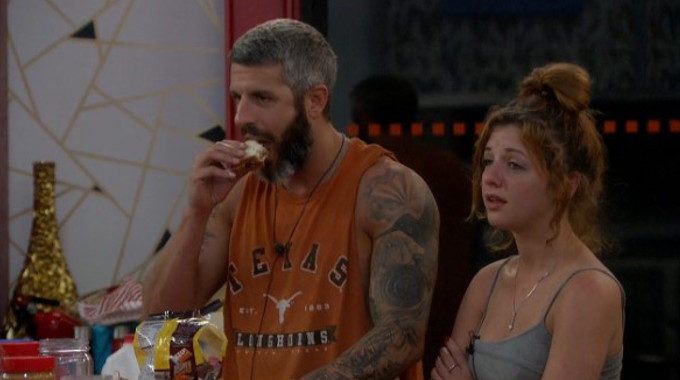 In a bid to secure his eviction, Big Brother 19 Houseguest Matthew Clines has decided to break every available Have-Not rule this week to ensure he will be the next evicted Houseguest from Big Brother.
After Jason Dent announced his decision to keep the nominations the same Matthew announced he would try to earn penalty votes to help keep Raven in the game. Matthew was soon seen eating regular food with complete disregard for his Have-Not status which restricts his diet to Slop.
At 6:04 PM BBT Jason gathered the HGs in to the living room with an announcement card from production. It read:
Houseguests, Matt has chosen to break the Have-Not food rules by eating regular food and will therefore be receiving one penalty vote against him this week.
Matthew took this as a green light to pursue more penalty votes and he kicked off a tour of all the no-no stops. Hot shower? Check. More food and soda? Check and check. Sleeping in a regular bed with Raven? Check.
So what is a Big Brother penalty vote? This is assigned by production for breaking rules and counts as one extra vote against the HG. If he or she isn't already on the Block then there can be a penalty nomination, but Matthew is already there so it doesn't apply here. Instead this week we'll see a 6th vote cast against Clines following the five Houseguests entering the Diary Room.
This move is basically Matthew using production as strategy, another move that's against the rule. Not only that, but Big Brother is providing multiple reminders and instructions to stop what he's doing when he begins to break these rules. At this point he's clearly not going to stop and Big Brother is looking like a powerless fool for it.
Making their stance clear, before Matthew and Raven went to their regular bed Matthew was eating more food when Big Brother told him to stop. His response? "We've already talked about this" and then continues to eat. Raven mocks production saying he's already got the penalty vote and asking, "do you really think it's going to stop?"
So what should Big Brother do? There is a precedent for this and the solution seems clear. Going back to Big Brother 11 we saw Chima Simone repeatedly refuse production's instructions and it lead to her expulsion from the game. In fact, Big Brother's executive producer Allison Grodner makes the resolution simple, according to her interview with CBS News:
"Because of multiple rule violations, [Chima Simone] needed to be expelled," said Allison Grodner, executive producer.
You'll remember Chima grew enraged at Big Brother after her ally Jessie Godderz was surprisingly put on the Block due to the "Coup D'Etat" twist. She refused to comply with the rules of the game and even threw her microphone in the hot tub to demonstrate her rejection of participating in the game.
Production escorted Chima out through the back door of the Diary Room (classic "no need to sit down") and she was not allowed to be part of the Jury or return for the finale. Chima was sent home and never seen again with the show.
So, aside from destruction of production property, we've got a repeat situation here with a Houseguest who is upset over an ally being put in danger of eviction and responding by repeatedly breaking rules and disregarding further instruction. If the threshold for ejection is "multiple rule violations" then Matthew Clines should be booted from the game.
Retain authority, Big Brother, and stop this nonsense. Follow the example you've already set and send Matthew out the backdoor. Remind the other Houseguests there are rules to the game they're being paid to play.