After a very heated day in the Big Brother 19 house Monday, the HGs calmed down just a little in the evening hours. There weren't any knock-down drag-outs, but there were still a lot of scheming and pettiness going around.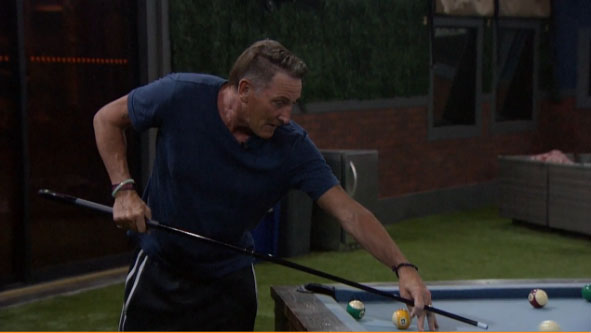 Don't miss Monday's daytime events report including a string of fights that lead to some serious downtime while production had to get involved to settle heated arguments.
If you've got the Live Feeds (Free Trial) then you can watch all of these moments with the Flashback feature to go back and watch those important conversations or funny scenes you may have missed.
Big Brother 19 Live Feed Highlights – Monday, August 28, 2017:
3:27 PM BBT – Feeds returned from being down for just over an hour. Kevin is outside with Christmas. Josh is inside with Alex, Josh, and Paul.

3:30 PM BBT – Kevin apologizes to Christmas for yelling at her in their fight about the pool. She wishes Josh hadn't gotten himself involved. Christmas tells Kevin to keep being Kevin, tell his stories, and hanging around.

3:32 PM BBT – Jason is ranting about Kevin to the group. He's very upset with him.

3:35 PM BBT – Kevin comes by and talks with Josh. He apologizes to Josh and promises he would have never tried to hit him. Josh accepts his apology. Kevin goes outside to the pool.

3:38 PM BBT – Paul mentions that production came over the speakers and told the guys to "separate" and Kevin said "f**k you" in response.

3:40 PM BBT – Raven and Alex want to throw away the rest of the Slop since Kevin doesn't know how to make anymore and Matthew isn't going to eat it. Alex tells Josh he's not allowed to help Kevin make any Slop.

3:50 PM BBT – Raven tells Josh she'll throw HoH to him this week.

4:05 PM BBT – Alex says the group should do a roundtable with Kevin and yell at him.

4:10 PM BBT – Paul warns Alex that Kevin is blaming her for sending Christmas and Josh to attack him.

4:15 PM BBT – Josh says it's upsetting for someone to threaten to bash his head in.

4:20 PM BBT – Paul confirms to Matthew and Raven that it was Kevin who won the $25K.

4:25 PM BBT – Paul promises Raven she's going to be okay and won't be evicted. He counts off the votes to keep her. Matthew mentions there's also his penalty vote.

4:40 PM BBT – Kevin is looking for the Slop. (Alex either hid it or threw it away.) Paul denies knowing where it is. Kevin is checking the trashcan to see where it went.

5:15 PM BBT – Raven points out they should throw the comp to Christmas in case it's not physical so they can be free to play the next comp.

5:25 PM BBT – Paul and Raven are laughing about Kevin looking for the Slop and how Alex threw it away.

5:45 PM BBT – Kevin vents to Jason that Raven is destroying his food supply. He questions why she claims to be anti-violence and then acts so violent to Matthew each day.

5:50 PM BBT – Kevin doesn't know what to do with the Slop and if he'll need to take it to bed with him to keep Raven from throwing away his only food. Alex tells Kevin to stop complaining and make more. She tells him it's not a big deal when he says it's vicious.

6:03 PM BBT – HGs are gathered in the living room per a request from Jason. He has a card from production and reads that Matthew has officially received a penalty vote for eating regular food while being a Have-Not.

6:05 PM BBT – Jason gives Kevin tips on how to make Slop.

6:15 PM BBT – Matthew is taking a hot shower against the rules.

6:20 PM BBT – Alex is mad at Jason for helping Kevin make the Slop.

6:25 PM BBT – Matthew is making a sandwich against the rules.

6:40 PM BBT – Matthew is eating more food and drinking soda, also against the rules.

7:00 PM BBT – Jason says they should be nicer to Kevin instead of trying to make his life miserable. Josh kinda agrees. Alex strongly disagrees. She says she's going to make sure that Kevin knows she hates him.

7:35 PM BBT – Kevin tells Jason he thinks Alex isn't happy that the two of them are close. Kevin says she told him to that he's a big boy and to make the slop himself. Kevin says she lives at home with her parents and he's raised seven kids.

7:38 PM BBT – Kevin says he doesn't want to get evicted before Raven. Jason says that's not happening and promises on it.

7:58 PM BBT – Kevin tells Jason that if they've turned on him how does Jason know they won't do the same to him.

8:09 PM BBT – Paul tells Kevin that it may seem like everyone is ganging up on him but don't make it out to be like that.

8:25 PM BBT – Josh has been on Kevin all day, but he reveals to Christmas and Paul that their next plan is the same. He says he can put up Alex and Jason and tell them they're backdooring Kevin but then blindside one of them. Talk turns to final four and they decide they think Raven is better at competitions than Kevin so they should take him to final four instead of Raven.

8:29 PM BBT – Paul makes Kevin some slop.

8:38 PM BBT – Kevin still thinks it was Raven who threw out the slop. He still doesn't know it was Alex.

8:47 PM BBT – Josh says Alex will freak out when they take out Jason but Paul says as long as it's not her she'll be fine.

8:50 PM BBT – Paul thinks they have Alex convinced to throw the next HOH to one of them so they can get Kevin out. They agree to make her and Jason think Kevin is the target.

9:55 PM BBT – Raven tells Matthew that if Jason was really interested in making a game move he would have used the veto on her and put Paul on the block. Raven says she thinks Alex and Jason were the votes to evict Matthew (yep).

10:00 PM BBT – Matthew and Raven agree that Jason didn't go rogue with his Veto plan. They know Alex has been guiding him all season so they doubt he suddenly started thinking for himself.

10:10 PM BBT – Kevin is ranting about Raven to Jason. He wants to get Raven out this week instead of Matthew.

10:20 PM BBT – Paul and Christmas agree that they're positioned well and Christmas should take the win for HoH if she can this week to free up the others for next week. Paul says they'll vote out Alex if Jason gets the Veto, but Christmas really wants Jason gone first. Paul notes Alex's game is getting sloppy because she's more focused on being mean now.

10:35 PM BBT – Matthew tells Raven they've made it so far because they have each other and he just wanted her to win. Raven says they are the best showmance.

10:50 PM BBT – Kevin asks Jason to talk with Alex for him and end this nastiness. He says there's no more fun allowed.

11:10 PM BBT – Alex tells Paul and Christmas that she's fine with going up as a pawn next to Kevin and she'll throw the HoH comp. After she leaves Paul and Christmas discuss being stunned at her willingness to do that.

11:45 PM BBT – Paul and Josh discuss how to manipulate Raven. He knows they can promise Raven and Kevin both spots in their F4 and neither will discuss it with the other. Paul asks if he should go make promises with Alex and Raven. Josh agrees.

11:48 PM BBT – Raven is convinced Kevin is the reason Matthew is going home this week. She says she wants him out.

11:50 PM BBT – Josh camtalks that he's suspicious of Paul's strategy. He wonders why Paul makes these extra side alliances if he's really with him 110%. Josh questions if Paul is trying to set up groups to take a shot at each other. Josh then dismisses these concerns.

11:55 PM BBT – Paul talks with Kevin and suggests Alex is mad at him because he's getting close with Jason. Kevin says Alex couldn't win against an inanimate object this season.

12:18 AM BBT – Matthew is eating. Big Brother tells him to stop. He and Raven mock production as he continues to eat. They soon leave to go sleep, presumably in a regular bed as they go together but are never shown.

2:00 AM BBT – Paul camtalks that he's made it this far without being on the Block. He's sure he can win mental comps coming up and if he can get to F5 then he's sure to make F3.

2:40 AM BBT – HGs are asleep except for Paul who is still up and camtalking in the Lounge.

3:10 AM BBT – Paul finally stops talking and heads to bed. Lights out all around.
What a messy, ugly day that was for Big Brother 19. Over the top fights and nastiness that strayed from the game and seemed to fulfill nothing but pettiness. Meanwhile we've got Matthew checked out and playing by his own rules as production appears powerless to reel him in. I'm waiting for them to figure out something to shut down that attitude of his before he's evicted.
You can watch all of these Big Brother events using the archives Flashback, the DVR-like feature of this year's Live Feeds which means it's always live, even when you missed it! Sign-up now to get the free trial to watch it all live & uncensored.

Gallery: Live Feeds Highlights