Things continued to get uglier in the Big Brother 19 house Tuesday night as there was another big blowup, this time between Matthew, Kevin, Raven and Alex. The feeds cut during the argument, but we pieced it together from later talks among the HGs. Read on for those details and the latest tasteless attacks Alex has been spewing onto Kevin.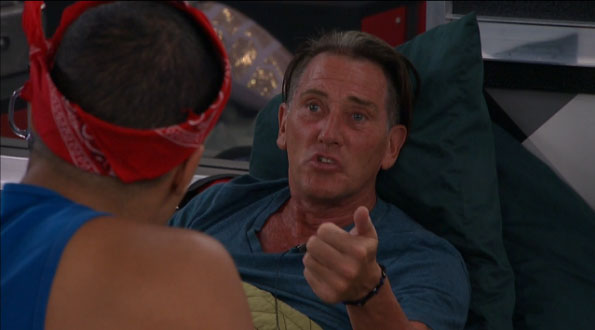 Catch up on Tuesday's Daytime Feed Highlights Report before reading on through the night's events next.
If you've got the Live Feeds (Free Trial) then you can watch all of these moments with the Flashback feature to go back and watch those important conversations or funny scenes you may have missed.
Big Brother 19 Live Feed Highlights – Tuesday, August 29, 2017:
4:05 PM BBT – Josh tells Christmas that Jason complained how Alex is saying she's responsible for getting all of them this far in the game. Christmas working to convince Josh he should throw the HoH to her so she can take a shot at Jason. Josh suggests they just put both Alex and Jason up together.

4:25 PM BBT – Kevin tells Jason that viewers aren't going to like watching the HGs act like a bunch of babies.

4:35 PM BBT – Alex warns Christmas and Josh that Matt told her if they don't go after Kevin next then their whole routine this week isn't believable. Alex wonders if Kevin warned Matthew that Raven would be targeted next. Josh is upset that their efforts yesterday to keep Kevin quiet didn't work.

4:45 PM BBT – Alex and Josh discuss whether to get out Raven or Kevin next. They want to find out what Kevin has been saying to Matthew to decide.

4:45 PM BBT – Raven tells Matthew she wants to give her eviction speech aimed at Alex and Jason that she won't stab them in the back but will come right for them.

4:50 PM BBT – Raven says her ideal F3 is with Paul and Christmas. Matthew warns she'd lose to Paul. Raven agrees and says she's okay with that. She says she'd probably still even pick Paul to go to F2 even though she thinks she's lose to him. He thinks she could beat Christmas.

4:55 PM BBT – Alex worries that Kevin is telling Matthew that the house is coming for Raven. If so, she wants Kevin out next.

5:20 PM BBT – Alex is concerned about what she might have said this season and how she'll react when she watches it back.

5:21 PM BBT – Alex notes how Matthew is suddenly acting like he's got a backbone. Jason counters that he just wants to be remembered as a tough guy on his way out.

6:35 PM BBT – Alex wants Josh to call Kevin a follower next time he fights with him. Josh says he won't do that and is done fighting with Kevin. Alex says she isn't.

6:40 PM BBT – Matthew lets Paul and Josh know that Kevin said this situation was to be blamed on Alex, not Jason. He called Alex the puppet master.

6:44 PM BBT – Kevin starts to shout at Matthew telling him to get out of his face and that he's not one of these kids. Matthew asks him if he's threatening again and asks if he should go grab him a glass. Kevin says he didn't threaten him. Kevin tells him not to make things up about him.

6:45 PM BBT – Kevin tells Paul and Josh that he didn't threaten Matt. Kevin denies having told Matthew anything and says it's lies. (It's not. Kevin didn't expect Matthew to retell it all.)

6:45 PM BBT – Feeds cut.

8:30 PM BBT – Feeds return. Everyone is still there. Sounds like there was a fight, though.

8:31 PM BBT – Kevin and Christmas talking. Kevin asks her about people messing with his stuff and he says it shouldn't be OK. Christmas tells him that production told her that people can hide stuff and throw food out but they can't do anything that can cause harm. She explains to Kevin about someone (Shannon, Season 2) cleaning the toilet with a HG's toothbrush, and how that wasn't OK and that they shut that down.

8:33 PM BBT – Christmas tells Kevin that "I got you." She says "read between the lines… you're not alone." She tells him that he can't say anything about that. Kevin says he wants production to take a bag of his things so Alex doesn't bother it. Kevin says this is an awful way to live.

8:34 PM BBT – Kevin says the only thing he's said about Alex is that she's petty. Christmas says well, she wears it on her hat.

8:40 PM BBT – Alex talking about the blowup that happened while feeds were out. She says "All I did was tell someone they looked old, their skin looks leathery and to make their own food. They wigged the f**k out." Josh says they've said some pretty bad stuff this season. Alex says no way and that it could be worse.

8:44 PM BBT – Jason realizes he's said some pretty bad things in the house. Alex says that's why she and Paul are always telling him to shut up. Josh asks Jason if he thinks people like this season. Jason says he doesn't know because it's getting to be pretty petty.

8:56 PM BBT – Alex is wondering what people are saying about them on the outside. She says someone is probably telling her to leave Kevin alone.

9:01 PM BBT – Kevin is talking to Paul about how nasty Alex is being. He says he's going to win this next HOH. Paul tells him not to win this one. Kevin asks if he wants to win and Paul says yes. Kevin asks  if he'd put Alex up and Paul shakes his head yes. Kevin thanks him and says he feels better.

9:05 PM BBT – Kevin says he's going to tell Alex to stay away from him and that she's the biggest bully in the house. Paul tells Kevin to just go to bed. Kevin says he's going to go read the Bible.

10:01 PM BBT – Josh and Christmas talking about Alex always listening in on everything. They say she's so arrogant and Josh says he doesn't care anymore and he's taking a shot at her next week.

10:06 PM BBT – Kevin cam talks to production, telling them to take his clothes because if Alex touches his stuff he will tear apart the house and destroy everyone else's things. He says she's not going to push him around the next 10 days.

10:14 PM BBT – Paul got whacked in the face by a weight pole. Raven is making sure he's OK. She asks if his vision is blurry. Paul then tells Raven that Kevin wants to take a shot at Alex so she'll be fine next week.

10:16 PM BBT – Raven tells Matthew that Kevin wants to go after Alex.

10:28 PM BBT – Raven discusses the fight that happened while the feeds were out. She says she asked Kevin where his class is and that he's setting some example for his kids.

10:39 PM BBT – Kevin is trying to understand why Alex is treating him so awful. Josh tells Kevin just to own up to things and to relax. Talk turns to the $25,000. Josh says Kevin told him night one he got the money. Kevin tells Josh he told him the same thing. Josh said he didn't because he didn't even push the button.

10:35 PM BBT – Matthew giving Raven a pep talk on what to do when he's gone. He says to just stick with Paul and hang out with Christmas.

10:41 PM BBT – Josh tells Kevin if he owns up to some of the things he's said and done, things could improve for him. Kevin says he didn't say anything and they're making things up against him.

10:45 PM BBT – Josh relays the whole conversation he just had with Kevin to Paul, Alex and Jason.

10:50 PM BBT – Alex tells Jason, Paul and Josh she hopes one of the four of them wins America's Favorite Player. She says it just can't be Kevin and if he wins it she says she'll kick him in the balls right on the stage and say "F you, old man."

10:55 PM BBT – Paul continues to agitate the group telling them Kevin is telling him they're all expendable.

11:00 PM BBT – Alex tells Jason to "go cowboy" on Kevin and cuss him out.

11:05 PM BBT – Raven says she'll start cooking meals once Matt is gone. She says Jessica underestimated her strength in the game.

11:07 PM BBT – Paul checks in with Kevin and advises him to lay low. He reminds Kevin not to tell anyone about them together.

11:10 PM BBT – Alex asks who they should target if it's a DE. Paul says Kevin and Raven should go up.

11:15 PM BBT – Paul claims he won AFP last season but since he was in F2 it went to the next person, Victor.

11:20 PM BBT – Matthew discusses how during the casting process he was questioned about doing a showmance. Big Brother tells him to stop. He tells them no because he doesn't consider it to be about production. Cameras change. (Guess we know how/why he got picked to be on the show.)

11:40 PM BBT – Paul has been doing impersonations of most the HGs.

12:05 AM BBT – HGs discussing whether or not they find the "Maven" showmance annoying. Christmas suspects Matthew isn't in to Raven.

12:10 AM BBT – Paul tells Matthew and Raven that Kevin wants to go after Jason and Alex instead of Raven. Matthew is sorry that he won't get to see Christmas putting up those two.

12:40 AM BBT – HoH crew hanging around and talking about their impressions of other HGs at the start of the season.

1:25 AM BBT – Matthew eats ice cream as Big Brother shouts at him to stop. He does not stop.

2:05 AM BBT – Paul, Christmas, and Josh discuss how to handle going after Jason and Alex. They agree that Jason needs to go before Alex.

2:15 AM BBT – Paul believes endurance competitions are over for the season and they could beat Alex in anything that's left at this point.

2:45 AM BBT – HGs are goofing around trying to scare each other.

3:00 AM BBT – Everyone is off to sleep.
Another heated day in the house and whatever happened in the evening was hidden from the Feeds for no apparent reason other than to hide the action. Watch for these arguments to continue as all sides of the house believe they're in control while we wait to find out who will control the power next.
You can watch all of these Big Brother events using the archives Flashback, the DVR-like feature of this year's Live Feeds which means it's always live, even when you missed it! Sign-up now to get the free trial to watch it all live & uncensored.


Gallery: Live Feeds Highlights