The Big Brother 19 houseguests today continued their season-long format of attacking, ostracizing and belittling their next target (even before the current one is out the door again) as most everyone in the house made jab after jab at Kevin. No one, however, has gone all in on the attacks as much as Alex.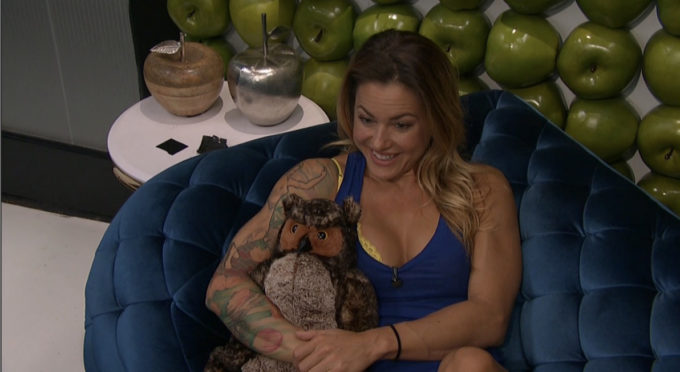 If you've got the Live Feeds (Free Trial) then you can watch all of these moments with the Flashback feature to go back and watch those important conversations or funny scenes you may have missed.
Big Brother 19 Live Feed Highlights – Tuesday, August 29, 2017:
10:30 AM BBT – HGs starting to get up for the day. Some, not all of them.

10:45 AM BBT – Jason and Kevin are walking the backyard. Jason tells Kevin he's deciding to not believe anything he didn't see/hear first hand.

11:00 AM BBT – Matthew is taking a shower on the hot side despite being a HN. Big Brother gives him a "Stop That!" message but he keeps on. Christmas notes that Big Brother is really on him today.

11:00 AM BBT – Jason tells Kevin that Paul is avoiding getting tied down to anyone so he can float between.

11:30 AM BBT – Alex and Jason discuss F4 plans. Jason asks if they're still honoring that deal with Kevin and Paul. Alex says no. She goes in to great detail over her dislike for Kevin.

11:35 AM BBT – Alex says she won't talk game anymore with Kevin because he asks too many questions.

11:40 AM BBT – Alex says Kevin is a murderer because he behaves like one if you watch those shows.

11:45 AM BBT – Alex likens Kevin to a child molester saying he looks for weaknesses like someone trying to find children who won't tell on them.

11:50 AM BBT – Jason says that if he can't win then he wants Alex or Paul to win. Alex says she'd be sad if Kevin won. She hopes that if she gets 2nd or 3rd then she can use her BB fame to make money.

12:00 PM BBT – Jason is sure Kevin won the $25K because of how upset he got at Josh. He thinks Kevin would have let it go if there hadn't been anything to Josh's claim.

12:05 PM BBT – Alex tells Jason that she's nice in the real world. Jason says he's worried everyone is going to hate Alex because of the things she's been doing. She says she worries about that too.

1:45 PM BBT – Paul tells Christmas that Kevin said just take him out because he doesn't want to play anymore. Christmas says to call him Megan when he says that.

2:04 PM BBT – Kevin asks Matthew if he thinks he voted against him. Matthew says he originally thought that. Kevin says he wouldn't do that and he knows that someone did it just to set him up. Kevin tells Matthew the only thing he kept from the house was that he took the $25K night one. Matthew agrees that was a smart move.

2:10 PM BBT – Kevin says that Alex is pulling all the strings and that Jason nominated Matthew and Raven because that was what Alex wanted.

2:14 PM BBT – Alex tells Paul that Megan said he and Raven knew each other in real life and that she had read it on Reddit. Paul asks how he'd know some random girl from Arkansas.

2:20 PM BBT – Jason and Josh discussing Kevin. They agree they both like him but it's time to go. Jason says he should have just put Kevin on the block this week but he was afraid they'd all vote him out. Josh says they would've have.

2:28 PM BBT – Jason and Josh say Kevin is chumming up to Matthew now to secure that jury vote.

2:30 PM BBT – Josh keeps telling Jason that Kevin is everyone's next target.

2:35 PM BBT – Matthew tells Raven and Paul that Kevin told him he won the $25,000.

2:40 PM BBT – Alex bragging about telling Kevin he has leathery skin and looks to be prematurely aging. She also said he is going to get cancer.

2:45 PM BBT – Kevin asks Paul what Alex is accusing him of now. Paul says nothing and it's that she just doesn't like him. Kevin tells Paul that if Paul wants to win Alex is going to have to go because she just wants her and Alex in the final 2.

3:15 PM BBT – Jason, Josh and Alex agree that Matthew doesn't even like Raven and he's ready to get away from her.

3:29 PM BBT – Alex now wants Paul to tell Kevin she thinks he has dementia.

3:33 PM BBT – Josh asks Paul if he thinks the blowup yesterday with Kevin was too much. Paul says no, it was perfect.
Find out what happened next with our Overnight Feed Highlights Report for Tuesday's events.
So it sounds like the real target next week is shifting from Jason to Kevin, but there's been some flip-flopping on that. Regardless, it seems Kevin will be the subject of the mob mentality until the get him out the door.
You can watch all of these Big Brother events using the archives Flashback, the DVR-like feature of this year's Live Feeds which means it's always live, even when you missed it! Sign-up now to get the free trial to watch it all live & uncensored.


Gallery: Live Feeds Highlights