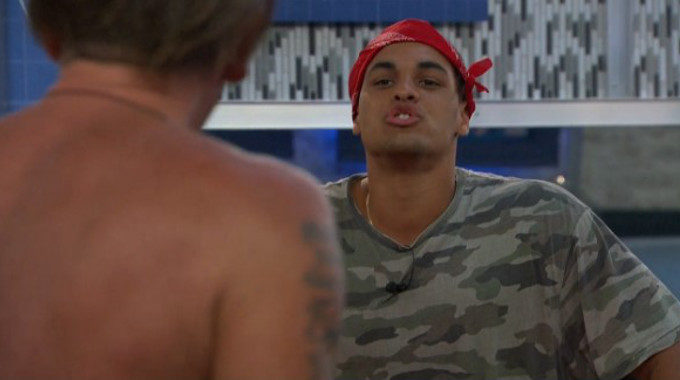 Wow what a day, what a day. The Big Brother Feeds have been raging since noon as the Veto meeting lead to furious outrage by this week's nominees and that was just the build up to what became so heated between two other HGs that Feeds have cut for far too long. We were offered a quick glimpse of the HGs and were assured that at least for now, one of them was still in the game.
We're waiting for things to return, but in the meantime catch up on today's chaos because it's coming in heavy and fast. Mondays are no joke on Big Brother so you won't be disappointed in this action.
If you've got the Live Feeds (Free Trial) then you can watch all of these moments with the Flashback feature to go back and watch those important conversations or funny scenes you may have missed.
Big Brother 19 Live Feed Highlights – Monday, August 28, 2017:
9:15 AM BBT – HGs are getting up for the day.

10:15 AM BBT – Jason and Raven chat in the kitchen. He's discussing things back home.

10:40 AM BBT – Kevin and Jason having the morning Walk & Talk.

10:56 AM BBT – Feeds cut for the Veto meeting.

11:59 AM BBT – Feeds are back and coming in hot. Jason didn't use the Veto. Matthew & Raven are the final noms.

12:00 PM BBT – Raven is shouting and screaming. She's furious that Jason didn't do what she thought he said he was going to do.

12:05 PM BBT – Matthew has Raven outside to calm down. She's still shouting and says she's going to go insane on Jason. Paul comes out and tries to calm the pair. He claims he's as shocked about this as they are. (Not at all true.)

12:10 PM BBT – Jason is out of storage. Matthew and Raven confront him in the kitchen. Shouting match grows louder and louder by Matthew and Raven. Jason isn't fighting back much at all.

12:15 PM BBT – Matthew continues to shout at Jason calling him a "b*tch."

12:20 PM BBT – Matthew is still going and drags Jason's family in to it. Josh cuts him off and says not to make it personal.

12:25 PM BBT – Raven outing that Jason had thrown Kevin under the bus this week. Shouting match continues.

12:30 PM BBT – HGs calming down and sitting quietly in awkward silence.

12:40 PM BBT – Matthew wants Kevin to admit he voted against him this past week. Kevin gets angry and says he voted out Mark. He wants Matthew to ask everyone else the same question since they're all present, but Matthew doesn't. Arguing goes around about who did it. Everyone denies it.

12:45 PM BBT – Raven says she'd rather play a horrible game and be sent to Jury than to be a liar.

12:55 PM BBT – Matthew has gone swimming and Raven was called to the Diary Room. Jason comments that could have gone better.

1:00 PM BBT – HGs discussing what a mess that was. Paul tells Jason he doesn't have to worry about Jury votes because that's a long time from now.

1:15 PM BBT – Christmas is comforting Raven in the backyard.

1:20 PM BBT – Paul, Alex, and Josh holding a slam-Kevin session. They suggest he's lying about everything including family.

1:30 PM BBT – Josh says he's sick of Kevin and is going to call him out.

1:30 PM BBT – Matthew asks HGs to vote him out. He says he's going to earn penalty votes for breaking the HN rules.

1:36 PM BBT – Kevin tells Jason he's not upset because he's not on the block. Kevin asks why Alex is so mad and if it's because she wanted Kevin on the block. Jason says it was because Alex didn't want Jason getting two people turned against him in jury.

1:37 PM BBT – Kevin asks why Alex is always complaining about every thing he does. Kevin says he never screwed him over. Josh comes in to see what they're talking about and Kevin says he knows that's why Josh came in. He says Josh is the sucker and they send him to do their work.

1:39 PM BBT – Kevin says when he gets to jury he'll make sure no one votes for anyone but Jason. Kevin says he'll tell everyone what Alex said and did the whole game.

1:40 PM BBT – Kevin says everyone left in the game dislikes Alex worse than him. He says everyone thinks he's being manipulated by Alex. He says they're not going to hate Jason after a few weeks in jury.

1:45 PM BBT – Kevin asks Jason if the two of them, Paul and Alex still have their deal. He asks why that has deviated. Jason says it hasn't. Kevin says he just doesn't understand why Alex doesn't trust him. Kevin asks Jason if he'll tell Alex to get off his back.

1:47 PM BBT – Kevin leaves and Jason talking to himself says he doesn't think he's in that bad of shape still. He says he thinks what he did today was still the best move for him.

2:00 PM BBT – Josh is upset that Kevin didn't wash his hands after going in the WC. HGs suspect Kevin was sneaking food in there. Earlier Kevin mentioned to Jason that he wasn't using the toilet when he went in there so he didn't need to wash his hands.

2:05 PM BBT – Raven blames Kevin for why Matthew is getting evicted this week.

2:15 PM BBT – Alex is working on Jason to convince him that Kevin is bad news for his game.

2:20 PM BBT – Christmas is yelling at Kevin for asking if she was going swimming. He says he meant if she'd go sit by the pool. She's using his comment as an excuse to fight with him. He's getting angry in response.

2:21 PM BBT – Josh starts in on Kevin and is calling him out on the $25K. Kevin denies getting the cash. Josh tells him to swear on his kids. Kevin gets very angry. Lots of cursing going back and forth here.

2:22 PM BBT – Feeds have cut and come back as the fighting between Josh and Kevin escalates.

2:23 PM BBT – Josh continues to antagonize Kevin. Kevin rushes the counter between them, grabs a glass, and Feeds cut.

2:56 PM BBT – Feeds return for a split second to show that Kevin is still in the house before going back to Fish then turning to the PetCams for extended downtime. Yikes.

3:26 PM BBT – Feeds are back! Kevin and Josh are still in the house but obviously not near each other.
Find out what happened next in our Monday Night Feed Highlights Report with the rest of the day's events.
What a mess. We had to wait over an hour for Feeds to return. I imagine the HGs were getting a serious lecture on how to behave because it's been disastrous recently and not always in a good dumpster-fire kind of way for Big Brother 19.
You can watch all of these Big Brother events using the archives Flashback, the DVR-like feature of this year's Live Feeds which means it's always live, even when you missed it! Sign-up now to get the free trial to watch it all live & uncensored.

Gallery: Live Feeds Highlights