With Mark's eviction from the Big Brother 19 house all but executed, a couple of the houesguests spent some of Sunday night mapping out the eviction order after Mark. Others seem to be laying low as they don't know what is going to happen next.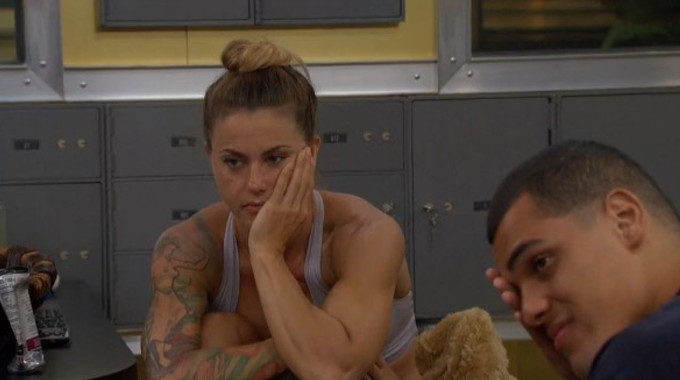 Catch up on earlier events from yesterday first with our Feed Highlights Report for Sunday's Daytime updates.
If you've got the Live Feeds (Free Trial) then you can watch all of these moments with the Flashback feature to go back and watch those important conversations or funny scenes you may have missed.
Big Brother 19 Live Feed Highlights – Sunday, August 20, 2017:
5:15 PM BBT – Christmas is talking with Alex and Paul about Raven's constant need for attention and one-up's. She remembers how Raven complained that she had to compete with one good leg after her toe injury. Christmas promises to get Raven out with her own one good leg.

5:35 PM BBT – Paul points out that Raven even had to start crying when Jason found out his wife was pregnant because Raven can't have kids.

5:40 PM BBT – Group discusses Raven's Zing. Hers was about wearing too much makeup. This kicks off a complaint session about Raven's heavy makeup despite claiming that she doesn't wear much.

5:50 PM BBT – Paul asked Alex if he should make a F2 deal offer to Kevin. She thinks that's fine, but warns he'll probably have to shake on it.

6:00 PM BBT – Christmas and Josh agree that they're doing well but will be in trouble if Alex and Jason win HoH then Veto back to back. They hope Matthew or Raven will win HoH then put up Alex and Jason. She likes Kevin, but says he's on to both of their games, so that's a problem.

6:05 PM BBT – Mark goes upstairs to talk with Christmas and ask if there were any chance that she'd change her mind. He knows it's unlikely, but says he'd regret it if he didn't try. She tells him she appreciates his effort, but says it's still not going to happen. She likes him, but says he aligned with the wrong people. Mark reminds Christmas that the only time he turned his back on someone was to help her when Cody flipped on her.

6:15 PM BBT – Mark's pitch to Christmas and Josh goes on. Josh tells Mark he's making some good points but seeing how he turned on Cody, someone he was close to in the game, doesn't make Mark look very trustworthy.

6:22 PM BBT – Mark tells Josh and Christmas that he thinks if Matthew or Raven win HOH they're coming for them. He says if he stays in the house then he's a bigger target than them.

6:27 PM BBT – The next point Mark makes is that Alex is a huge competitor. He says if they send her out this week Mark will have their backs for the rest of the game.

6:32 PM BBT – After Mark leaves the room Josh shuts him down to Christmas. They agree Mark is the target this week but he has them rethinking Alex's place in the game. Christmas suggests they get rid of Alex before Jason.

6:36 PM BBT – More talk of Alex leads Christmas and Josh to agree Alex goes before Jason and Kevin. They think Alex in final four is too risky, so they're thinking of keeping Raven until then. Christmas says the order should be Mark, Alex, Jason, Matt and Kevin. Josh agrees.

7:00 PM BBT – Paul tells Kevin it's only a matter of time before people start coming for himself. Kevin says not in the next two weeks at least.

7:09 PM BBT – Paul and Alex try to talk Josh into calling out Kevin soon. Josh says he won't do it. He says it was different with Mark and Cody. He says he respects Kevin too much to do that. Paul keeps pushing him to do it and says Kevin doesn't respect him so why not. Josh says it's never going to happen.

8:30 PM  BBT – Everyone talking about dating techniques, flirting, etc. No game talk.

8:40 PM  BBT – Paul tells the HGs that he is in introverted extrovert and his loudness is him really masking his anxiety.

9:20 PM BBT – HGs still hanging out or around the hot tub. Not much else going on.

10:00 PM BBT – Still nothing much going on this evening.

11:05 PM BBT – Paul suggests there could be a surprise eviction tomorrow. (Nope.) He's wondering why Christmas had to do her blog tonight instead of during the day on Monday like usual. Matthew thinks if there were an eviction tomorrow the backyard would be shutdown, but Paul disagrees.

11:10 PM BBT – Paul tells Matthew he thinks it's working with making Kevin the target. Matthew thinks F5 with them three plus Christmas and Josh would be good and also if they did it with Alex and Jason.

11:13 PM BBT – Paul says they need to keep Kevin calm and happy so they can take him out when they're ready. Paul yet again telling others he'll make a F2 with Kevin to keep him cool.

11:15 PM BBT – Paul wants to make sure they keep Alex over Jason when they split them up. He suggests they could claim Alex for their own since she'd be a solo player without Jason around.

11:25 PM BBT – Paul reminds Alex that Kevin doesn't like her. Alex says it's because she calls him a liar.

12:35 AM BBT – Mark is back to make another pitch to Christmas. He's sure they could get to a 3-3 tie with Alex as the target, but if she waits then it'll be harder to get the votes to get out Alex.

12:40 AM BBT – Mark says he could get Matthew and Raven's votes because he thinks they see the benefit of getting out Alex.

12:45 AM BBT – Mark warns Christmas that Alex and Jason are a powerful duo then if Kevin wises up he could team with them too. Meanwhile he (M) doesn't have anyone else in the house. He says that sending him out only strengthens a pair like Alex and Jason.

12:50 AM BBT – Mark also offers himself as a bigger target, saying if he's ever up against Christmas they're going to vote him out, not Christmas. He promises to campaign to go if it's the two of them up together down the road.

1:00 AM BBT – HGs lounging in the backyard just chatting and having a good time.

2:05 AM BBT – Backyard group starting to break up with a few heading to bed and a few more staying up for more game talk.

2:20 AM BBT – Josh and Mark are chatting outside. Josh says he'll go with whatever Christmas wants. Mark says he wants Josh to think about the long term and what's best for Josh's game down the road. Josh basically tells Mark that he can't support him to stay.

2:25 AM BBT – Paul warns Christmas that they'll have to watch out for Jason and Kevin teaming up with Alex gone.

2:45 AM BBT – Paul is reminding Christmas all the reasons they they can't keep Mark. She's telling Paul about Mark's pitch to go after Alex instead.

3:15 AM BBT – Paul tells Christmas it's a mistake in the game to keep a big player under the promise of him/her helping take out others for them because then you still have to go back and get that person out later.

3:30 AM BBT – Lights are out and the last two HGs are off to bed.
The HGs spent most of the evening hanging out and engaging in general chit-chat and that makes perfect sense at this point in the game. Everyone is quietly sizing each other up as they know when Mark is gone, they have to start eating their own.
You can watch all of these Big Brother events using the archives Flashback, the DVR-like feature of this year's Live Feeds which means it's always live, even when you missed it! Sign-up now to get the free trial to watch it all live & uncensored.

Gallery: Live Feeds Highlights