We've got a new week of Big Brother 19 under way, and a new HOH, but it should come as no surprise that we don't have any new targets. As Josh settled into his role as HoH Thursday night, Cody and Jessica settled into the fact they are once again going to be the house targets.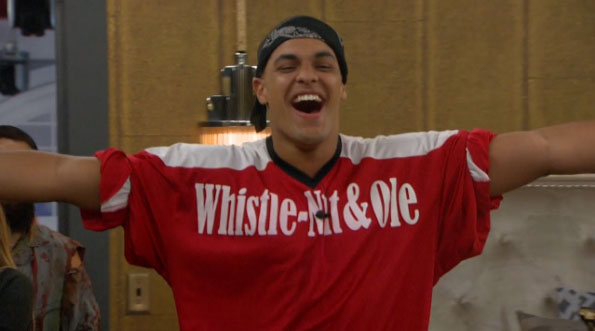 Lots of possibilities still as we start off the week with Josh as the new Head of Household and the groups' efforts to split up the showmance before they reach Jury. Here's what they've been planning in the first hours of the new round.
If you've got the Live Feeds (Free Trial) then you can watch all of these moments with the Flashback feature to go back and watch those important conversations or funny scenes you may have missed.
Big Brother 19 Live Feed Highlights – Thursday, August 3, 2017:
7:00 PM BBT – Feeds are back from the live show. No eviction and Josh is the new Head of Household.

7:03 PM BBT – Kevin says Josh is planning to put Mark, Jessica, and Cody up for Have-Nots.

7:05 PM BBT – Paul tells Josh to make Mark a HN yet again. (Ouch.) Josh says he's going to have the worst power trip as HoH ever.

7:07 PM BBT – Jessica likes the graveyard theme for the week's comps and says it's the "death of a showmance."

7:09 PM BBT – Alex comes in and tells Josh that Elena and Mark are trying to start problems. Josh points out Mark is in the room. Mark asks why she keeps trying to start things. Alex tells Mark it's time to pick a side and prove it. Mark promises Alex he doesn't have an issue with her and isn't trying to get her out.

7:15 PM BBT – Josh tried to persuade Alex and Mark that they didn't have to have this argument, but it's ignored. Both keep going and going and going.

7:25 PM BBT – Josh says he still plans on making Mark and Elena squirm this week. Christmas observes that Jessica's special power is spent. She wonders why Jessica didn't keep it and let them vote out Cody then.

7:28 PM BBT – Kevin celebrates with Josh, pointing out how far they've come in their games since the first week as outsiders.

7:30 PM BBT – Paul wants everyone to compete in the Temptation Comp.

7:35 PM BBT – Alex and Mark are still arguing. Mark doesn't like that Alex is suggesting his floating. (Um.)

7:45 PM BBT – Alex questions Mark on why he would have felt so nervous this past week if he was on their team. Mark mentions that Paul said he might end up a pawn.

7:50 PM BBT – Alex and Mark agree that they want to get Jessica out this week so they don't have to be in Jury with her.

7:52 PM BBT – Kevin asks who is the target, Cody or Jessica? Josh says it's Jessica but they are going to blindside her by making it look like Cody is the target this week.

7:55 PM BBT – Kevin tells Josh he doesn't want to do the Temptation Comp. Josh says everyone is going to do it and they need to improve the odds for beating Cody. Kevin says okay, he'll do it then.

7:57 PM BBT – Jessica points out that the house is blind to Paul's control. Anyone he opposes gets evicted, she notes. Cody says the HGs are all groupies. Cody thinks the women ("the bitches") will target Jessica.

8:05 PM BBT – Elena goes to Josh to dispute Alex's claim that she (E) and Mark didn't celebrate Josh's win. Elena promises Josh she's happy for him.

8:06 PM BBT – Josh brings up Elena and Mark voting to evict him. Elena said she only did that because she was told that's what the house was doing. She said she didn't actively campaign to get him out, she just followed the house, or she thought.

8:23 PM BBT – Cody tells Jessica they are the obvious targets so they just need to shut up, chill and play in the competitions. Jessica says it's not Paul's fault that everyone else in the house has such low IQs that they can't speak for themselves.

8:35 PM BBT – Cody says if he wins veto he's going to tell the others that they decided he's going to stay and take out every one of them that he can. Cody says maybe he'd put Raven and Alex up together.

8:40 PM BBT – Paul thinks it's best Josh put up Cody and Jessica outright. Josh says he's going to be the better man and not make his nomination speech personal.

8:54 PM BBT – Cody and Jessica strategizing about the safety comp.

8:56 PM BBT – Jessica and Cody agree the only person they're rooting for in the game is Kevin. Cody says Kevin is playing smart while not being a P.O.S.

9:00 PM BBT – Jessica suggests if the veto competition this week has prizes they should just go for those instead of the veto (OK).

9:04 PM BBT – Jessica tells Cody if she finds out she's pregnant after she's been evicted she feels like production would tell him.

9:25 PM BBT – Alex asks Josh if he's going to be nice to Cody and Jessica this week. He says he will only call them meatballs.

9:26 PM BBT – Jessica asks Cody if he believes in aliens. He says yes, they come across the boarder every day. She tells him that's not funny.

10:20 PM BBT – HOH reveal time! Everyone is surprised that Josh didn't get meatballs in his HOH basket.

10:58 PM BBT – Mark told Elena he wanted Cody or Jessica to win HOH so they'd both definitely be safe and both guaranteed jury.

11:01 PM BBT – Paul thinks they need to let it out that they're evicting Cody but then blindside Jessica on eviction night.

11:05 PM BBT – Sounds like everyone is competing in the safety competition tomorrow.

11:25 PM BBT – Mark asks Paul if he'd volunteer to be a HN so Mark didn't have to do it for four straight weeks.

11:35 PM BBT – Jason suggests they let the vote tie and make Josh break it. (I think there will be nine votes this week.)

11:45 PM BBT – HoH crew is passing around the wine bottle. The group encourages Josh to finish it off and he does.

12:40 AM BBT – Elena asks Paul and Christmas who will be the target. Paul says it's too early and Christmas says they don't know if they'll even both be up at the end.

12:50 AM BBT – Christmas tells Josh that as much as she likes Paul, she doesn't think Josh should do everything Paul tells him.

1:00 AM BBT – Josh tells Christmas and Paul that he'd like to get out Jessica and Elena before Cody and Mark since he thinks he can get in the guys' heads.

1:01 AM BBT – Paul says they should be overly nice to Jessica all week while ignoring Cody then flip the vote and piss off Cody.

1:05 AM BBT – Paul asks Christmas about her Temptation and says he has a plan for how they can use it. He wants to swap out Cody in the case his name is drawn. Christmas sounds hesitant to use it and says she'll have to check if it's sill active.

1:28 AM BBT – Christmas warns Alex that a lot of HGs have been playing one way and are about to change things up now that they've reached Jury. She says the guys have been throwing comps while they're been working hard to win them. Christmas says they got off to a rough start, but she's got Alex's back.

2:00 AM BBT – HGs are settling in to bed. Paul is sleeping upstairs in Josh's HoH room.

2:30 AM BBT – HGs are asleep for the night.
So Josh has a plan, mostly. He's going after Jessica or maybe it's Cody. At this point we've really got to wait and see what happens with the Temptation Competition, but for now it does sound like the roster will be full, or at least close to it for Friday's event.
You can watch all of these Big Brother events using the archives Flashback, the DVR-like feature of this year's Live Feeds which means it's always live, even when you missed it! Sign-up now to get the free trial to watch it all live & uncensored.

Gallery: Live Feeds Highlights