The Big Brother 19 house was lit, as Ramses would say, following his surprise eviction as Jessica and Cody tried to figure out why the house voted against their wishes. Meanwhile Mark and Elena are searching to find where they stand with everyone since they were not in on the vote flip.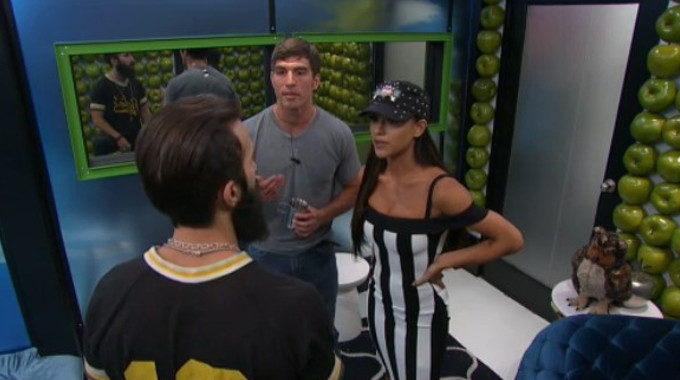 A lot of houseguest talk was also focused on Jessica's power that she revealed a bit of to the entire house at the end of Thursday's live episode.
If you've got the Live Feeds (Free Trial) then you can watch all of these moments with the Flashback feature to go back and watch those important conversations or funny scenes you may have missed.
Big Brother 19 Live Feed Highlights – Thursday, July 27, 2017:
7:02 PM BBT – Feeds return. Paul is in the Lounge with Jessica and Cody. Paul is downplaying his involvement in tonight's vote and saying it was a last minute decision. Paul claims Ramses got the $25K Temptation (Paul knows Kevin got it.) and had no loyalty to anyone. Cody says Paul should have told them this and that Ramses was the target so they didn't end up outsiders again.

7:05 PM BBT – Jessica is upset that everyone lied to her, but Paul points out it wasn't personal against her and she's still in the game.

7:10 PM BBT – Paul tells Mark, Cody, and Jessica that he isn't the sheep herder here and there were six other votes besides his.

7:15 PM BBT – Jessica explains that she made her goals very clear and thinks she was due the courtesy to do as she asked.

7:20 PM BBT – Cody tells Mark now he has confirmation that they're together. Mark says he's an outsider now.

7:22 PM BBT – Jason tells Paul to just put up Jessica & Cody. Paul agrees, saying he wants to find out what happens with that temptation.

7:25 PM BBT – Paul shifts to damage control with Elena. He's explaining he couldn't tell her because of Mark.

7:30 PM BBT – Mark asks Paul if this changes anything between them. Paul promises both Mark and Elena that they're both good with him.

7:35 PM BBT – Elena tells Mark she wishes she had known. It would have been hard for her to vote out Ramses, but she wanted to know. Elena tells Mark they didn't find out because of how close Mark is to Cody.

7:45 PM BBT – Jessica is upset about Raven lying to her face about the vote. (Well didn't most all of them do that?)

8:10 PM BBT – Mark questions Jason over if he'll be a target now for being seen as close to Cody. Jason says yes. Jason says he'll help work for him if he does go up.

8:25 PM BBT – Mark tells Cody and Jessica that he was relieved when Paul won HoH over Matthew and Raven. Jessica wonders if Paul would take Josh out this week. (Come on, Jessica.) Cody worries about a showmance getting split up this last week before Jury. Mark doesn't think Paul would do that. (Good grief.)

8:27 PM BBT – Alex and Jason celebrate at their expectation that Paul will put up Mark and Elena. Paul comes in and says he's going to call Jessica's bluff. He wants to put up Jessica and Cody then see what happens. Paul says Cody's eyes were all panicky which tells him she was bullshitting them. (Oops.)

8:29 PM BBT – Paul explaining to Christmas why he thinks Jessica is lying and he's going to put her and Cody up despite her claim about the Temptation.

8:30 PM BBT – Cody tells Mark, Elena, and Jessica that it's the four of them now.

8:40 PM BBT – Jessica hopes the house will unify to get Josh out this week.

8:42 PM BBT – Mark asks Jessica if she and Cody are both safe this week. Jessica hesitates to answer, but says she's keeping them both safe with it.

8:50 PM BBT – Paul and Kevin discuss the Temptation and his noms. Kevin suggests Jessica was still up that one week because she got the power after that week was over. Paul is still planning to try and nominate her and Cody, but if they can't go up on the Block then he'll do Mark and Elena.

8:53 PM BBT – Jessica and Cody talk about Paul and the temptation. She thinks that if Paul asks the DR if they can still be nominated and they say yes then he'll figure out that it's a rewind week and won't waste his HOH on them.

8:55 PM BBT – Jessica wants Paul to nominate Alex and Jason. Cody says that would be fun and he thinks that's what he would do.

9:00 PM BBT – Paul tells Kevin and Mark that Jessica told him to keep his dog (Josh) on a leash. Talk turns to the vote and Mark says he never asked anyone who they were voting for this week so technically no one lied to him.

9:04 PM BBT – Paul asks Elena if she wants to talk and she says no. She's still not happy. She tells Paul she did not know about Jessica's temptation.

9:08 PM BBT – Paul thinks Jessica is exaggerating her power. He says there's no way they'd give out a power that keeps people safe until jury. Paul asks why someone with that power would claim to have it in front of everyone.

9:20 PM BBT – Elena is confused about Jessica getting the power while she was on the block and not having to use it.

9:25 PM  BBT – Alex, Christmas, Jason and Josh are also discussing the power. They are skeptical as well. Christmas says it makes no sense for Jessica to get some power that protects Cody because he wasn't even in the house at the time.

9:35 PM BBT – Paul says there are multiple ways for him to find out if he can nominate Cody and Jessica this week.

9:45 PM BBT – Mark asks Paul if he thinks the power could be a reset week. Paul says no. Paul says she wouldn't be able to be put on the Block. Mark says maybe it's when she's voted out that it goes into play (Mark is getting warmer).

9:48 PM BBT – Elena is still really upset. She won't let Mark touch her and she tells him she wants to smack Raven in the face.

9:55 PM BBT – Mark asks Josh if they can be civil. Josh says no.

10:30 PM BBT – HGs all having out and chit-chating now. Things are calm-ish at the moment.

11:15 PM BBT – Paul had his HoH room reveal and got a letter from his cousin.

11:25 PM BBT – Jessica asks Paul if he might consider not making her a HN this week. He agrees and says she was already a HN.

11:35 PM BBT – Cody talks with Paul and tells him that Mark was looking out for Paul. Cody gives an honest retell of his talk with Mark.

11:40 PM BBT – Paul tells Cody he's going to make some moves this week to make things come out.

11:45 PM BBT – Paul retells Matthew what Cody said about Mark saying he was with Paul. Paul doesn't believe what Cody told him. (I believe Cody was truthful about it.) Paul says he needs to expose this power and find out just what it does.

11:50 PM BBT – Paul decides that if he tries to put up Cody and Jessica but her power prevents that then he'll do Mark and Elena instead.

12:00 AM BBT – Matthew and Raven admit to Paul that they threw the last round of that HoH comp since Paul knows what he's doing.

12:05 AM BBT – Paul suggests they might be able to reclaim Elena if they get out Mark while getting out Elena might force Mark over to Cody. Raven disagrees and says Elena won't even look at her.

12:20 AM BBT – Matthew says his one goal was to make it to Jury. Now that he has he can make riskier moves.

12:25 AM BBT – Paul checks in with Alex. She confirms that Jason is still with them. Paul says he's going to put up Cody and Jess with Mark and Elena as the back up.

12:30 AM BBT – Paul says there's no way Jessica got a better Temptation than he got. He's sure he got the best one.

12:35 AM BBT – Paul tells Alex the two of them can steamroll their way to the end. Alex says she'd be happy to get second place to his first.

12:40 AM BBT – Paul talks with Mark and lets him know he may need him as a pawn, but he's going to try and call Jessica's bluff. Paul is convinced that Jessica doesn't have what she claims.

12:45 AM BBT – Elena and Paul catch up. He's doing more damage control with her. Paul says he thinks they're still on the same plan together. Elena says she can't do anything about being anchored with Mark and can't keep telling him to go away for the rest of the season. Paul warns her he may have to use her as a pawn. She asks if she's going up. He says that's not his plan, but he'll have to see what happens.

12:50 AM BBT – Alex lets Jason know that Paul is going to test what Jessica claimed. She says Paul's back up plan is what they expected earlier.

1:00 AM BBT – Jessica warns Cody that he has to stop trying to protect Mark and Elena. She says everyone turned their backs on them so they have to watch out for themselves now. Jessica promises Cody that if he's on the Block after the Veto then she will use the Hex power to save him. He accepts.

1:10 AM BBT – Paul still working on Elena and she's still worrying about how to deal with Mark.

2:00 AM BBT – Mark asks Elena if she knows Paul's plan. Elena denies any knowledge of what Paul is planning. Mark worries if they'll be okay with Paul as HoH. Elena hopes so since she's had Paul's back.

2:31 AM BBT – Paul is camtalking his plan alone in the HoH room. He says Jessica is bluffing about something on her Temptation. Paul is going to put them on the Block tomorrow (Friday) and then find out from there.

3:00 AM BBT – Lights have been turned out around the house. HGs are off to sleep for the night.
Paul is set to go for Cody and Jessica on the Block. When he's allowed to do that watch for him to think she's completely bluffing so that'll be fun to see if either her or Cody are still on the Block in a week! Then again, this new Temptation Competition could give them a chance to avoid both being up there together though that won't stop Paul from going after the other.
You can watch all of these Big Brother events using the archives Flashback, the DVR-like feature of this year's Live Feeds which means it's always live, even when you missed it! Sign-up now to get the free trial to watch it all live & uncensored.

Gallery: Live Feeds Highlights