It was a quiet but tense evening in the Big Brother 19 house as Cody's eviction and Christmas' surgery loomed following her announcement to the HGs that she'd be leaving but soon returning.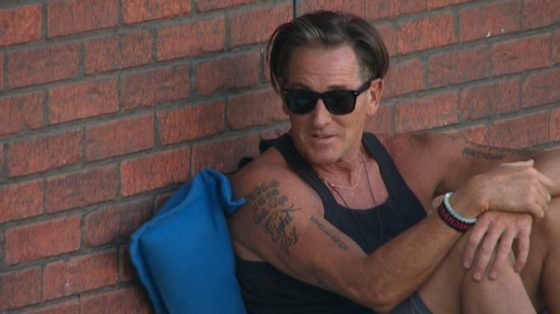 With this week's plan all but executed, the majority of the house set their sights on Ramses and Jessica next week. And as of now, the inner circle of the core group wants to go after Ramses before Jessica. Read on for details on that and more.
Read Monday's daytime highlights report before moving on to the night's news to get the whole story.
If you've got the Live Feeds (Free Trial) then you can watch all of these moments with the Flashback feature to go back and watch those important conversations or funny scenes you may have missed.
Big Brother 19 Live Feed Highlights – Tuesday, July 10, 2017:
3:25 PM BBT – Mark talks with Kevin and reaffirms their long term deal. (Mark was just having a similar talk with Josh and earlier with Jason.)

3:30 PM BBT – Paul is puffing up Josh telling him how great he's doing and how he's improving while dissuading him from letting Jessica get to him. Josh is excited to get this close to Jury.

3:35 PM BBT – Paul is camera talking and hopes to soon lay low and coast while the other HGs battle it out. Paul is pleased with how he was able to turn everyone against Cody so quickly.

3:45 PM BBT – Jason can't believe the other side believes Kevin voted out Jillian like Alex is telling him. Alex advises him they should put up Jessica and Ramses to get the target off their own back.

3:55 PM BBT – Josh advises Jason to talk poorly about Ramses and Jessica to curry favor with the other side.

5:10 PM BBT – Matt and Mark agree that Ramses's chance is over in the game since no one will trust him again.

6:13 PM BBT – Christmas came back and let the other HGs know she'll have to leave for surgery but will be back on Thursday.

6:20 PM BBT – Jessica and Christmas are having a heart to heart. They're discussing why each of them are upset and targeting the other. Jessica feels very victimized while Christmas was upset for them coming after her.

6:35 PM BBT – After much talking they hug and agree to be nicer to each other and try to get along.

7:00 PM BBT – Christmas tells Matthew and Raven the doctor warned her this will be more painful than the break and it will be an intense procedure.

7:50 PM BBT – Christmas says her surgery is scheduled of 3:30 on Wednesday and will last 4 to 6 hours. She says she'll be in a lot of pain at first but the pain will decrease quickly.

7:56 PM BBT – Jason tells Kevin he doesn't care what the others think. He says they can think he'll be the first one on the jury house but he has other plans.

8:28 PM BBT – Dominique says Jessica told her that Cody said their relationship is for the game only and won't be a real life thing for him. Dominique wonders if he really fell for Jessica though.

8:32 PM BBT – Paul, Dominique and Christmas agree that the next nomination targets are Jessica and Ramses. Talk turns to the $25,000 from night one. Paul asks the others if they've concluded that Ramses got the money. Alex thinks he did and suggests he go home before Jessica. Alex says it couldn't have been Kevin (hehe) because Kevin was too busy taking his clothes off from the heat.

8:37 PM BBT – That group decides that Ramses goes next and they can get Jessica the following week.

8:48 PM BBT – Christmas says that Jessica told her this is the lowest point of her life. Alex brings up the fact that Jessica's father passed away and says shouldn't that have been the lowest point in her life? Dominique says that says a lot about her. Paul agrees that his father dying would be a much lower point than time in the Big Brother house.

8:50 PM BBT – Alex and Christmas agree that Jessica is only doing the show for her 15 minutes of fame and don't think she'll be interested in Cody outside the house. They recall her saying he's not even her type.

8:53 PM BBT – Production has left Big Brother swag in the storage room. The HGs go in there to take some of it for themselves.

9:00 PM BBT – HGs just hanging out, playing pool and chit-chatting. Everything is calm.

9:27 PM BBT – Talk about game twists come up. Alex thinks Jillian is in sequester waiting for a chance to return.

10:05 PM BBT – Pool tournament has been going on. HGs are discussing nothing substantial.

10:40 PM BBT – Jason tells Alex that Cody seems mad at him because when he just tried to talk to him Cody just stared at him and said nothing. Jason thinks it's because he clapped during the the veto ceremony.

10:51 PM BBT – Jason tells Kevin that he knows Ramses got the 25K. Kevin says if Ramses gets to jury then he'll end up making more money than the 2nd place finisher (not sure about that).

10:53 PM BBT – Alex tells Kevin that Ramses is still trying to pin the Jillian vote on him.

11:20 PM BBT – Mark and Elena wonder if Cody will be happier outside the house and interested in hanging out together.

11:40 PM BBT – Paul, Mark, and Kevin discussing some of the random things Christmas has been saying and they're not sure if she's making sense and if it's connected to the pain killers she's on.

12:03 AM BBT – Dominique's birthday has arrived. HGs celebrating while Jessica and Cody hide elsewhere and talk about how all their allies abandoned him. They don't think there's anything to fight for this week. Birthday dances for Dominique in the kitchen by Jason, Raven, and Josh.

12:20 AM BBT – Dominique is keeping a close eye on how many treats Mark is eating. She tells him to slow it down.

12:40 AM BBT – Josh is giving Christmas a pep talk for her surgery on Wednesday saying she's just as strong mentally as physically.

12:50 AM BBT – Few of the HGs are playing charades.

1:35 AM BBT – Christmas tells Kevin that Jessica's apology wasn't very good and she wasn't impressed with her saying if I may have offended then I might apologize.

2:05 AM BBT – Lights are out and HGs are off to sleep.
Things are running a bit quieter at the moment than earlier on Monday with Cody now in the eviction position. HGs are feeling good that they've got at least a few more days before having to worry about being the next target, but they'll fix that soon enough.
You can watch all of these Big Brother events using the archives Flashback, the DVR-like feature of this year's Live Feeds which means it's always live, even when you missed it! Sign-up now to get the free trial to watch it all live & uncensored.


Gallery: Live Feeds Highlights