Like any good eviction night on any good season, the Big Brother 19 Live Feeds were drama-filled Thursday night. We had multiple people in tears, some really good lying and yet another houseguest almost self-evicting.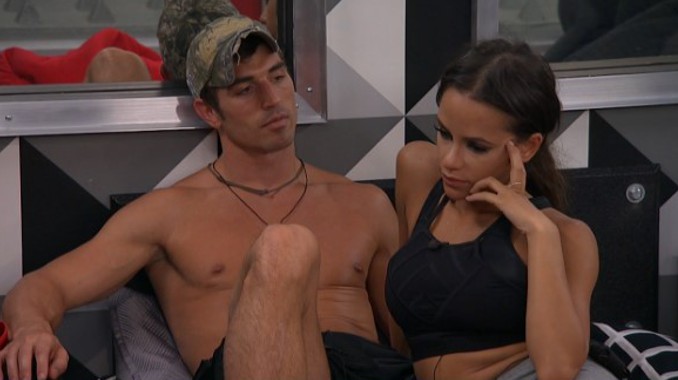 And keep in mind, Big Brother 19 is still only getting started. We're only on our second HOH of the season.
If you've got the Live Feeds (Free Trial) then you can watch all of these moments with the Flashback feature to go back and watch those important conversations or funny scenes you may have missed.
Big Brother 19 Live Feed Highlights – Thursday, July 6, 2017:
8:03 PM BBT – Feeds return from the HoH comp. Paul won & is the new HoH.

8:04 PM BBT – Paul is lecturing Josh to stop talking about worrying over what his family thinks of his game play.

8:05 PM BBT – Jessica and Cody are in the HN room. Jessica is crying.

8:10 PM BBT – Paul comes to check in with Jessica and Cody. He's trying to comfort Jessica telling her not to cry, that it's hard, but it's still only a game.

8:10 PM BBT – Cody complains the other women will exclude Jessica.

8:11 PM BBT – Jason stops by real quick to visit Cody and Jessica. He's sure it was Ramses who flipped with Josh. (It was Kevin.)

8:12 PM BBT – Josh comes in to the HN room. Cody is furious and yelling at him to leave and to STFU. Josh keeps trying to talk and Cody keeps yelling louder and louder at him until Josh gives up.

8:20 PM BBT – Paul reveals his plan to his allies. Nominate Matthew and Raven. Win Veto. Renom Cody. Classic Backdoor there.

8:25 PM BBT – Matthew agrees to Paul's plan.

8:30 PM BBT – Alex goes to the HN room to discuss what happened. They believe Kevin but not Ramses.

8:35 PM BBT – Cody and Jessica say there's no way Paul will let him compete in veto so he will go for a backdoor plan.

8:45 PM BBT – Paul tells Kevin he's going to try to get him as far as he can in the game. He tell him to not act so smart because it'll make him a target because of the mental competitions. "Act senile," Paul says. He also tells Kevin to just stick to his guns and not let anyone know he voted to evict Jillian. Paul tells him not to let his emotions show. Kevin says it's the two of them till the end.

8:55 PM BBT – Kevin keeps throwing Ramses under the bus to Alex. She's feels really betrayed by his vote (even though he voted with Alex). Kevin has really fooled people with this vote. Kevin tells Alex he will take care of her.

8:57 PM BBT – Kevin tells Alex that he voted for that "crazy kid from Illinois (Cameron)" and Christmas.

9:03 PM BBT – Matt, Mark, Raven and Elena are still upset with Cody for "destroying" their games. Matt says there are consequences for actions.

9:15 PM BBT – Jason and Alex are trashing Ramses. They really believe that he backstabbed them and voted out Jillian, who was his best friend in the house.

9:53 PM BBT – Christmas reveals that her foot will take six months to fully heal.

10:17 PM BBT – Josh tries to apologize to Jessica and she attacks him. She tells him to stop crying and stop acting like a victim. Cody chimes in and tells him that he has been a victim and makes victim noises the whole time. Cody tells Josh he's not a man but a child.

10:20 PM BBT – Josh heads into the bathroom in tears. Raven asks him what happened and Dominique comes in and tries to comfort him. Josh tells them that Jessica and Cody are making everything too personal. Josh says he's done with the game. Raven tells him not to let them take him out of this game.

10:45 PM BBT – Josh continues to camtalk. In tears, he says he's going to get his shit together again.

10:48 PM BBT – Kevin goes into talk to Josh. Kevin tells him to make sure he doesn't fight with Cody because he'll get ejected. Kevin says he'll go talk to Cody and Josh asks him not to because he is just going to not talk to Cody and Jessica anymore.

10:58 PM BBT – Josh tells Jason that he still respects Cody and Jessica despite what they're saying. He says he knows they're speaking out of anger. Josh tells Jason that he's not working with the two of them.

11:01 PM BBT – Jason says they've given the producers a lot to work with and it's just getting started. Jason tells Josh to never consider leaving the game on his own. Josh says he never will.

11:08 PM BBT – Jessica tells Cody this isn't a game anymore and that it's personal attacks and that's not what she signed up for. She tells him she's ready to pack her bags and leaves. She rips off her microphone and tells him she's going to walk out. Cody tries to calm her down. He asks her to put her mic back on for him but she refuses. Production asks her to put her microphone on and she says no she's not putting it on.

11:11 PM BBT – BB tells Jessica to put on her microphone again and she tells Cody she's not going to stay. He tells her not to do that to him. And Paul comes out of the DR to reveal his HOH room.

11:13 PM BBT – Everyone but Jessica makes it up to the HOH room. Jessica went into the Diary Room to possibly self-evict.

11:15 PM BBT – Paul reads his HoH letter. It's very strange with references to animals and who to look after more. Even Paul sounds confused.

11:21 PM BBT – Jessica doesn't self-evict. She joins the others in the HOH room but she doesn't look happy.

11:35 PM BBT – Cody tells Jessica to not quit on him. She says she can't make promises she can't keep. She tells him that if someone threatens her again then she'll want to go after them but would rather walk than look like a psychopath. She said if she wanted this kind of drama she would've gone on Real World or Bad Girl's Club.

11:40 PM BBT – Cody and Jessica laugh that at least their games are blowing up together.

11:45 PM BBT – HoH crew gathered upstairs. Paul explains the thinking of his plan that he didn't want to give C&J the chance to even play in the Veto comp. His goal is to get Cody out this week without letting him get near the Veto. Paul wants to put up Matthew & Raven but not announce that they're pawns.

11:50 PM BBT – Mark tells Paul to consider putting up Alex and Jason because they would also play hard to win the Veto and that way their own allies wouldn't be at risk.

11:55 PM BBT – HoH crew trying to figure out how Ramses's curse works and what it could mean for Paul's plan. They don't know when he has to nominate himself or if he will take up a spot in the 6 Veto players or just be an added 7th player.

11:57 PM BBT – Matthew points out to Paul that if he puts up him and Raven then they are down those votes when it comes to eviction night.

12:00 AM BBT – Paul worries that if Cody is up there against a big competitor then the house may be tempted to vote out the other HG and keep Cody. The group promises Paul they wouldn't do that. Christmas tells Paul to talk with Alex for a possible pawn.

12:05 AM BBT – The group is pushing for Jason and Alex to go up, but Paul is resisting.

12:10 AM BBT – Paul worries that Cody could talk himself out of eviction. Mark reminds Paul that they've got 6 votes against Cody right now, but if any of them go up then that number drops.

12:15 AM BBT – Kevin joins the talk and says he'll help vote out Cody. Paul is saying he might want to use Kevin as a pawn. That's not going to go over well.

12:20 AM BBT – HoH crew has broken up and gone downstairs. Mark is upset over the idea of any of their own going up saying if Cody gets his name drawn then wins Veto they're in trouble with two of their own noms on the Block.

12:30 AM BBT – Paul now coming around to the idea that it's too risky to put up their own allies as noms.

12:35 AM BBT – Kevin is back downstairs telling the outsiders everything about Paul's plan. He isn't happy about being considered for a nom.

12:40 AM BBT – Jessica comes in to the outsiders room and they start telling her Paul's plan that Kevin shared.

12:50 AM BBT – Paul goes to Matthew and Raven to let them know he isn't going to put them up after all and he's changing his plan.

12:55 AM BBT – Alex talks with Paul and they agree to work together in a secretive fashion. He asks her to be a pawn in his bid to BD Cody.

1:05 AM BBT – Kevin is so upset that he's working to get Ramses to join with him and the outsiders to retaliate.

1:20 AM BBT – Paul still working on Alex and promises she would be the one to come down if he gets the Veto.

1:50 AM BBT – Ramses reveals to Christmas that he will have to apply his curse nomination before Paul announces his noms.

2:05 AM BBT – Kevin and Paul smooth things out and Kevin says he trusts him.

2:15 AM BBT – Paul talks with Josh to let him know the plan is to make him a pawn. (This comes after Paul's promise the day before to not make Josh a pawn should Paul win HoH.) Josh asks Paul to pull him down if he wins Veto. Paul agrees. (Oops.)

2:30 AM BBT – Paul is settling on his plan to nominate Alex and Josh as pawns to try and Backdoor Cody.
Well this is going to be an interesting few days here as Paul works through his nominations plan and then the Veto competition. Lots of moving parts here that could trip up the whole thing. Think they can pull it off and get Cody out?
You can watch all of these Big Brother events using the archives Flashback, the DVR-like feature of this year's Live Feeds which means it's always live, even when you missed it! Sign-up now to get the free trial to watch it all live & uncensored.

Gallery: Live Feeds Highlights