Friday kicked off a new start to the Evict-Cody plan and the Houseguests are hard at work on it already with today's Temptation Comp and Nominations. Read on to see what's been going on inside the Big Brother 19 house today.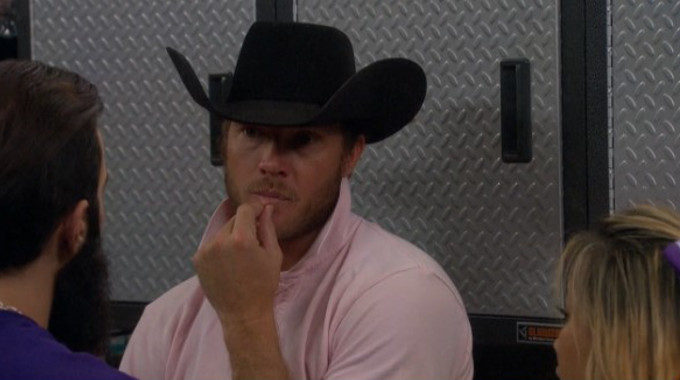 With the options narrowing on who the majority can target we can look to them for more infighting and soon the flailing begins. If Cody and Elena end up safe this week along with Mark there will be some chaos.
If you've got the Live Feeds (Free Trial) then you can watch all of these moments with the Flashback feature to go back and watch those important conversations or funny scenes you may have missed.
Big Brother 19 Live Feed Highlights – Friday, August 11, 2017:
9:40 AM BBT – HGs are mostly awake now.

10:05 AM BBT – Kevin asks Paul if he knows Alex's plan for nominations. He says she's probably going to put up Mark and Elena. Kevin doesn't understand why they're letting Matthew and Raven stick around. Paul says they're too weak to try anything.

10:25 AM BBT – Kevin and Christmas are annoyed with Raven over her embellishment of a finger scratch last night. Raven had to go around showing everyone a little scratch.

10:30 AM BBT – Feeds go down for HGs to visit the Den of Temptation.

11:35 AM BBT – Feeds are back.

11:40 AM BBT – Josh and Mark are discussing their feelings for Elena. Josh says he scaled back his approach on her because of Mark. Josh says he and Elena won't be more than friends even if she tried to pursue it.

11:45 AM BBT – Paul jokes that Big Brother should have a competition just between Mark and Josh for Elena. Elena tells Mark and Josh that both of them are her type.

12:05 PM BBT – Matthew tells Paul he's changing his mind and doesn't think it's possible for Cody to be willing to throw a comp, especially if it's physical. Matthew suggests that if it's physical then Josh should have to throw it but if it's the sounds challenge then he (M) will throw it.

12:15 PM BBT – Paul and Matthew discuss Jessica saving Cody with her Hex and how she kept someone in the game that could never win at the end.

12:20 PM BBT – Paul tells the group that they can decide whether to evict Elena or Mark, if it comes to that, but they shouldn't let them know the decision in advance. Matthew says that Mark is no threat in mental comps. Paul and Alex say Elena would be though.

12:25 PM BBT – Kevin wonders if Cody opt'd to play in the Temptation Comp. He tells Christmas if Cody didn't opt in and doesn't win Veto then he's done. Kevin asks Christmas who she'd want out if Cody does end up safe. She wants Mark to go next. Christmas thinks it'd be good to keep Matthew and Raven calm for now.

12:30 PM BBT – Temptation Competition time.

2:58 PM BBT – Feeds are back. Mark won the comp. Matthew lost.

3:10 PM BBT – Kevin asks Paul about who should go up now that Mark can't. Paul doesn't want to do it himself.

3:15 PM BBT – Kevin tells Jason that if Cody wins the Veto then they're sending Matthew off to Jury.

3:20 PM BBT – Alex asks Jason if she should put up Paul to go along with Elena. Jason offers himself up as the pawn…

3:21 PM BBT – Cody knows he's being BD'd and has to get his chip pulled or he's done for in the game.

3:23 PM BBT – Alex asks Paul if she should put him or Jason up against Elena. He asks why not Josh. Jason says they need someone who can win Veto so they can get Cody up and out. Paul says it's Alex's choice.

3:35 PM BBT – Jason lets Kevin know he (J) will probably be the one going up.

3:37 PM BBT – Elena is told the plan that she'll go up as a pawn, but she's concerned she could end up going if things don't change. Jason assures Elena that it'll be okay as long as just one chip doesn't get pulled.

3:42 PM BBT – Kevin warns Christmas that if Cody wins Veto then he wants Matthew to go, not Elena.

3:45 PM BBT – Elena tells Mark that if she goes up as a pawn then she wants to be the one to come down, not Jason, for the renom.

3:50 PM BBT – Elena realizes that if Cody plays, wins Veto, and saves her then all three of them would be safe this week.

4:15 PM BBT – Alex is concerned about Kevin's talks with Cody last week to make deals. Paul agrees it was suspect.

4:16 PM BBT – Josh retells that Raven was trying to get Josh to throw the comp so Matthew wasn't the 3rd nom. Matthew finally agreed to do it for them.

4:35 PM BBT – Elena checks with Cody to see if he'd save her if he won the Veto. He strongly agrees to do so. Cody tells Elena that Kevin was trying to recruit him to join his group with Alex, Jason, Kevin, and Paul. He reveals that Mark and her were Kevin's group's targets.

4:45 PM BBT – Cody warns Elena that everyone has a deal with Paul and it's dangerous to keep Paul in the game.

4:50 PM BBT – Cody says if she does pick him and they both lose then the HGs will be coming after him over her anyway.

5:05 PM BBT – Christmas and Mark are arguing loudly in the kitchen. She's going after him for talking with Cody. He saw her whisper something about it to Alex and is upset. Christmas is bringing up his flip flopping in the past.

5:10 PM BBT – Christmas is interrogating Mark as to whether or not he knew she was going up (Week 1).

5:15 PM BBT – Mark accuses Christmas of flipping the vote the week she was in the hospital.

5:20 PM BBT – Josh gets involved. He tells Mark that he (M) flipped back to them as soon as he saw Josh was staying that week. Mark denies flipping back to them that week.

5:25 PM BBT – Christmas says Mark shunned Dominique when she needed him so is he going to do the same to Cody now? Josh wants to know if Mark had an alliance with Cody. Mark tells him to go ask. Josh tries, but Cody says he isn't talking game anymore. Josh keeps pushing, but Cody won't tell him what he wants to hear.

5:30 PM BBT – Paul is now trying to ask Cody a question about Mark in the game. Cody promises Paul that Mark has been loyal to Paul the whole game. Cody says that Mark tried to protect Paul in the first week and that's why he decided not to tell anyone he was renom'ing Paul.

5:35 PM BBT – Paul tells Mark that Cody said he told Mark about his renom-Paul plan but then withdrew the idea. Mark swears that he didn't know.

5:45 PM BBT – Kevin checked in with Cody and tells him he's only got about a 10% chance of having his chip drawn tomorrow. Cody seems disinterested.

5:55 PM BBT – Mark tells Jason that he's sick of Christmas and how she keeps bringing up things from 5 weeks ago.

6:10 PM BBT – Alex lets Mark know that either him or Kevin will have to be a Have-Not this week.

6:12 PM BBT – Feeds cut for Nominations Ceremony.

7:13 PM BBT – Feeds are back. Nominations are in… spoilers here.
Catch up on what happened next with our Overnight Feed Highlights Report for Friday night.
At last check Alex was planning to put up Elena and Jason after Mark won safety. So who did she officially put up? Check the Nomination results here!
You can watch all of these Big Brother events using the archives Flashback, the DVR-like feature of this year's Live Feeds which means it's always live, even when you missed it! Sign-up now to get the free trial to watch it all live & uncensored.


Gallery: Live Feeds Highlights