Today the Big Brother 19 houseguests lounged around and talked a lot of game as plans to blindside Cody, Jessica and Ramses continued and talk of the next few targets surfaced.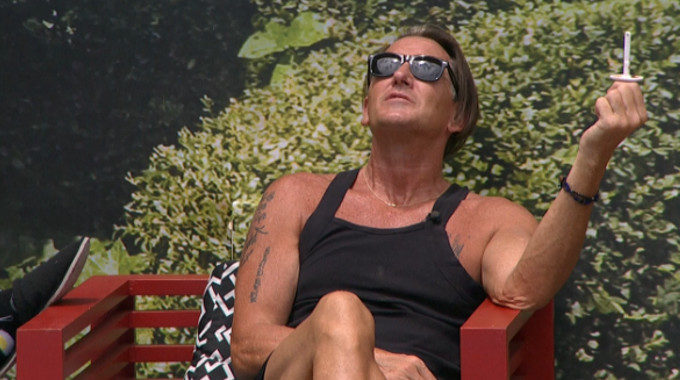 Paul and Kevin had a long late afternoon discussion about a lot of the houseguests, that proved to be some of the most interesting highlights of the day so far. Read on for those details and more.
If you've got the Live Feeds (Free Trial) then you can watch all of these moments with the Flashback feature to go back and watch those important conversations or funny scenes you may have missed.
Big Brother 19 Live Feed Highlights – Tuesday, July 25, 2017:
10:30 AM BBT – Houseguests are starting to get up for the day.

10:40 AM BBT – Paul asks Jason about his thoughts of Jessica possibly having the last Temptation. Kevin had talked with both of them and got the mental ball rolling. Paul doesn't know why she wouldn't have used it if she was on the Block come eviction night last week. Paul wonders if Mark might have it instead.

11:25 AM BBT – Cody and Ramses discussing the vote. Cody says he'll be enraged if the vote isn't unanimous against Josh. He hopes anyone who votes to keep Josh is associated with his bad behavior.

12:30 PM BBT – Paul talks with Raven about keeping Josh calm and them getting through this week without it falling apart. Josh comes to Paul and asks if she should be talking with voters, but Paul says that'd be suspicious.

12:35 PM BBT – Kevin and Jason are walking the backyard again. Kevin trying to hint again about them needing to be careful about that mysterious, unknown Temptation power. Jason isn't too concerned.

12:39 PM BBT Josh and Jessica have a talk in the kitchen. Josh tells Jessica she's a strong person and he respects that.

12:42 PM BBT – Jessica lets Cody know she's on birth control now so only a few weeks to wait. Cody's excited.

1:00 PM BBT – Jessica has the Snapchat cam glasses and is roaming the house.

1:33 PM BBT – Jessica wonders if her #TeamRedBandana would be trending after her SnapChat session. Cody shoots her hopes down.

1:34 PM BBT – Now Jessica is complaining that she originally was the HG to wear cat ears and then Alex started so she can't wear them anymore because it'll look like she's copying that "jackass."

1:39 PM BBT – Jessica checks in with Mark. He tells her that he and Elean are 1,000 percent locked in to vote out Josh. Mark says he thinks Christmas might vote to keep him but there's no way Josh is staying in the house.

1:40 PM BBT – Mark tells Jessica that he's happy that everything has gone full circle with them and Cody. He was happy that Cody came back in the house and wanted a fresh start. Jessica agrees and says she's happy that they are boys again.

2:20 PM BBT – Jason says he can tell Cody doesn't trust him anymore so it's definitely time to get Cody out. Alex wonders if Cody was really in the marines because he has no tattoos.

2:25 PM BBT – Paul tells Matt and Raven that of the other couples, Elena and Cody are stronger than Mark and Jessica, so they need to go for the stronger ones first.

2:31 PM BBT – Mark giving Ramses a peptalk. He tells him that he is definitely voting to evict Josh. Ramses tells Mark that he just has to keep checking in because things change. Ramses says he knows that it makes no sense for Mark to keep Josh. Mark says exactly and that he wants all the drama out of the house. Mark tells Ramses just to try to enjoy the next two days despite his position. He says he's safe with him and Elena for sure.

2:38 PM BBT – Paul tells Kevin that he's pretty sure Jessica got the temptation but it has an expiration date so he's not worried. He says they'd want Cody and Elena out before Jessica anyway, so it's no big deal. Kevin says Matt is a lost puppy without Raven too.

2:39 PM BBT – Kevin tells Paul that Jessica putting her finger in his butt is sexual harassment. They agree that if the roles were reversed Paul would be in jail.

2:40 PM BBT – Kevin calls for Christmas to come into the room and then asks Paul "Who the f*** named her Christmas?" Paul warns Kevin to not tell Christmas too much stuff because she talks too much to Josh. Paul says he trusts her but not too much.

2:42 PM BBT – Paul and Kevin agree that Alex, Elena and Christmas need to finally be have-nots next time.

2:43 PM BBT – Paul tells Kevin he's not sure Cody is working with a full deck. He says he gets off on war and violence. Paul says you have to imagine some of these people just aren't wired right and says Jason has to have some screws loose. They both wonder where they found half of these people. Kevin says apparently on Instagram.

2:44 PM BBT – Kevin wonders how long Christmas is going to have that "motorcycle" in the house. Paul says he can't believe she's even still in the game. Kevin agrees and says he wonders if they'll have her back next season since she can barely play this season.

3:00 PM BBT – Kevin says Josh is an insecure mama's boy. Paul says he's been babied his whole life, obviously.

3:10 PM BBT – Kevin asks for Paul's opinion on Raven. They agree she acts too nice like it's a forced act. Kevin questions how sick she is and says she appears very healthy and he'd like to know what's really going on. Kevin notes how hurt she acted after cutting her foot.

3:50 PM BBT – Cody talking with Paul about his relationship with Jessica. Cody thinks Big Brother showmances stay together after the show because they've spent so long getting to know each other in the house.
Read Tuesday's overnight Feed Highlights Report to catch up on more events from the day.
So it's obvious that Jessica, Cody and Ramses are in for a blindside on Thursday as long as the HGs continue to keep their plans to save Josh under wraps. It should make for an explosive night and dramatic week to follow.
You can watch all of these Big Brother events using the archives Flashback, the DVR-like feature of this year's Live Feeds which means it's always live, even when you missed it! Sign-up now to get the free trial to watch it all live & uncensored.


Gallery: Live Feeds Highlights