It was another quiet day in the Big Brother 19 house as the only thing left for the Final 3 to do is wait for finale night. Most of the day was spent reminiscing on the season followed by really random questions presented to them for some Big Brother After Dark footage.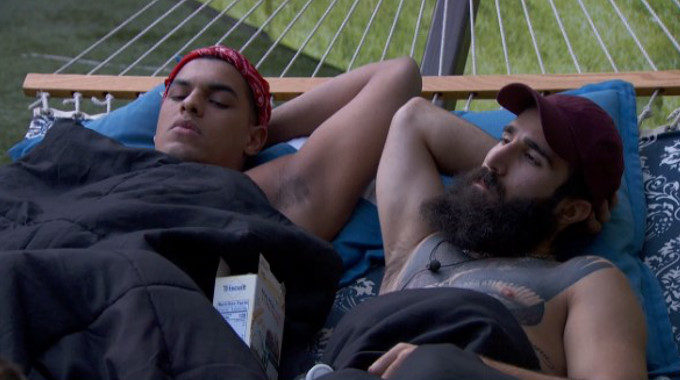 If you've got the Live Feeds (Free Trial) then you can watch all of these moments with the Flashback feature to go back and watch those important conversations or funny scenes you may have missed.
Big Brother 19 Live Feed Highlights – Sunday, September 17, 2017:
12:15 PM BBT – Josh is the first one up and wanders the house while Paul and Christmas are still curled up in bed. He discovers the backyard is open again.

12:22 PM BBT – Josh comes over to the camera and says Hi to his family. He's excited that there are just three more days before he gets out of the house.

12:45 PM BBT – Everyone is awake now and they're gathered in the kitchen making some breakfast.

1:05 PM BBT – F3 have moved out to the backyard to enjoy the start of their day.

1:20 PM BBT – HGs discussing the other players this season and how their games fell apart while they're all three still here.

2:00 PM BBT – F3 continues to lounge in the backyard on the couches with general chatter.

2:10 PM BBT – Paul says he'd be willing to go straight in to playing BBOTT2 right after this season if they asked him. He figures he's already been mentally broken, so why not.

2:45 PM BBT – Big Brother calls the HGs to the storage room. They discover fidget spinners, but there are only two. Josh and Paul take them while Christmas says she doesn't care. (Mental warfare anyone?)

3:45 PM BBT – Josh is getting teased by Christmas and Paul.

4:25 PM BBT – F3 have moved over to the hot tub and discussing where they'd want to go travel together after Big Brother is over.

5:05 PM BBT – Hammock time. It's like they're doing a memory lane episode of all the hangout places in the backyard today and they shift from spot to spot through the afternoon.

5:45 PM BBT – HGs discussing the season's fights, arguing, and their plotting to get themselves to the end together.

7:37 PM BBT – Paul is alone in the hammock practicing his Final 2 speech.

8:00 PM BBT – Josh, Christmas and Paul eating dinner together.

9:00 PM BBT – Paul incorrectly informing Josh that tonight was the last show before the finale.

9:05 PM BBT – Paul talking about how hard last season and this season has been on him.

9:32 PM BBT – BBAD has questions for the Final 3. Christmas calls Josh and Paul into the living room to answer the questions.

9:40 PM BBT – Questions for the HGs have included: easier to lose or gain weight, who do they want to call first, what food do they miss.

10:00 PM BBT – Q&A still going. They discuss what it was like living with so many people and sharing a bathroom, getting their phones back, favorite foods, and who gets to take Orwell home.

10:40 PM BBT – Questions from BBAD wraps up. HGs head back outside to relax on the hammock and chat.

11:15 PM BBT – Christmas was called to DR leaving Paul and Josh to talk away, but it's still mostly general chatter and complaining about past HGs.

11:45 PM BBT – Paul and Josh complain about Cody and how they butted heads with him.

12:05 AM BBT – Paul is sure Christmas will get AFP. Josh hopes Kevin doesn't get it. Paul suggests the $25K at the start of the season will probably keep Kevin from getting another $25K.

12:35 AM BBT – Christmas is back from DR and alone in the hammock camtalking. She says she's having a pity party for herself and her foot still hurts. Christmas thinks she'll tell the guys to take each other to the end and she'll take 3rd. She isn't sure if she was kept in the game with her broken foot and if she played really well and survived in the game despite that. She's nervous about getting out and the unknown ahead.

1:30 AM BBT – HGs still up and hanging out in the hammock.

2:35 AM BBT – Lights are finally out for the HGs.
Things are slowing down for the HGs but we've still got three more days to go, or maybe a little less with the Feeds. We don't know when they'll cut for the season but we'll keep watching until they do.
Christmas says she doesn't plan to campaign to be dragged any farther in the game, but I think both guys have already made up their minds on what they'd do anyway. We'll see if they start having some more camtalks to clue us in though.
You can watch all of these Big Brother events using the archives Flashback, the DVR-like feature of this year's Live Feeds which means it's always live, even when you missed it! Sign-up now to get the free trial to watch it all live & uncensored.

Gallery: Live Feeds Highlights