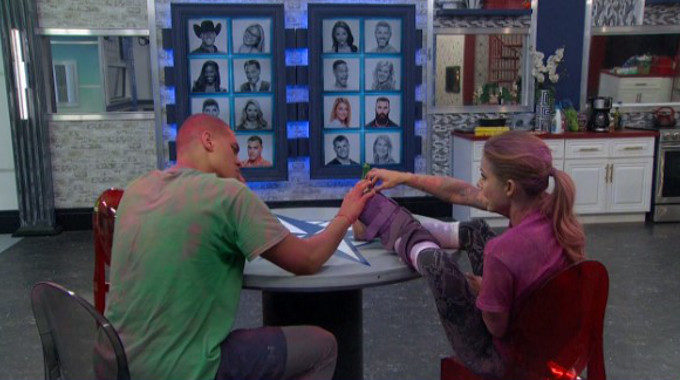 Our final Big Brother 19 spoilers of the season came in over the past few days and if you were out enjoying your weekend, or maybe your sleep, then you might have missed these critical events. We'll catch you up to get ready for Wednesday's BB19 finale show.
After Kevin Schlehuber was evicted on Thursday that revealed our Big Brother 19 Final 3 with Christmas Abbott, Josh Martinez, and Paul Abrahamian. One of those three people will be this year's Big Brother winner and walk away with the half million dollar prize.
Round 1: Final HoH
All three of the remaining Houseguests faced off in this competition held on Thursday night. Feedsters were blocked from viewing it which was a nasty move by producers, but not surprising given they stuck it to us last year for the first time that I could ever remember. I supposed we'll likely never watch that critical endurance competition again.
HGs had to hang on to a rope trailing a flying unicorn while their platform rocked and shifted. Last one hanging on would win the round. Josh ended up falling first after only about fifteen minutes, per his retells. Paul won the round after Christmas fell next, about thirty minutes later.
With Paul winning the first round he was automatically given a seat in the third and final round. The winner of the next round would join him. Read More >>
Round 2: Final HoH
Josh and Christmas faced off in the second battle overnight on Saturday. In the past these only lasted a few hours but this time the Feeds were down for more than six hours. SIX. The competition had three rounds and it seems there may not have been an overall cut off time, but possibly a limit within each of the three. Josh mentioned taking an hour and maybe hitting the limit for just one of the three parts alone. Sheesh.
After hours of competing in individual rounds the results were revealed and Josh beat Christmas by just between five to seven minutes overall. That's close given the total time. This win gave Josh the second spot in R3 on Wednesday. Read More >>
Round 3: Final HoH
We won't see this part of the final competition until Wednesday when Paul and Josh face off in what's probably going to be the scales of justice again, but that could always change, we don't know. These questions will probably again be based on Jury answers to random questions.
Josh has said he'll cut Paul if he wins R3, but Josh has also told the cameras he'll take Paul because he's afraid of going up against Christmas. Who knows but Josh talks a big game on "big moves" and hasn't delivered yet when it comes to dealing with Paul so he might not on Wednesday even if he gets the chance.
Okay, now you're all caught up and ready for the Big Brother 19 season finale. That's all our spoilers for the summer. Phew! Now we can rest, at least until Celebrity Big Brother this winter!