The pettiness, bitterness and nastiness continued in the Big Brother 19 house today as Paul decided not to use the veto and Alex isolated herself while the others planned to rattle Kevin before the next HOH (that is if Christmas doesn't "bash his face in" before eviction).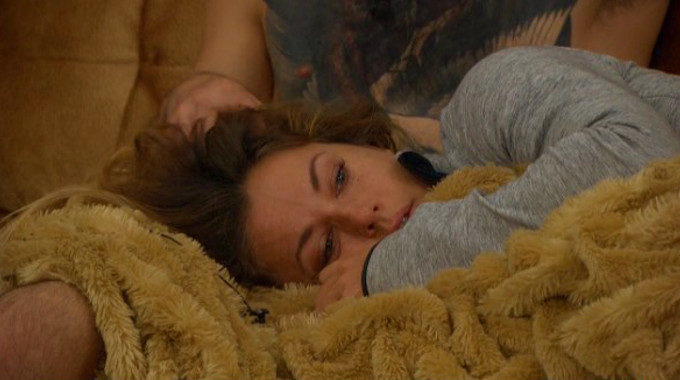 If you've got the Live Feeds (Free Trial) then you can watch all of these moments with the Flashback feature to go back and watch those important conversations or funny scenes you may have missed.
Big Brother 19 Live Feed Highlights – Monday, September 11, 2017:
9:15 AM BBT – Lights are on. HGs are slow to stir.

10:08 AM BBT – Feeds cut for the Veto meeting.

10:55 AM BBT – Feeds are back. Paul did not use the Veto.

10:56 AM BBT – Paul goes to where Alex is in the HN room and asks if they can talk. She declines. He leaves. She gets up and pulls the door shut then calls the HGs "counterfeit" and gets back in to bed to read the Bible.

11:00 AM BBT – Paul went back upstairs to HoH and checks in with Josh. They talk about what Alex said at the Veto meeting. Kevin stops in and gives his pitch for them to keep him since he's a fighter.

11:05 AM BBT – Alex stops at the memory wall, pats Jason's picture, apologizes to him and says she'll see him soon.

11:15 AM BBT – Josh and Paul rant back and forth. They're ready for the eviction to hurry up and arrive.

11:20 AM BBT – Christmas knows Jason got back in to bed and tried to pretend like he didn't know what happened to her foot when she broke it. She's ranting about him. It's a circle of hate in the HoH room.

12:00 PM BBT – Josh, Christmas, and Paul are still up in the HoH room. Christmas has her head in Paul's lap while he plays with her hair. Josh asks them if they are in a showmance. Both say no.

12:10 PM BBT – Josh and Paul discuss if it'd be better to have Kevin or Raven here since Raven was so annoying.

12:30 PM BBT – Talk turns to studying for events. Paul has mentioned he doesn't know the days and events, or at least that's what he's telling Josh.

1:20 PM BBT – HoH crew can hear the building going on outside so they figure something must be happening early this week.

2:20 PM BBT – Group laughing about how Raven would try to get HGs to look at her backside by picking things up provocatively. Kevin comes up and checks in. The group goes downstairs to make toast.

2:45 PM BBT – Alex remains in self-inflicted isolation in the HN room. Rest of the HGs hang out and snack in the kitchen.

2:55 PM BBT – Josh and Christmas were studying more days and events. They complain about Kevin wanting to get to the end without winning anything. Josh mentions worrying about Paul giving him (J) the boot here at the end.

3:15 PM BBT – Paul points out this is his 6-month milestone for time spent in the Big Brother house in the past year.

4:00 PM BBT – Kevin is cleaning the kitchen. Alex is cleaning her feet. HGs have nothing to do.

5:15 PM BBT – Everyone is laying in bed doing nothing.

5:52 PM BBT – Christmas returns from getting her foot checked. She tells Kevin she'll be walking without a crutch next week.

8:00 PM BBT – Alex says Dominique was right and Paul is a snake.

8:33 PM BBT – Alex talking to herself about how everyone in the house is a liar. She says she thinks Paul is still lying about stuff.

8:56 PM BBT – Alex is stuck on Paul going back on his friendship brand. She says Jason wouldn't have done this to her. She says Paul cost her the whole game.

9:08 PM BBT – Kevin cam talking about his game. He says if he can make it to Top 4, anything is possible. He says he wants to make Top 3 so he never has to go to jury.

9:15 PM BBT- Josh and Paul playing a long game of chess.

9:55 PM BBT – One of the fish in the HOH room has died. Josh wants to get fish medicine for another fish that isn't looking so well.

10:15 PM BBT – Paul tells Alex goodnight but she doesn't respond.

10:35 PM BBT – Alex tells Kevin to study dates if he wants to win any of the remaining competitions.

10:47 PM BBT – Paul tells Kevin not to listen to Alex if she gives him any dates because she wants to trick him.

10:58 PM BBT – When Paul tells Josh about Alex telling Kevin to study they agree she's being bitter.

11:01 PM BBT – Josh tries to talk to Alex but she's not too interested. She tells him they're all shady and she will be seeing her true friend in a couple of days.

11:05 PM BBT – After Josh goes to talk to Paul and Christmas they tell him to go watch Kevin to make sure he and Alex aren't colluding. Christmas says anytime she sees Kevin she wants to bash his face in.

11:22 PM BBT – Paul pushing Josh to unload on Kevin after Alex's eviction so he's too shaken to perform in the HOH competition.

12:05 AM BBT – Christmas tells Kevin that she never really betrayed Alex because she never promised her anything beyond F5.

12:10 AM BBT – Kevin and Christmas are still chatting. Some general talk and some game talk too.

12:28 AM BBT – Kevin says he understands that Paul will probably have to put him up in the next round if he wins HoH. Paul agrees that if you don't win HoH or Veto then you're inevitably going to be on the Block.

12:37 AM BBT – Kevin tells Paul if he (K) wins HoH then he's putting up Josh instead of Paul.

1:00 AM BBT – Paul tells Christmas and Josh how Kevin warned him the two of them were coming after him.

1:14 AM BBT – Christmas is rubbing Paul's back in the dark. Josh complains that he doesn't get any backrubs from Christmas.

1:25 AM BBT – Josh offers Kevin to sleep upstairs if he wants. Kevin declines.

1:29 AM BBT – Paul is telling Christmas about his social media accounts and what he posts on them. Christmas says that she knows, she's seen them.

2:00 AM BBT – HGs finally out and off to sleep. Josh is sleeping downstairs in the rose room tonight.
Nothing changed for Alex, but I'd hope to see her work on some sort of angle here before she's gone later on Tuesday. As for that, we're still waiting on some confirmation when the Feeds will go down on Tuesday like we're expecting. Until they do we can keep watching for any shifts, but it'd have to be serious at this point and I don't see that happening. Kevin should be safe and Alex should be gone later in the day.
You can watch all of these Big Brother events using the archives Flashback, the DVR-like feature of this year's Live Feeds which means it's always live, even when you missed it! Sign-up now to get the free trial to watch it all live & uncensored.


Gallery: Live Feeds Highlights