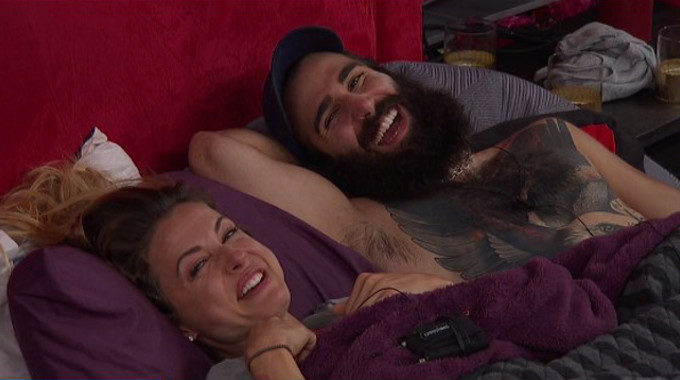 This week on Big Brother 19 there will be just a mere two votes. With the chance of a tie-breaker either nominated Houseguest could end up staying but after a few days of arguing the plan for Paul's trio seems to have settled on the obvious target.
Josh sent Alex and Kevin to the Block before the Veto comp win went to Paul where he shocked Alex with the news that he wouldn't be saving her. Not only that, but she'd probably be the next one to go. Everything looked set for that to happen, then Josh happened.
Josh observed how Paul was working Alex over to convince her, just like the past several eliminated HGs, that this was all the fault of Josh and Christmas. Paul would love to help her, but those meanies just won't let him. Josh tried to get his foot in the door with Alex, but she hasn't been willing to listen.
In a fit of grumbling Josh told the cameras he wanted to negotiate a tie then shock Paul with a move of his own: sending Kevin out the door. When Paul started to see Josh's agitation of his position with Alex there were threats that Paul and Christmas would split the vote and put the blame on Josh for her eviction. Josh openly invited it but after awhile that seems to have faded in to the background.
Just as well for Josh to avoid a move like that. It wouldn't help his game, and just like nearly everything else this season, it'd probably end up helping Paul's game. Alex would fight with Paul and she'd be taking him to the end. Or at least she would have before deciding Paul is a "counterfeit s-o-b." Either way, that doesn't look to be the plan anymore.
Paul and Christmas will both be voting Alex out. Christmas confirmed her plans to Alex the other night and Paul has made it clear she'll be going either way so he doesn't have an obligation to vote to keep her.
We're expecting the early eviction to arrive later tonight (taped Tuesday and airing Wednesday) and when it does Alex Ow will be voted off Big Brother 19 by a 2-0 count. After that we're down to our F4 of the season!
So what do you think? Will anything change the plans for eviction this week? Cast a vote below for who you think will be evicted and share your thoughts on what's ahead.