The first signs of Big Brother 19 are popping up. Game talk is dropping off, HGs are sleeping late and laying in bed all day. Yeah, it's winding down. We did get enough game talk today to let us know the plan is still to send Jason out this week and take a shot at Alex next week. There are some backup plans as well, so read on for those details.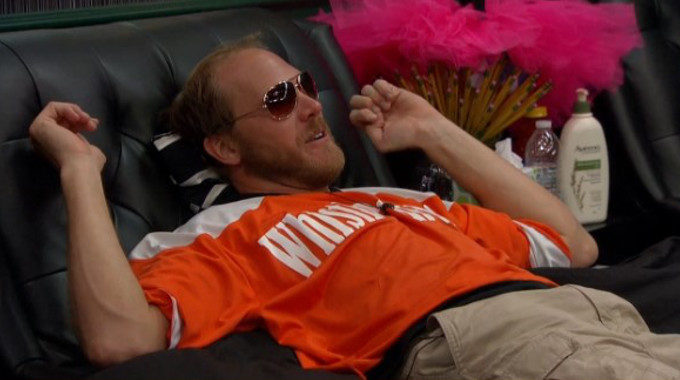 If you've got the Live Feeds (Free Trial) then you can watch all of these moments with the Flashback feature to go back and watch those important conversations or funny scenes you may have missed.
Big Brother 19 Live Feed Highlights – Wednesday, September 6, 2017:
10:30 AM BBT – HGs have had a few wakeup calls. Few are stirring. Most aren't going anywhere anytime soon.

11:00 AM BBT – Most HGs still down. Josh is up and doing a camtalk to his family saying hi. He speaks about the anxiety getting to him this close to the end of the season.

11:40 AM BBT – Kevin is up briefly. Slow, slow morning here.

12:15 PM BBT – HGs getting up for some food.

12:45 PM BBT – Jason is telling stories about his bull, Ole.

1:15 PM BBT – HGs in groups doing storytime. Kevin, Josh, and Jason in the Lounge. Rest of the HGs in the kitchen.

1:55 PM BBT – Jason, Josh, and Kevin discuss what could be going on for them outside after the game.

2:10 PM BBT – Paul tells Josh and Alex that Megan was trying to spread rumors that he and Raven were friends from before the game. He says Megan managed to hear about Raven before coming in. (Raven's info was leaked while HGs were being collected up and her inclusion was well known.) Paul says it was all made up that he knew Raven from before. (Raven has a picture of her with Paul on her Instagram page.)

2:15 PM BBT – Kevin tells Jason that no matter who leaves, the other shouldn't let the HG badmouth him.

2:25 PM BBT – Kevin tells Jason how no one is willing to take a shot at Paul even though he's the big player. He suggests HGs are too insecure to challenge Paul.

2:35 PM BBT – Kevin says he has no idea how the votes will go and that he hasn't asked anyone. Jason says it's the same for him.

2:55 PM BBT – Jason and Kevin discuss who might get AFP. Jason knows it won't be him. He says if Raven is telling the truth about her diseases then it'll be her, but he's pretty sure she's full of it.

4:10 PM BBT – Raven is crying to HGs saying she's afraid to see her mom on any videos from home because she's sick.

4:35 PM BBT – Christmas says her foot feels like it's healing really well now.

5:30 PM BBT – Paul tells Josh that he (P) needs to appear to split away and align with Alex so he has her if she wins HoH. Paul promises Josh that Alex will want to play it safe and get to the end instead of taking big risks. He thinks he can keep Alex from putting Josh and Christmas up.

5:35 PM BBT – Josh is very worried that Alex and Jason will be really upset over the betrayal, but Paul says it's just a game and they'll get over it. Josh seems to be pushing Paul to see how he reacts over the idea of Alex staying past the next round. Paul keeps telling Josh they will get her out.

5:37 PM BBT – Josh asks if they should talk to Jason tonight and let him know. Paul says they should wait for Thursday. Josh laments the way they went about taking Jason out. He wishes they had done it differently.

5:40 PM BBT – Paul talks with Raven to make sure she's fighting for HoH so they can take Alex out. Raven promises she's not afraid to put Alex up. Paul tells her and Josh he thinks he can get Alex to throw HoH to him.

5:45 PM BBT – Raven says Jason asked her how she's voting and she just told him she knew how she'd vote without confirming either way. Paul tells her if Alex confronts her just say that Jason was the reason Matthew was evicted.

5:46 PM BBT – Paul reminds Josh that they'll have a fake fight right before the HoH comp. He tells Raven to stay out of it.

5:50 PM BBT – Paul is trying to convince Raven that Kevin is a better competitor than Josh. She disagrees. Paul tells her that Josh hasn't come close to beating either of them. She agrees. Paul suggests they should go after Kevin at F5.

5:55 PM BBT – Paul tells Raven it'll be him & her against Josh & Christmas if she can just win this next HoH comp. He makes a safety word for her to know if she should throw it to him. Paul says he'll shout "this is gumpy" if he wants her to drop out.

6:10 PM BBT – Kevin and Jason are hanging out and chatting.

6:40 PM BBT – HGs hanging out and chatting. Kevin goes back to talk with Jason while he packs and gets ready for Thursday.

7:30 PM BBT – Josh and Raven going over how they're going to explain how they're voting to Jason and Alex. Josh is really nervous. Josh says all of jury hates him and now Alex and Jason are going to as well.

8:55 PM BBT – Josh says he's cried in every DR session.

9:05 PM BBT – HGs laying around in the beds, telling stories, chatting.

9:38 PM BBT – Raven says she's been playing piano for 10 years and can play songs by ear. Oh, and she has a rare grand piano.

9:43 PM BBT – Alex thinks Big Brother will open up a lot of doors for her. She says their fame won't last long so they need to capitalize on it fast.

9:56 PM BBT – Paul tells the others after last season he saw YouTube clips of himself on the live feeds and he couldn't believe some of the things he said.

10:25 PM BBT – Kevin tells Jason he doesn't want to leave before Raven and Josh. He says that is just a bad feeling.

10:36 PM BBT – Paul tells Christmas that if Alex some how escapes the block next week they send Raven out. Paul says they might want to nominate Raven and Kevin and he can convince Alex to throw the veto so they can backdoor her (she'll be playing in veto, so it won't be a true backdoor).

10:43 PM BBT – Paul says if Josh continues to act angry at him and Alex is still here in F5 then he's sure he can convince her to throw the HoH to him. He says he'll just need time away from them (Christmas and Josh) to work Alex.

10:45 PM BBT – Paul tells Raven she's got to try and win this HoH comp. She says she's going for it 100%.

11:35 PM BBT – Kevin tells Jason that Paul will win this whole thing. Jason agrees that's probably true. Kevin said the same goes for Alex if they're up against either her or Paul. Kevin promises to talk to the Jury for Jason for a "Jalex" F2 scenario.

11:40 PM BBT – Kevin says he can't possibly win now after Josh out'd his $25K win from the first night.

11:41 PM BBT – Kevin warns Jason, who are they more likely to want to keep, him (K) who can't win anything or Jason who can win everything. Kevin says no one has told him anything, this is just his observation.

12:00 AM BBT – HGs are already getting in bed with the lights out, but they're not asleep just yet.

12:10 AM BBT – Christmas camtalks that she thinks Josh is right about Paul and how he's protecting Jury votes. She also mentions that her "heart" is getting involved in this season. Sounds like she's talking about having feelings for Paul perhaps.

12:30 AM BBT – HGs goofing around, chatting, and Alex plotting more pranks while the night winds down.

12:40 AM BBT – Josh goes to Paul and tells him he feels bad about blindsiding Jason. Paul tells him that's just how the game goes because this is the best way to do it. Paul tells Josh to keep it together for one more week.

12:48 AM BBT – Josh and Paul are still talking while Raven may or may not be asleep in the same room. They think she's talking in her sleep about pizza.

1:10 AM BBT – Josh wandered around a bit then came back to bed. Alex was waiting for him under the covers and surprised him. He runs out of the rose room screaming.

1:15 AM BBT – Everyone is finally off to bed for some extra sleep ahead of Thursday's big night.
There were no last night shifts in Jason's benefit so he's still slated to leave next and head off to Jury. Alex may not be far behind either, but all of Paul's extra planning may be making Christmas nervous after her words to Josh that a move by Paul to keep Alex longer than F6 would be a betrayal. Lots of pressure on Thursday's Double Eviction.
You can watch all of these Big Brother events using the archives Flashback, the DVR-like feature of this year's Live Feeds which means it's always live, even when you missed it! Sign-up now to get the free trial to watch it all live & uncensored.

Gallery: Live Feeds Highlights