It was a slow Labor Day in the Big Brother 19 house as the HGs continued their plans to blindside Jason this week. The HGs did get some food to grill and backyard games in honor of the holiday, though.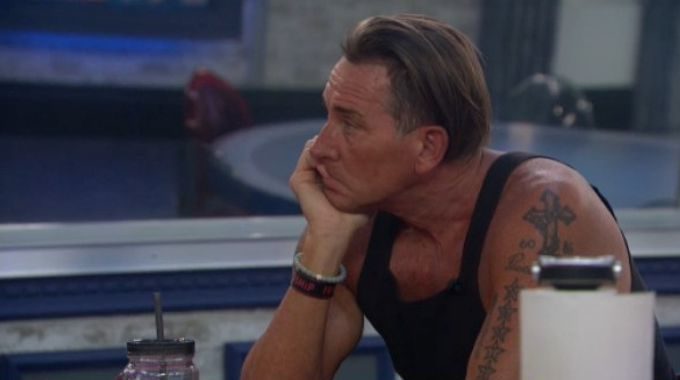 If you've got the Live Feeds (Free Trial) then you can watch all of these moments with the Flashback feature to go back and watch those important conversations or funny scenes you may have missed.
Big Brother 19 Live Feed Highlights – Monday, September 4, 2017:
9:15 AM BBT – HGs are waking up.

10:10 AM BBT – Jason and Josh are in the backyard alone and talking. Jason asked Josh if he was voting to keep him. Josh doesn't give a direct answer. Jason notices the delay.

10:35 AM BBT – Josh tells Jason he has a huge secret that he can't tell anyone. Josh asks Jason to promise not to tell anyone, even if he gets mad at him. Josh is adamant that this must stay top secret… Josh reveals he is a superfan. Jason tells him he already knew that.

10:41 AM BBT – Feeds go down.

11:35 AM BBT – Feeds are back from the Veto meeting. Alex was saved. Kevin was renom'd.

11:36 AM BBT – Paul discovers Trejo has a hole in him and is slowly dying.

11:38 AM BBT – Paul talks with Raven and tells her they are in a powerful position and are about to become the strongest pair. He says they need to keep an eye on Christmas and Josh. She offers to throw the next HoH competition.

11:50 AM BBT – Christmas points out that Paul's suggestion of a Monday live eviction after Veto looks to be shot. Paul says it could still happen.

11:55 AM BBT – Jason and Kevin commiserate over being on the Block together. Jason doesn't think Alex will vote against him.

12:00 PM BBT – Kevin comments to himself that he'd be fine with leaving and getting away from the game.

12:10 PM BBT – Kevin asks Paul what's going on. Paul says not to ask any questions. Kevin says he'll act calm. Paul says to act nervous instead.

12:20 PM BBT – Christmas and Josh talk through their strategy for how they'll calm Alex after Jason gets voted out. Josh says he'll take the heat and go up on the Block so they don't have to. Josh worries the Jury could be very bitter. He think Elena will be bitter since she continued to speak about her boyfriend from four years ago.

12:30 PM BBT – Raven says she'll tell Alex that she's voting for Jason just like Jason voted for Matthew, if she's asked. Christmas doesn't think she'll be asked.

12:40 PM BBT – Alex starts off bashing Kevin again calling him a loser and saying the whole house is going to vote him out and she doesn't even have to ask anyone to do it for her.

12:40 PM BBT – Paul says if Alex drops then he'll drop next to throw it to Raven. Christmas says she doesn't trust Raven.

1:35 PM BBT – Josh tells Paul he understands his plan fully now and appreciates Paul explaining it to him better. Paul, Josh, and Christmas discuss how to control who throws what HoH comp coming up. Paul says he can convince Raven to throw it so he can win this because he doesn't want F5 HoH. They agree that worst case is Alex winning Veto then they'll just evict Raven instead.

1:45 PM BBT – HoH crew agrees their hit list goes Alex, Raven, and then Kevin.

1:50 PM BBT – Paul warns that Alex will gun for the Veto if she is nominated so they need to put up Raven and Kevin as pawns.

1:50 PM BBT – Alex tells Kevin he has a rash on his back. He says he'll go put a shirt on and leaves. She laughs that she was trolling Kevin.

2:15 PM BBT – Jason is kicking back in the pool when he realizes the giant peacock float is deflating. (Must be a serial deflate'r today.)

3:15 PM BBT – Josh is camtalking and says he'll never betray Paul and Christmas. He'll play with them until F3 and then start playing his own game.

3:50 PM BBT – Raven camtalks that she's looking forward to Jason getting evicted. She says it was her idea to throw this last HoH comp to Christmas.

3:52 PM BBT – Raven says she needs to get to F2 because she needs a new pacemaker and has a lot of bills waiting for her when she gets out.

4:10 PM BBT – Alex asks Raven what's the coolest dance things she's done. Raven says she tried out for SYTYCD and almost made it.

4:35 PM BBT – Paul is frustrated that Raven won't leave him alone and complains to Josh.

5:20 PM BBT – Paul and Christmas are hanging out and chatting about life back home. Raven wanders off and joins them.

5:30 PM BBT – Alex resumes complaining about Kevin. She says he's annoying and creepy.

5:40 PM BBT – Jason sees Paul is stuck listening to Raven's stories. He asks Christmas if he should go save Paul. She jokes to let Paul squirm for awhile.

5:55 PM BBT – Christmas and Josh are studying past events.

6:00 PM BBT – Josh says he sees that Paul has played the best game.

6:10 PM BBT – Christmas tells Josh that if Paul gets to F2 he has a huge burden on him because he's a Vet and that's a big negative. She says that people won't want to see a Vet win.

6:15 PM BBT – Josh and Christmas pat each other on the back for playing great games. Christmas says her game has been perfect and his has been great because he called people out, but that could be a bad thing for him too, she warns. She worries people may think she rode coattails.

6:20 PM BBT – Christmas is confident that their trio will take first, second, and AFP this season.

6:30 PM BBT – HGs are lounging around. Paul is listening to music while Raven and Christmas go to play chess.

7:26 PM BBT – Christmas reports to Jason that Raven didn't know what some of the chess pieces did despite her proclaiming to be a great chess player.

7:31 PM BBT – Jason suggests maybe Raven's issues are less medical and more psychological. Christmas says she believes she has some medical problems, but she also probably has a psychological problem that makes her require comfort and sympathy. One thing that for sure, Christmas says, is that Raven is a pathological liar.

7:35 PM BBT – Jason wants to ask Raven to explain what an inverted spine is. Christmas thinks Matt must have known that Raven was a liar and he felt sorry for her insecurities.

8:30 PM BBT – Nothing going on. HGs talking about TV shows and Kevin is alone in his bed.

9:05 PM BBT – Christmas comes out of the Diary Room with an announcement. BBAD is giving them a backyard party.  They got food to grill, beer and some games for the back yard.

9:20 PM BBT – HGs playing corn hole. Kevin is even permitted to play.

9:25 PM BBT – Paul and Christmas are now discussing Raven. Christmas tells him she lied about being able to play chess. Paul says she's making him miserable.

9:45 PM BBT – Christmas has been grilling food for the others.

10:35 PM BBT – Paul tells Christmas that he's finally hit that hump and that he's over everything and he's annoyed and missing his family, pets and music. He says Raven is eating his soul.

10:50 PM BBT – Paul is crying under his hat and says he got bad news from home.

11:20 PM BBT – Jason and Kevin hanging around and joking.

11:30 PM BBT – Josh and Jason now together at the hot tub. Josh is upset and says he doesn't like that Kevin is going before Raven.

11:45 PM BBT – Josh still talking about what's bothering him and says Raven never gives them time and he can't take being around her so much.

12:15 AM BBT – Josh tells Christmas that he cried when Jason talked to him about Kevin going hom this week. Christmas says she'll take the blame for Jason, but points out that Jason hasn't asked Josh for a vote yet.

12:25 AM BBT – Christmas lets Paul know that Josh is upset about Jason. Paul says they need to watch Josh for the next few days.

1:00 AM BBT – Paul, Alex, and Christmas discussing Raven's stories about her business and how she couldn't answer basic questions about how it was operated or what's happening with it now. They wonder if Matthew will ditch her in the real world.

1:20 AM BBT – Group still discussing Raven's endless contradictions about her diseases and life. They talk about her diet that she can't eat red meat but ground beef is okay. They question how five million people have her disease then the next day only two people have it.

1:45 AM BBT – Alex tells Paul that if she wins HoH next she will put up Josh and Raven but her target would be Raven. She's confused by the F3 competitions and asks Paul to explain how that works. Paul yet again saying there must be a Sunday eviction coming up. (No. Never.)

2:00 AM BBT – Josh worries that Alex will go nuts when Jason is evicted. Paul says he'll take care of it.

2:05 AM BBT – Paul and Josh discuss that he (Jo) should let Jason know he's getting evicted right before it happens. Paul says if he gets HoH then he'd put up Raven and Kevin so Raven has to try and win something for a change.

2:10 AM BBT – Josh says he'll take the next HoH. No, Paul says he wants next won and then Josh can have F5 then Paul will take HoH again at F4.

2:25 AM BBT – Josh again says he'll fight for this HoH. Paul tells him again not to so he can have this one. (Paul wants Raven to take it to get out Alex for him.)

2:35 AM BBT – HoH crew starting to break up and go to bed.

2:40 AM BBT – Christmas says she wants to try and do a little walking on her leg tomorrow.

3:30 AM BBT – Lights are out and HGs are off to sleep.
Houseguests had a nice treat with the party for After Dark to help take their mind off the game, but then it's right back in to it with just two weeks left to go. Nothing has shifted with the target for Jason this round but he's yet to see the writing on the wall. Maybe Josh will make it clearer for him soon.
You can watch all of these Big Brother events using the archives Flashback, the DVR-like feature of this year's Live Feeds which means it's always live, even when you missed it! Sign-up now to get the free trial to watch it all live & uncensored.


Gallery: Live Feeds Highlights