Veto Day arrived for the Big Brother 19 Houseguests as most of the house worked together to pull off their plan to get this week's target out the door. While we waited for the evening competition to begin we saw Have-Nots assigned and one of them go for the gamble to escape the punishment.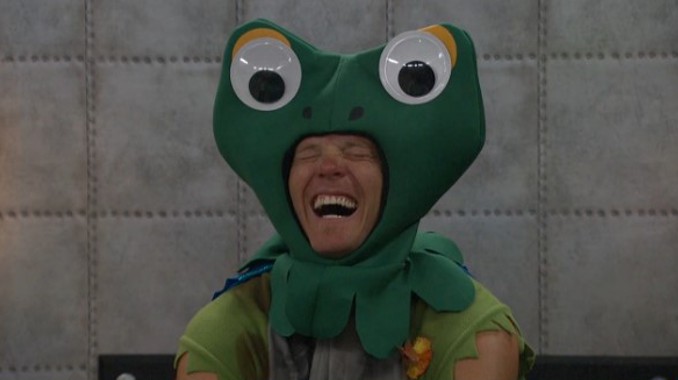 If you've got the Live Feeds (Free Trial) then you can watch all of these moments with the Flashback feature to go back and watch those important conversations or funny scenes you may have missed.
Big Brother 19 Live Feed Highlights – Saturday, July 8, 2017:
7:45 AM BBT – Jason and Christmas are up hanging around the kitchen. Jason is not breaking any of Christmas's bones today.

8:36 AM BBT – Paul wakes the sleeping HGs and tells them it's time to pick the HNs. He goes with all the V-Toads plus Matthew volunteers.

8:55 AM BBT – Jason is trying to make his spike bed more comfortable by adding bedding, but it doesn't help. He realizes it's going to be a long week as HN. Jason decides he wants to gamble and see if he can escape being a HN.

10:14 AM BBT – Players were picked.

10:15 AM BBT – Paul reminding Ramses that he needs to throw the comp or risk screwing up the plan.

10:17 AM BBT – Matthew and Elena were picked to join the other 4 players (HOH & 3 noms).

10:18 AM BBT – Paul asks Alex if she wants to throw it to him or if she'll play for it. Alex says she wants to compete and try to win it.

10:40 AM BBT – Matthew is getting paranoid about Jason talking with Cody so much. Worries that they're conspiring.

12:00 PM BBT – Alex warns Jason that he's messing up his game by spending too much time with Cody. She warns him to dial it back.

1:00 PM BBT – Houseguests lounging and chatting while waiting for the Veto comp to start.

2:05 PM BBT – Ramses promised Dominique and Christmas that he'll use the Veto on someone else if he wins it.

2:50 PM BBT – Ramses tries to explain to Paul that he can't just throw the comp but he's working toward the same goal as the rest of them.

2:55 PM BBT – Raven tells Christmas they have to be careful speaking in front of Alex since she's with Jason. Christmas doesn't think those two are as close as Raven suggests.

3:15 PM BBT – Kevin promises not to go against Jason. Alex agrees, unless Jason starts doing dumb things. Kevin and Alex agree not to put each other up.

3:25 PM BBT – Jason finally gets the key to try and guess which box to unlock. He chose poorly. Jason will be a HN for 2 weeks now.

4:07 PM BBT – Veto comp has begun.

9:34 PM BBT – Feeds are back. Paul won the Veto.

9:40 PM BBT – Jessica and Cody are isolated in the HN room and sitting quietly. Eventually they start chatting and discussing Cody going this week.

9:45 PM BBT – Paul is upset that Ramses played hard for the Veto and nearly won. He wants everyone to give Ramses the cold shoulder and ignore him. Paul also announces he'll save Josh instead of Alex because he knows Jason would never vote out Alex.

9:50 PM BBT – Ramses arrives in the HoH room to apologize for nearly winning the Veto. He promises he didn't want to win and thought he was throwing it but kept getting answers right.

10:00 PM BBT – Paul is talking with Christmas about the situation. He's upset with Ramses still and wants him on the short list for eviction next week along with Jessica and Jason. Christmas doesn't believe Ramses tried to throw the comp when he finished it in 7 mins out of the available 30 mins.

10:15 PM BBT – Kevin has dressed up in one of his suits and is looking very dapper. He's preparing to do Dominique's talk show later.

10:25 PM BBT – Paul lets Alex know he's going to keep her on the Block. She doesn't resist or argue and agrees to go along with his plan. Paul promises Alex he's been working to improve her reputation with his group but wants her to avoid Jessica and Ramses to avoid any backsliding.

10:35 PM BBT – Paul tells Christmas, Raven, and Alex that they should put up Jessica and Ramses together next.

10:50 PM BBT – Dominique is doing her talk show downstairs with a crowd while Paul camtalks in the HoH room alone.

11:50 PM BBT – Paul talking with Jessica in the HoH room. He's coaching her on stopping the isolation. Jessica still frustrated that no one else but Paul and Kevin have checked in on her. Paul advises her to separate out emotions from the game and just play.

12:15 AM BBT – Jessica says Paul will win and has the odds stacked in his favor. Paul counters that he can't win as the only Vet.

12:25 AM BBT – Paul asks who Jessica thinks picked her for the toad curse. She believes it was Christmas. (Correct.)

12:35 AM BBT – Christmas lets Matthew and Raven know that she has the Temptation but doesn't elaborate beyond saying it's nothing too powerful.

12:55 AM BBT – Paul is relaying his conversation with Jessica back to his HoH crew. He notes that Jessica informed him Ramses was telling Cody and Jessica that he voted to keep Jillian and would have saved himself with the Veto if he won it. (The latter may have been a lie to make Ramses the target.)

1:05 AM BBT – Alex tells Kevin they need to keep their heads down and let the others fight it out. She worries about Jason not playing smart and hurting their chances at having the numbers. Alex warns Kevin to keep an eye on Christmas because she's trying to get Jason out.

1:40 AM BBT – Alex talks with Mark about last week's vote. She's sure Ramses flipped. Mark doesn't think so and believes Ramses did vote to keep Jillian along with Jessica, Jason, and her (Alex).

2:00 AM BBT – Mark and Christmas up and chatting in the bathroom area while Raven and Matthew are up and joking around in the Rose bedroom.

3:00 AM BBT – Mark, Elena, and Christmas still up and hanging around chatting.

3:45 AM BBT – Lights are finally out and HGs are turning in for the night.
Cody looks to be done. Paul is in control of the final noms of the week and unless there's a major shift to a new target then we can expect Cody to be evicted on Thursday night. The controlling group looks to be pushing hard for Ramses to be the next in line target, and Alex seems wise to stay low and let the fight play out without her.
You can watch all of these Big Brother events using the archives Flashback, the DVR-like feature of this year's Live Feeds which means it's always live, even when you missed it! Sign-up now to get the free trial to watch it all live & uncensored.


Gallery: Live Feeds Highlights