Early this morning on the Live Feeds as the Fish took over the cameras for the daily wake up call to Houseguests there was a sudden emergency. Feeds cut back to Christmas Abbott laying on the ground in the backyard calling for help claiming she had broken her foot.
Update: Christmas's MRI results are in! Scroll down for the latest updates on Christmas's return to the game.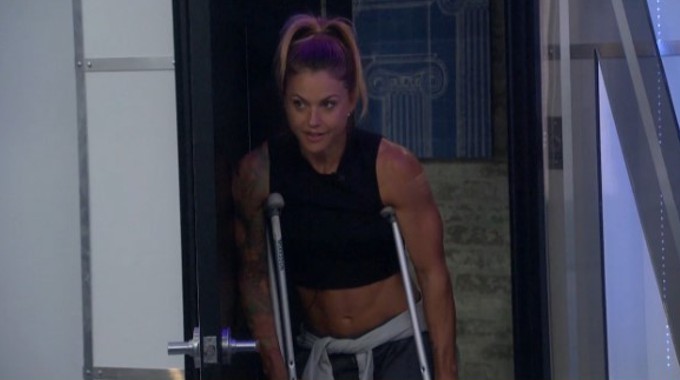 You can Flashback on your Feeds (get the Free Trial now to watch) to 8:47 AM BBT Cams 3/4 to find Christmas flat on her back with her face covered as she calls out for help. Jason Dent is quickly by her side offering a hand which she turns away. Jason offers to carry her inside, but Christmas again declines. She asks Jason to go tell production that she's hurt.
"Tell em. Tell em. Tell em. Go!," Christmas pleads to Jason as he heads back in to the house. Of course we know Big Brother sees all and doesn't have to be told, but she wants help and that's understandable. "What do I tell them?" asks Jason. "Tell them I broke my f**king foot!" she replies.
Christmas continued to stay on the ground as Jason rushed back inside. Christmas kept her face covered and continued to ask for help along with a few curses in there as she was no doubt in a good bit of pain.
While on the ground waiting for help Christmas was talking outloud saying, "Production, I broke my foot. Not a twisted ankle… I broke my foot… I can't even look at it."
Gallery: Christmas Abbott Foot Injury
click thumbnails to see full-size views
After a few more minutes the Feeds cut to Fish and then went to Cat Loops at 9:03 AM BBT before returning at 9:38 AM BBT. There was no sign of Christmas and no discussion of the situation. We will continue to monitor the Live Feeds and see what happens.
Keep in mind that neither CBS nor Big Brother have issued a statement so ignore any trolls. Also don't forget that Bridgette hurt her ankle last season and returned on crutches, so it's not like a physical injury requires immediate removal. I'm expecting her to be back, but I'm not a doctor and neither are most of us. Try to remain calm and don't believe any crazy rumors in the meantime.
Update: After Feeds returned we got more details, though all secondhand. Flashback 9:48AM BBT C1/2. Cody told Jason that he (Cody) and Matt carried Christmas in to the DR. "It was poking out the bottom of her foot," says Cody. "Was it really??" asked Jason. "Mmm hmm," confirmed Cody. Well that definitely sounds bad, but still waiting on official details.
Update 2: Jason shared more details which explains why he was out there alone with her. "We were dancing and she was on my back. I was running around and I slipped on the grass." Jason also noted that Christmas questioned production whether or not they'd let her return next year if she can't continue this season.
Update 3: Christmas returned to the Big Brother house at 2:21 PM BBT Cams 3/4 on crutches. She explained to her fellow HGs that it isn't broken, but she did tear some ligaments. She's got to go back in a few days for an MRI and it's possible there's a fracture in there. Her lower leg is wrapped up tightly in bandages, looks like a cast, so she's not going to be doing much physical activity, but she is back in the game. This will greatly impact her ability to compete and will probably have to just sit out of physical comps if put in the position to play anything.
Gallery: Christmas Abbott Returns To BB19
Update 4: Christmas left earlier today (Wednesday) for her MRI test to see if she could be cleared to stay in the game. This afternoon (Flashback to 3:20 PM BBT 7/5) Christmas returned with good news for her game. Her foot is indeed broken, but she doesn't have to leave the game if she doesn't want to. Christmas says she's staying. Everyone but Cody & Jessica greeted her return as they were upset with the other HGs and didn't want to come downstairs. Jessica mentioned wanting to see if the cast was still on but didn't want to be seen trying to see.
As for how Christmas can continue to compete, she revealed "they" said none of the competitions would be changed. She'll either be able to compete or not. If she can't then I would expect her to default in that circumstance. A doctor will have to clear her before comps.
Gallery: Christmas Abbott Returns After MRI
Download our Big Brother App, join us on Facebook & Twitter, and get our Email Updates for more.