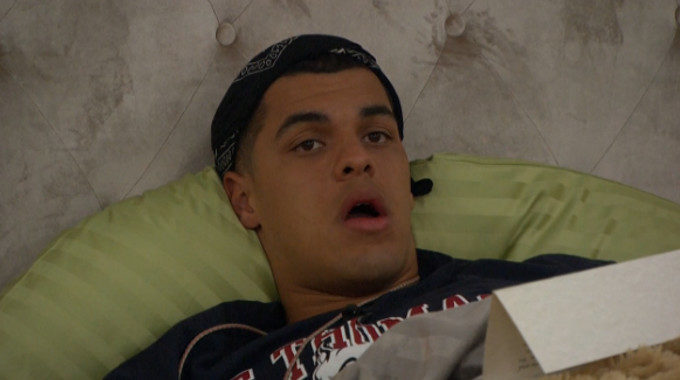 Josh Martinez is in a simple, but seemingly complex situation this week on Big Brother 19. I say seemingly complex but he's making it out that way. In repeated camtalks and discussions with Christmas he's made it clear that he understands he'll lose to Paul. But what's a guy with control over nominations supposed to do about it? He approached that topic last night in yet another camtalk.
Flashback to 7:38 PM BBT 9/8 Cams 3/4 on your Live Feeds. Get the Free Trial now to watch.
Josh begins to examine what he thinks is going on with his F3 deal. Earlier Josh asked Christmas if she'd take him to F2 and instead of telling him what he needed to hear, Christmas stumbled over her words and said she couldn't answer him yet. Great idea. Josh says that makes it obvious to him that she won't take him. Not only that, but he thinks Paul is only taking him because he can beat Josh. So much for the benefits of this F3, huh?
"So the only person I can see myself beating… I can beat Kevin. I can beat Alex. I can beat Christmas, but Christmas is not going to take me. If I move forward with Alex and Kevin… Alex is going to take me over Kevin. Kevin is going to take me over Alex."
Alright, so Josh has established what he believes to be the parameters of his situation. He'd lose to Paul. He wouldn't get to the end with Christmas. He'd get to the end and win against Alex and Kevin. This is all according to Josh. So it seems pretty easy going forward, right? You would pursue the path leading to how you believe you can win, right? Right?!
"So the question is, do I really want to turn on Christmas and Paul?" No, no Josh. The question is always, "how do I win?"
"Do I win the Veto and pull [Alex] off? I think that's what I want to do." Okay, that's a start, but wait, there's more. "But, would [Alex] vote to evict Paul? No. Would Christmas vote to evict Paul? No. So I put Paul on the Block and then that raises, that alarms him. Or I can just go to F3 and take the shot at him. I think that I might just go with F3."
Josh will not turn on Paul. He's said it over and over. Instead of testing the waters to see if he could get either Alex or Kevin to give him the one vote he'd need to reach a tiebreaker Josh is going ahead and assuming he won't be able to make it happen. Maybe he couldn't, but he's not trying very hard here.
Instead of taking a shot now Josh will wait, and wait, and wait until it's too late. He's giving himself a narrow window of opportunity in a hopeful situation later instead of trying now and again and again until he's out of chances. If you're convinced you'll lose to someone but could win against the others when why oh why would you pursue the path you just decided was the losing one. Sigh.
What do you think of Josh's decision? Is he even seriously considering this or is Josh just playing it up to Feedsters? Share your thoughts below as we wait for today's Veto comp results.