Josh Martinez and Mark Jansen already have a heated past on Big Brother 19, but pickle juice and hot sauce have nothing on how serious things got last night on the Live Feeds that left us questioning if both would still be in the game come morning.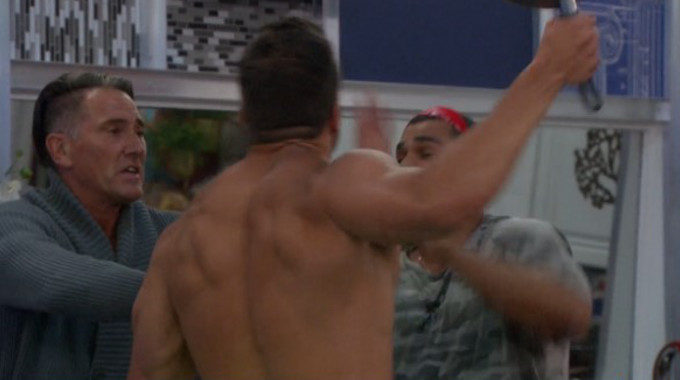 Things were already on high-stress setting for the targeted alliance of Mark, Jessica, and Cody so Josh's decision to pile on an agitated Mark didn't take much to push him over the edge.
Flashback to 7:40 PM BBT 7/28 Cams 3/4 on your Live Feeds (get the Free Trial now to watch) to find Josh mouthing off in the kitchen to a captive audience. The Nominations Ceremony just wrapped up about twenty minutes earlier and the fighting between Cody, Jessica, and Paul kept most of the HGs huddled in the kitchen area.
Josh had already been yelling and mocking Mark since Feeds came back. He was calling Mark out for not standing up for Dominique when she was targeted and then for hiding behind Cody since his return. Josh is pushing all the buttons he can find for Mark.
Suddenly Josh escalates things grabbing the pans and banging them together just like he had done for a good while on Thursday morning when he was pretending to be expecting to get evicted. Now he takes the pans and starts slamming them together as he walks over to Mark who has been sitting in the corner. Mark wasn't going to take it anymore.
Mark leaps up from his seat and rushes Josh. Josh quickly tries to back up but Mark is on top of him fast. Mark reaches out and grabs the pans, yanking them away. For a hot second it looks like Mark is raising the pan up, but it may have just been part of his swing to take them away from Josh.
Gallery: Mark Rushes At Josh Over Pans
Amazingly, Kevin pushes in between Mark and Josh. He's a brave man. Feeds cut. Whoa. That looked bad. Real bad. A few minutes later Feeds return and both Mark and Josh are still in the house, but now on separate ends of it.
You've really got to watch this moment to get the feel for it, but this was a tense event. I'm yet again shocked that as bad as this looked to be, neither of the guys actually hit each other. In fact Josh later made an effort to call it out that Mark only grabbed the pans and didn't touch Josh directly.
Big Brother later called both of the guys individually to the Diary Room and lectured them. It sounded like Josh is allowed to do the pots and pans routine, but he can't get in Mark's face again. Mark also went around on an apology tour for losing his cool.
Friday just might have been the craziest night of angry HGs on the Live Feeds so far for Big Brother 19. Don't miss the details on what happened when Cody and Paul started their out shouting match earlier in the night. I imagine there's a lot more to come from this group as well while we're building up to a Halting Hex event on Thursday night.
What do you think of the Mark and Josh incident? Were both guys in the wrong? Was it worse for Josh to taunt Mark or for Mark to react so strongly? Share your thoughts below and tell us what you think.
twitter-tweet" data-lang="en">

See what happened when Josh pushed Mark past his limit last night on #BB19 Feeds. It was an intense moment. Read: [https://t.co/6gewSD5gv3] pic.twitter.com/RIXZ5zOifM

— Big Brother Network (@bigbrothernet) July 29, 2017