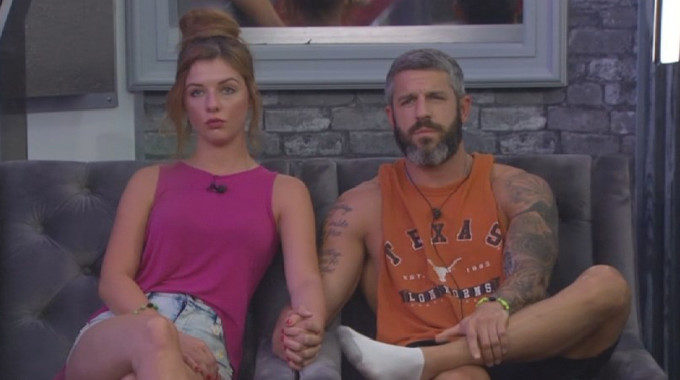 Five Houseguests are voting tonight on Big Brother 19, but they won't be alone. It's time for production to get in on the eviction action this week after the season's most useless Houseguest managed to finally put himself on the map for all the wrong reasons.
The house plan was to take out Matthew before they shifted to Kevin, but when Jason didn't join them in this change there was even more turmoil than the cowboy expected. After an afternoon of screeching from Raven and foot-stomping shouting from Matthew for Jason to "uncross his legs and be a man!" Matthew went on to demonstrate the man-child he is.
Ignoring every Have-Not rule in the book, the orange-clad HG went on to eat regular food, take hot showers, and sleep in a regular bed. The body-less, and apparently powerless, Big Brother gave Matthew frequent reminders to stop which led to mockery of production from him, Raven, and even the other HGs at times. As a result, Matthew Clines earned a penalty vote this week. He doesn't care.
All five Houseguests voting this week had already agreed to send the "he's still here?" HG out the door so one more penalty vote meant nothing to the situation and despite his repeated infractions there would be no other consequences to his actions.
When the votes are revealed tonight Matthew will be out the door with a count of 6-0 over Raven. Kevin had mentioned he might do a vote against Raven, but I'm guessing he won't want to rock the boat too much after the week he's had.
While I'll be glad to see this disrespectful joke of a Houseguest out the door it does mean Matthew will be sticking around as a member of the Jury and we'll see him slurping out of bowls in each Jury segment and again on Finale night. Oh well.
Join us back tonight at 9/8c to find out, but while we wait share your thoughts on what you expect.